Golden, crunchy and delicious, these Crispy Cereal-Crusted Shrimps are sure to be the hit of the party. Pair them with a sweet and tangy Dijon honey mustard sauce and you'll have an appetizer guests can't get enough of!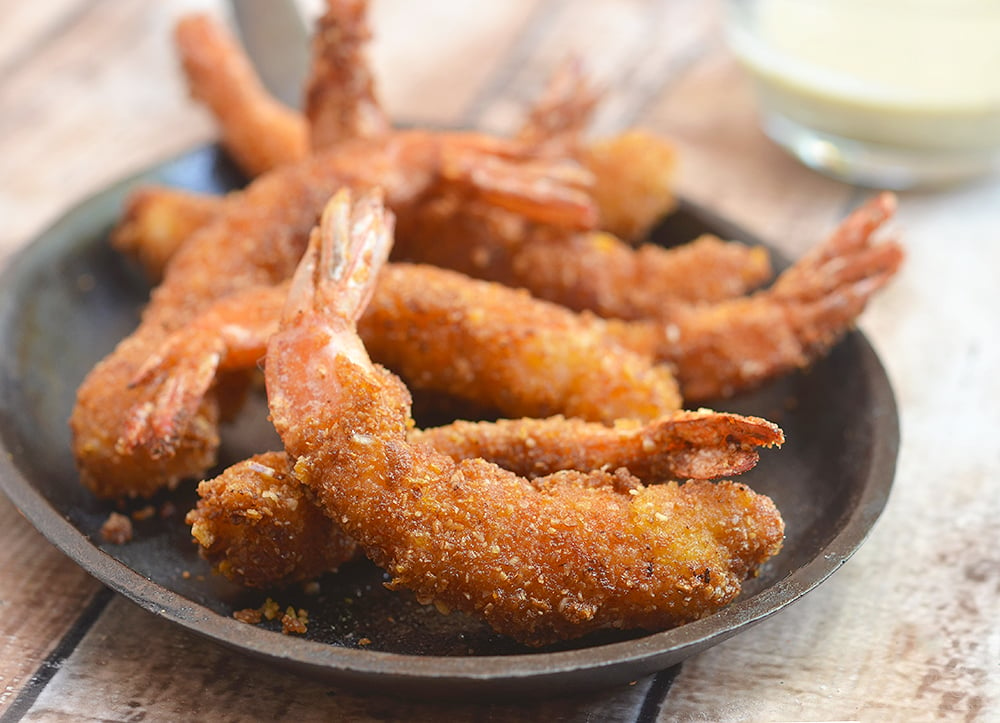 I am a late riser and usually don't see the light of day till almost lunch but whatever time I do decide to roll out of bed, a bowlful of Honey Bunches of Oats cereal is how I always like to start my day.
With a delicious mix of flavors and textures from crispy flakes, crunchy oat clusters and a sweet touch of honey, it's truly a unique cereal experience. The best thing to wake up to in the morning in my book!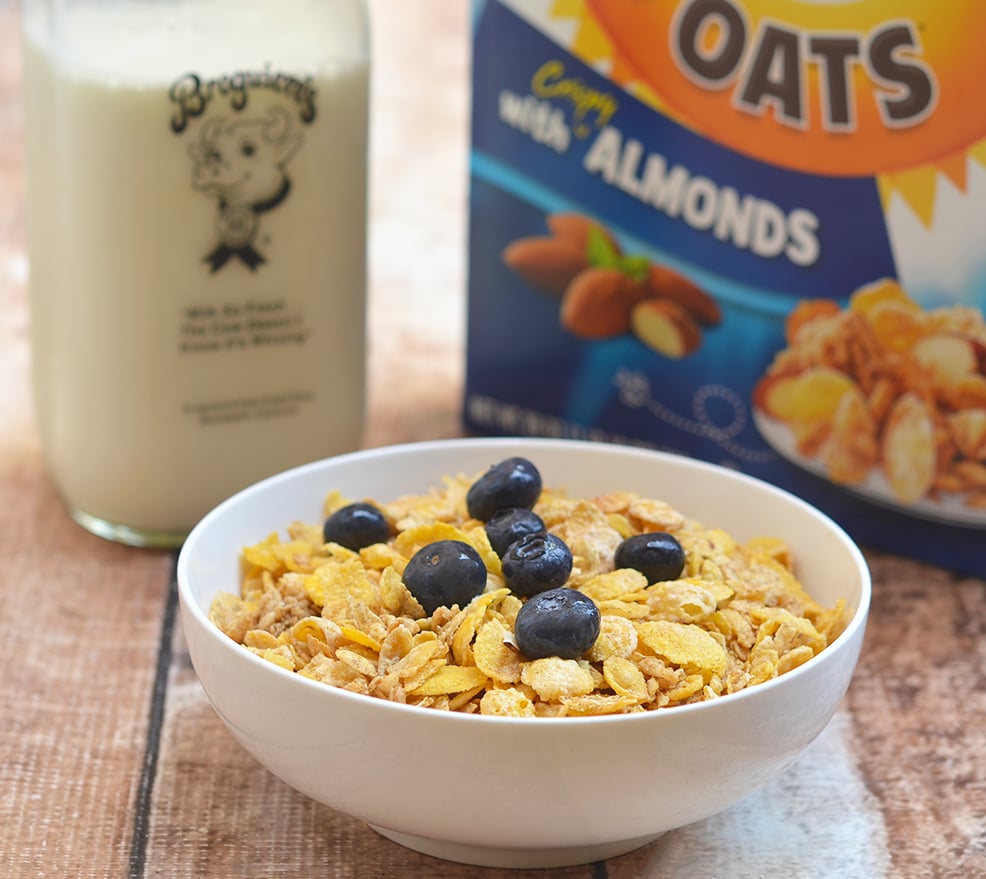 Honey Bunches of Oats cereal, however, isn't just for serving with a splash of milk and a spoon.
Along with granola bars, energy bites or yogurt parfaits, Honey Bunches of Oats can also be used as an alternative to breadcrumbs as a coating for chicken, pork chops, seafood or almost anything that needs an extra layer of crunch.
Ground up into coarse crumbs, it makes an effective binder in meatballs, meatloaves or burgers as well as a delicious topping for savory casseroles, fruit crumbles or even muffins and quick bread.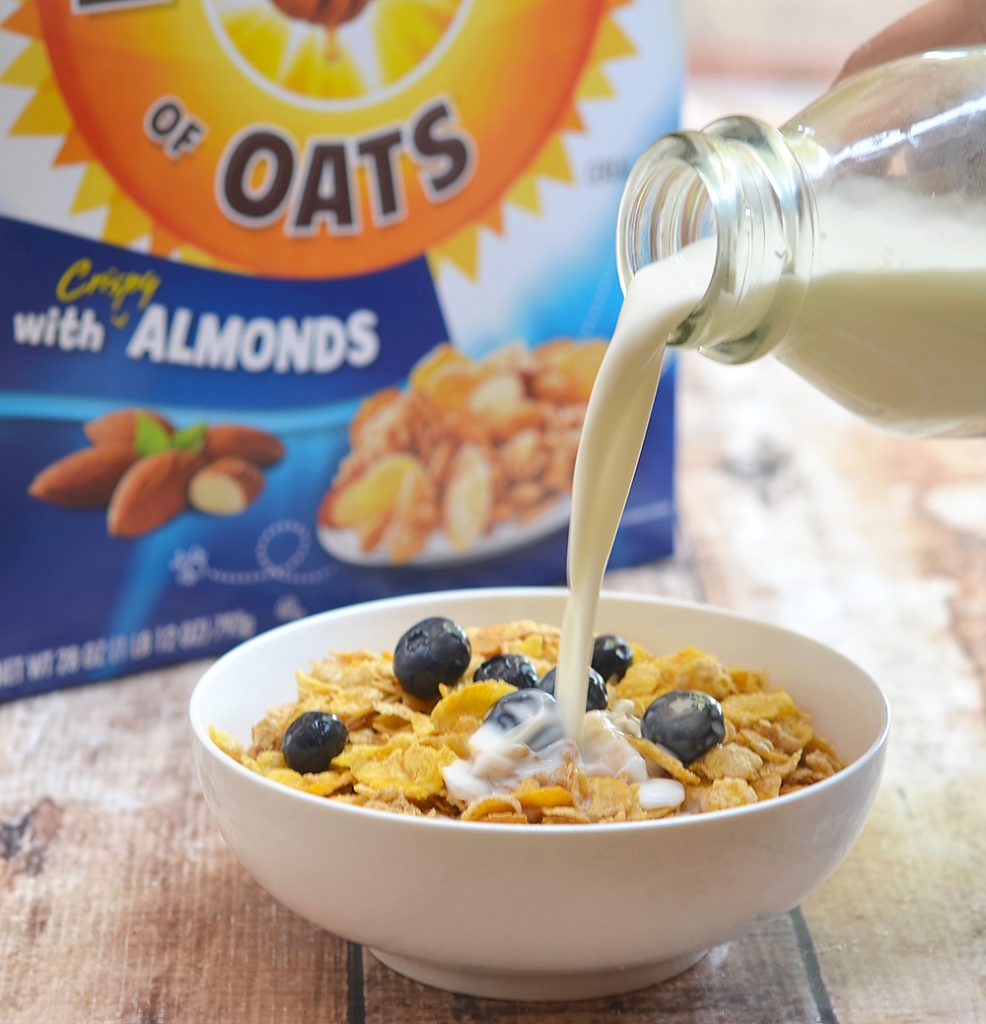 To make these crispy cereal-crusted shrimps, I pulse a cup or so of Honey Bunches of Oats cereal in a food processor or blender until resembling coarse crumbs. I then dredge the prepared shrimps until generously coated, freeze them to firm up and deep-fry in hot oil until golden and crisp.
The cereal crumb coating not only locks in the moisture but also adds a crunchy texture to the outside. I especially like how the subtle sweetness of the cereal compliments the fresh taste of the shrimp and rounds out the flavors beautifully.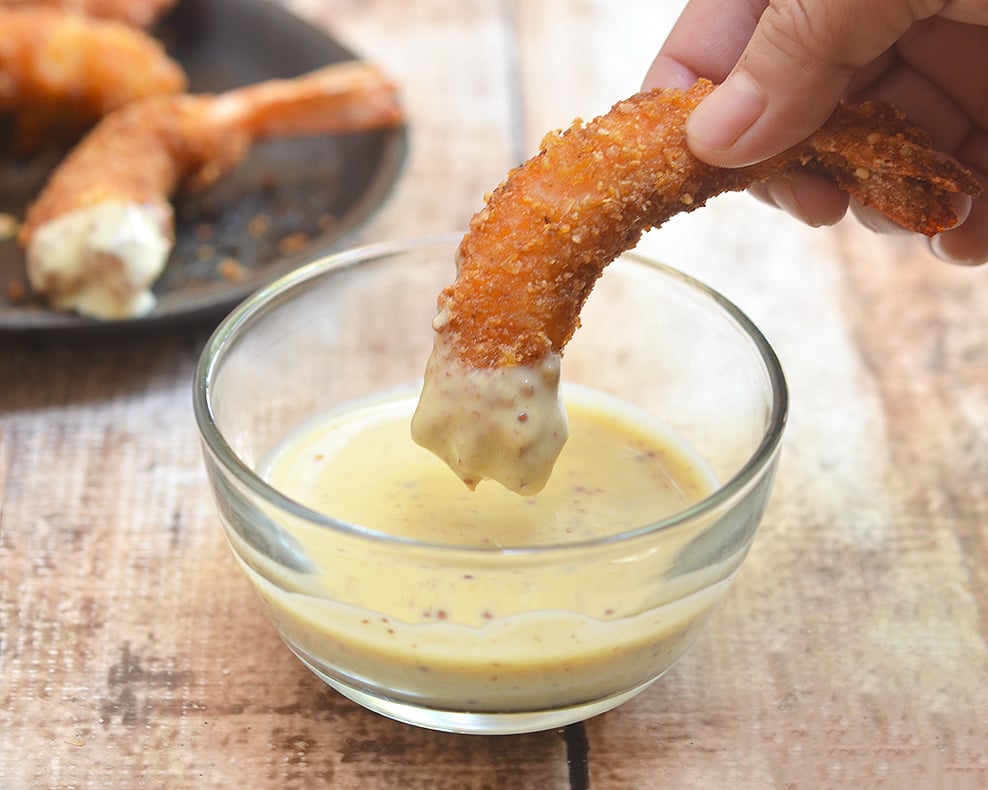 These crispy cereal-crusted shrimps are one of the quickest and simplest appetizers you can make for a party. Good thing you can easily make a batch as they are always a hit with guests. Serve with a homemade Dijon honey mustard sauce and they'll disappear faster than you make them!
Here are a few tips to note:
Freezing the shrimps until firm helps the crumb coating adhere better during frying.  This is also a good way to keep them for future use. Just transfer the frozen shrimps into resealable plastic bags and store in the freezer ready for any time cravings.
Make sure your oil is at the optimal range of 350 F to 375 F. Proper temperature is very crucial in deep-frying as too hot and the breading will brown well before the inside is cooked through. Too low and the shrimps will absorb a lot more oil. To prevent the oil from plummeting, do not overcrowd the pan. Fry in batches as needed but make sure to bring the temperature back to 350 F before adding the next batch.
Don't drain the fried shrimps on paper towels or the steam will make them soggy. Instead, drain on a wire rack set over a baking sheet or pan to catch oil drips.
That's it, folks! Easy peasy 🙂
Before we head to the recipe, I'd like to remind you to download coupons to save on your next Post cereal purchase. With so many delicious varieties to choose from, it's deliciously easy to bring your bunch together with Honey Bunches of Oats!
Crispy Cereal-Crusted Shrimps
Author:
Lalaine | Onion Rings and Things
Ingredients
1 pound very large shrimps (I used 15-count size)
salt and pepper to taste
1 cup Honey Bunches of Oats cereal
2 egg whites
½ cup cornstarch
oil
For the Dijon Honey Mustard Sauce
¼ cup honey
¼ cup Coarse ground Grey Poupon mustard
¼ cup mayonnaise
1 tablespoon vinegar
Instructions
Shell shrimp, leaving tail intact. With a knife, make a small cut on the back of the shrimp and with the tip of the tip, gently pull out intestinal tract. Make two or three incisions along the inside of the shrimp to straighten it out. Repeat with remaining shrimps. Season with salt and pepper to taste and let stand for about 10 minutes.
In a food processor or blender, pulse cereal until resembling coarse crumbs.
In one shallow bowl, beat egg whites until frothy. On a plate, place cornstarch. On another plate, place cereal crumbs.
Dredge shrimp in cornstarch, dip in egg, and then dredge in cereal crumbs to fully coat, pressing down to adhere well. Arrange shrimps in a single layer on a baking sheet and freeze for about 10 to 20 minutes or until firm.
In a skillet over medium heat, heat about 3 inches deep of oil. Add shrimps (still frozen!) in batches and cook, turning as needed, for about 3 to 5 minutes, or until golden brown and crisp. Remove from heat and drain on paper towels. Serve hot with Dijon Honey Mustard Sauce
For the Dijon Honey Mustard Sauce
In a bowl, combine honey, mustard, mayonnaise and vinegar. Whisk together until blended.