Honey Garlic Salmon dressed in honey, lime, and garlic flavors is a delicious meal your family is sure to love. Quick, easy and ready in 20 minutes or less, it's perfect for busy weeknight dinners.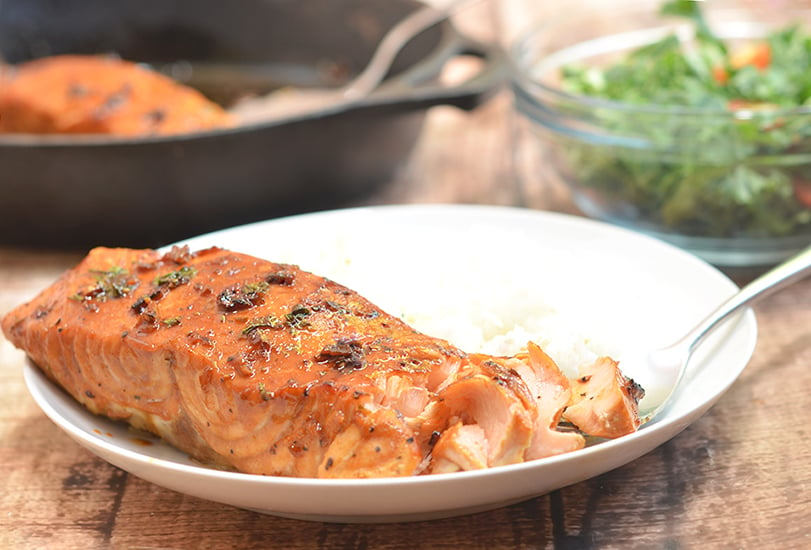 Salmon is called the king of fish for good reason. Not only is it a good source of protein and heart-healthy fats, it is rich in iron, zinc, niacin, vitamin B6 and vitamin B12 and other nutrients needed for good health. And as added bonus to being one of the most nutritious types of fish to include in your diet, it preps easily, cooks in a matter of minutes and makes a delightful canvas to your favorite seasonings.
As I like fast and easy food with loads of flavor, salmon fillets are one thing I always buy when I make a trip to the store. The fillets prepared with mayo topping or glazed with sweet chili are regular rotations at our dinner table but this honey garlic salmon, expectedly, gets the most requests.
Requiring simple ingredients and minimal fuss, I am just happy to oblige. 🙂
Oh, BTW, I love, love garlic in all sorts of dishes (garlic fried rice, anyone?) so I really enjoy the roasted garlic crusted ever so deliciously on the salmon. G, on the other hand, likes to scrape off all the lovely bits before digging in! If you'd rather not bite into this rather pungent aromatic, grate the cloves instead of mincing to get all the flavor but without the pieces.
Try this honey garlic salmon for dinner tonight. It's quick, easy, and perfect for busy weeknights. Enjoy!
Honey Garlic Salmon
Author:
Lalaine | Onion Rings and Things
Ingredients
4 (about 3 ounces each) salmon fillets
4 tablespoons honey
2 tablespoons soy sauce
juice of 1 lime
3 cloves garlic, peeled and minced
½ teaspoon cayenne pepper
salt and pepper to taste
parsley, finely chopped
Instructions
In a bowl, combine together honey, soy sauce, juice of lime, garlic, cayenne pepper, and salt and pepper to taste. Whisk together until well blended. Add salmon fillets, turning to coat, and marinate for about 20 to 25 minutes.
Drain salmon from marinade, reserving liquid. Arrange fish in a single layer on a lightly-greased cast iron skillet or baking sheet. Place fish at the lowest rack and broil for about 7 to 10 minutes depending on thickness.
Meanwhile, place reserved marinade in a small saucepan and over medium heat, bring to a boil for about 3 to 5 minutes or until reduced and thickened.
Generously baste salmon with marinade and sprinkle with parsley. Transfer to top rack of oven and broil for another 1 to 2 minutes or until nicely charred and caramelized. Remove from heat and serve hot.