Jalapeno Poppers are stuffed with a mixture of cream cheese, shredded cheddar, and crumbled bacon and then baked until gooey and bubbly. Creamy and spicy, they're like a party in your mouth!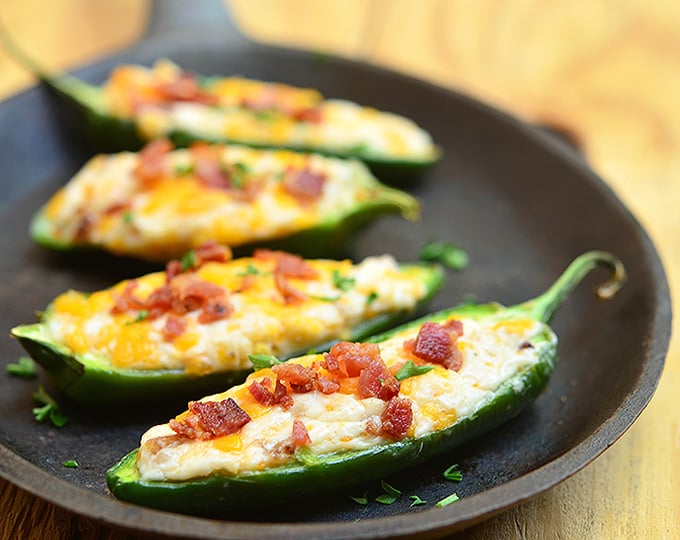 One of the most shared and pinned recipe here at Onion Rings and Things is the bacon-wrapped cheese stuffed anaheim peppers I posted last year. Can't blame ya, folks. With crisp bacon, creamy cheese and spicy peppers all in one bite, they're pretty hard to resist. Seriously good stuff.
But as much as I love 'em, the preparation can be a hassle what with the seeding, the stuffing, and the wrapping.
G and I had a few friends over the weekend and since I expected the bacon-wrapped peppers to go like crazy, I had to figure out a way to make a good amount in half the time.
Viola! These cheese-stuffed jalapeno poppers variation delivered the same explosion of flavors but required less amount of work.
Filled with a mixture of cream cheese, shredded cheddar and crumbled bacon, they're some of the best things I've put in my mouth lately. Food-wise, that is. (lame attempt at a joke).
These stuffed peppers are a breeze to make but don't forget to freeze them for a few minutes to minimize spilling of the filling while they baked. You can also easily spruce up the cream cheese filling by adding chopped green onions for added color and texture as well as a few dashes of your preferred seasonings such as garlic powder or paprika for a smoky layer of flavor. And, guys, a generous drizzle of BBQ sauce just before poppin' doesn't hurt, too. 🙂
Make sure to make plenty, these Jalapeno poppers disappear as fast you make them. Enjoy!
Cheese-Stuffed Jalapeno Poppers
Author:
Lalaine | Onion Rings and Things
Ingredients
1 (8 ounces) package cream cheese, softened
1 cup cheddar cheese, shredded
8 slices bacon, cooked crisp and crumbled
24 jalapenos
Instructions
In a bowl, combine cream cheese, cheddar cheese and ⅔ of the bacon until blended.
Cut each jalapeno lengthwise and with a small spoon, scrape out any seeds and veins. Spoon cream cheese mixture into the hollowed pepper.
Arrange stuffed jalapenos in a single layer on a lighty-greased baking sheet. Cover with plastic and freeze for about 10 to 15 minutes.
Bake in a 450 F oven for about 10 to 15 minutes or until cheese is lightly browned and bubbly. Top with the remaining crumbled bacon.