Oh yeah, my fourth recipe in the month of July! After almost two years of posting on and off, this is definitely a woo-hoo moment for me. I'd like to think I've got my blogging groove back. So, my peeps, please check back often and see what delicious things I have up my sleeves. I'll be here waiting. 🙂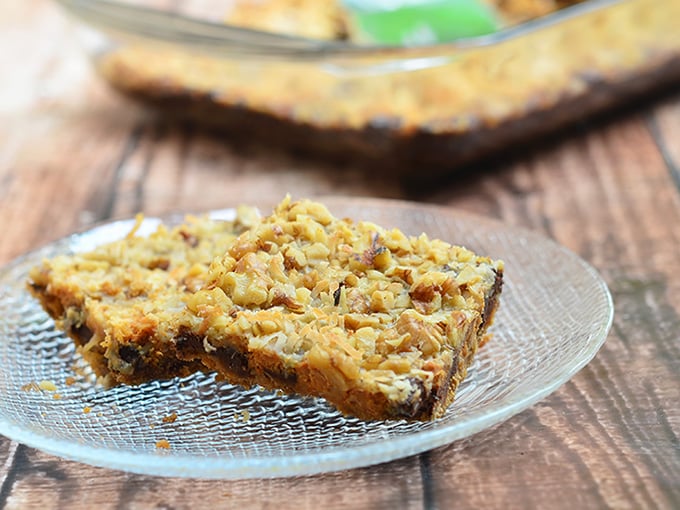 I found this recipe in a 1978 Home Economics booklet (you know, the kind schools, churches, and nonprofit organizations sell as fundraisers) and I am assuming magic cookie bars have been around longer than when the book was published.
It's not surprising, really, that these delightful dessert bars have withstood time and remain popular to this day. With layers of graham cracker crust, condensed milk, chocolate chips, shredded coconut and chopped nuts, these snack treats are just irresistible.
And super flexible, too! You can easily modify this base recipe according to taste and/or availability of ingredients. Less coconut, more nuts? No problem. Butterscotch over semi-sweet chocolate chips? Sure. Walnuts or pecans? You choose.
Magic Cookie Bars
Author:
Lalaine | Onion Rings and Things
Ingredients
½ cup butter
1-1/2 cup graham cracker crumbs
1 (14 ounces) sweetened condensed milk
1 cup semi-sweet chocolate chips
1 cup shredded coconut
1 cup walnuts, chopped
Instructions
In a 9 x 13 inch pan, place butter and melt in a 350 F oven (if using a glass pan, set at 325 F). Swirl around to cover bottom of pan.
Sprinkle crumbs over melted butter and then pour milk evenly over crumbs.
Top evenly with chocolate chips, coconut and nuts. Return to oven and bake for about 25 to 30 minutes or until lightly browned. Allow to col completely before cutting into serving portions.