Two-ingredient dulce de leche ice cream that will rival the best commercial ice creams out there! All you need are two ingredients to make the richest, silkiest, most intense caramel ice cream ever. No churning or ice cream maker needed!
I know this is like the third ice cream I posted on the blog in two weeks and I am not exactly doing our waists any favors. I am #sorrybutnotsorry, you guys, I just can't help myself.
For one thing, summer has been beating at our doorstep with all its might (96 F today!), all I want to do all afternoon long is have the a/c blasting on my face and a generous bowl of ice cream sitting on my lap.
Also, ever since I discovered how this no-churn technique makes ice cream effortless and almost foolproof, I've been whipping up different flavor combinations nonstop. At this very moment, I have a pan of mango and this two-ingredient dulce de leche ice cream waiting to be devoured in our freezer!
While traditional ice cream starts with a cooked custard base thickened either with eggs or cornstarch, the no-churn version, however, gets its incredible richness from sweetened condensed milk. The condensed milk is whipped together with heavy cream and placed in the freezer overnight, producing a rich, silky ice cream treat that will rival the best commercial brands out there. Just look at how creamy the ice cream turns out!
And here's one more proof in the pudding…
Another great thing about these no-churn ice creams other than being amazingly delicious and ridiculously simple to make, they can be easily adapted to just about any flavor you can think of. In the past three weeks alone, I've made coffee brickle, strawberry swirl cheesecake, mango, peanut butter and jelly (coming soon!), and all with astounding success!
I seriously spend my waking hours dreaming of many delightful ways to enjoy my newfound addiction. Fact–> I was already tucked between my sheets, drifting to near sleep, when the idea for this two-ingredient dulce de leche ice cream hit me. I was so excited, I jumped out of my bed so fast I startled poor G who was snoring peacefully, and raced downstairs to check if I had a can of dulce de leche in our pantry for my next day's ice cream-making adventure.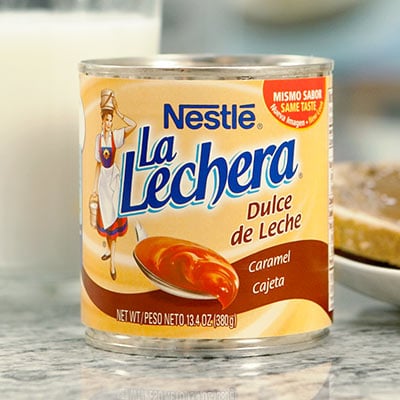 To make the caramel ice cream, I swapped the condensed milk with ready made Dulce de Leche (I grabbed the photo from Nestle's site so you know what to look for), which are readily available in the baking supplies aisle of most grocery stores. You can also make your own by simmering a closed can of sweetened condensed milk in a pot of water for two to three hours until very thick and of deep brown color.
For best results, make sure the heavy cream and dulce de leche are very cold. You can also place the beaters and the bowl in the freezer for at least 30 minutes to help the cream mixture to whip up to a good volume.
So, what are we waiting for? Make this now! Just two ingredients, you guys. Just two ingredients, and a bit of elbow grease separate you from the most intense dulce de leche ice cream ever.
Two-Ingredient Dulce de Leche Ice Cream
Author:
Lalaine | Onion Rings and Things
Ingredients
2 cups heavy cream, very cold
1 can (14 ounces) Dulce de Leche, very cold
Instructions
In a large bowl, combine heavy cream and dulce de leche. Using a hand mixer at low speed speed, beat mixture for about 1 to 2 minutes or until mixture begins to thicken. Increase speed to medium and continue to beat for about 3 to 5 minutes or until stiff peaks form.
Transfer mixture into a metal 9 x 5 loaf pan. Cover with plastic film, lightly pressing film on surface of cream mixture (this is to prevent ice crystals from forming). Refrigerate for at least 6 hours or overnight. Serve frozen.
Tools/Supplies You Might Need for This Recipe (disclosure: affiliate links):
La Lechera Dulce De Leche, 13.4 Ounce Container
KitchenAid KHM512IC 5-Speed Ultra Power Hand Mixer, Ice
Tovolo Glide-A-Scoop Ice Cream Tub – Pistachio