5-Ingredient Honey Mustard Chicken is moist, flavorful and amazing over rice. With only five ingredients and ready in 30 minutes, it's a delicious way to get dinner in a hurry.
Guys, dinner can't get any easier than this! Just five ingredients (ok, six but salt and pepper are almost synonymous to each other, let's count them as one) and 30 minutes, this honey mustard chicken is ready to be savored. It's such a no-fuss dish you'll be out of the kitchen in no time yet it taste so moist and flavorful it's like you slaved in the kitchen all day long.
All you need to get the family's meal on the table is to season the chicken breasts with salt and pepper, liberally coat in a mixture of equal parts honey and dijon mustard, and then bake for 20 to 25 minutes to juicy perfection. That's it! Dinner is served.
This 5-ingredient honey mustard chicken is a super easy dish, you won't believe how amazing every forkful is with so little effort.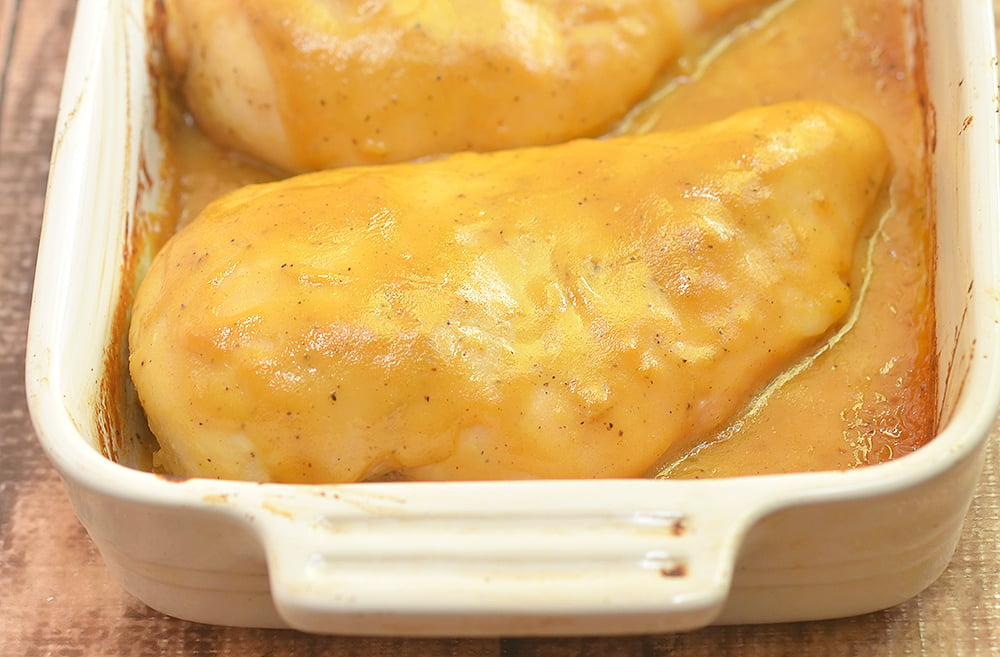 See that glorious sauce 👆 the chicken is swimming in? Please, please, pretty please, do not discard that liquid gold! Spoon it over white steamed rice (or on mashed potatoes) for an extra dose of yum. You'll thank me later. 🙂
I just realized my last three posts on the blog are chicken recipes. #sorrybutnotsorry. What can I say? We're big fans of chicken around here. Not only is chicken leaner in fat and an excellent source of protein, it goes well with almost every flavoring you can think of. From salads, stews, roasts to soups, it's a versatile canvas for all your meal inspirations.
But as I've said before, not all things in life are made equal. There's chicken, and then there's Foster Farms Simply Raised Chicken.
I've always believed great food is not only about cooking techniques, it's also about using fresh, quality ingredients. And with their birds locally grown and raised right here in California, and distributed with no antibiotics ever, you can't get any fresher or better quality than Foster Farms Simply Raised chicken.
This is my second time participating in Foster Farms New Comfort Food movement and I am beyond thrilled! I just love working with products I can feel good about serving to my family. Foster Farms chicken is reinventing the way we enjoy our comfort foods with quick and easy yet healthy and delicious recipes. I am excited to include this 5-ingredient honey mustard chicken on the list!
A few things to remember before we head to the recipe:
Make sure the chicken breasts are of uniform thickness to ensure even cooking. Gently pound the thicker parts with a meat mallet to slightly flatten.
Cooking the chicken at 350 F creates a dry, sawdust-like texture. Before the top even caramelizes nicely, the chicken is already overdone. Cooking on high heat (450) for a shorter period of time makes for juicier meat! If the sauce is browning too fast, just loosely tent the baking dish with foil.
Although I was aiming for five ingredients only, I had to add a bit of olive oil to the marinade. Chicken breasts are very lean meat and the little drizzle of fat will help keep them moist and flavorful.
Let the chicken rest for about 3 to 5 minutes before slicing. It's hard to keep hungry mouths waiting but this 3 to 5 minutes will help the meat retain its juiciness.
Make sure to check out the Foster Farms and find more exciting recipes to try. Happy cooking!
5-Ingredient Honey Mustard Chicken
5-Ingredient Honey Mustard Chicken is moist, flavorful and amazing over rice. With only five ingredients and ready in 30 minutes, it's a delicious way to get dinner in a hurry.
Ingredients
1

pound

boneless, skinless Foster Farms Simply Raised chicken breasts

4 (4 ounces each)

salt and freshly-ground pepper to taste

1/2

cup

honey

1/2

cup

Dijon Mustard
Instructions
Wash chicken under cold running water and pat dry. Using a meat mallet, pound chicken breast one or two times to about the same thickness for even cooking. Season with salt and pepper to taste.

In a bowl, combine honey and Dijon mustard. Whisk together until blended. Dip chicken breasts in the mixture to fully coat.

Arrange in a single layer on a lightly greased baking dish and bake in a 450 F oven for about 15 to 20 minutes or until the chicken is nicely caramelized and thermometer inserted in the center reads 165 F. If the top is browning before chicken is cooked through, lightly tent with foil. Remove from heat and allow to stand for about 3 to 5 minutes before slicing. Serve hot.
Nutrition Facts
5-Ingredient Honey Mustard Chicken
Amount Per Serving (189 g)
Calories 366
Calories from Fat 87
% Daily Value*
Total Fat 9.7g 15%
Cholesterol 101mg 34%
Sodium 1035mg 43%
Potassium 344mg 10%
Total Carbohydrates 36.8g 12%
Protein 34.3g 69%
* Percent Daily Values are based on a 2000 calorie diet.