We are now in the middle of fall but there is still a bit of warmth left in the air calling for some serious barbecue and what could be a more delicious way to say one last adieu to summer than sweet corn straight off the grill? I discovered this bacon-wrapped grilled cob with chipotle-honey glaze at Kunzler and Company, a maker of deli  meats, hotdogs and bacon. As usual, the word bacon sealed the deal for me. Trust me, people, we have incredible flavors going on here. Roasted corn, crisp bacon and sweet-spicy glaze, this is the only way to eat grilled corn.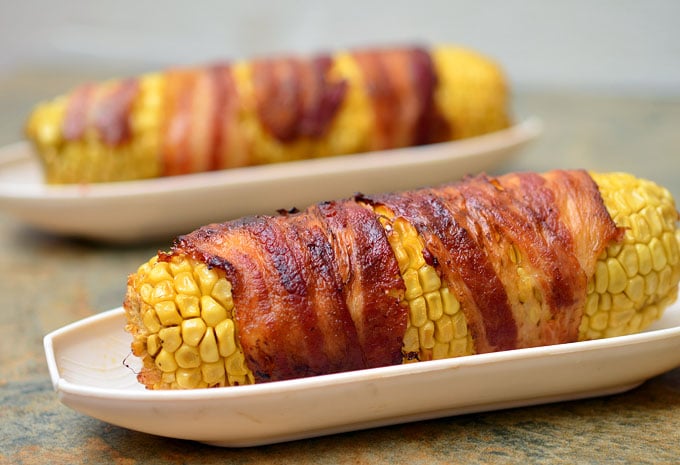 Bacon-wrapped Corn with Chipotle-Honey Glaze
Ingredients
4 corn ears, hulled
4 bacon slices
¼ cup canned chipotle peppers
¼ cup honey
¼ cup butter, melted
Instructions
Going from one end to the other, wrap bacon around each corn and secure with toothpicks. Set aside.
In a food processor or blender, pulse chipotle peppers until smooth. In a bowl, combine pureed peppers, honey and butter.
Spray grates of grill with cooking spray and set over medium hot coals. Liberally brush bacon-wrapped corn with chipotle-honey glaze and arrange on grill. Grill corn, turning every 2 to 3 minutes and basting regularly with glaze, for about 20 to 25 minutes or until corn is cooked and bacon is crisp.