FREE Canning Labels Printables Plus Video for labeling your summer's bounty in style! They come in three sizes and designs and are perfect to use for gift-giving. Watch the video on how easy they are to customize!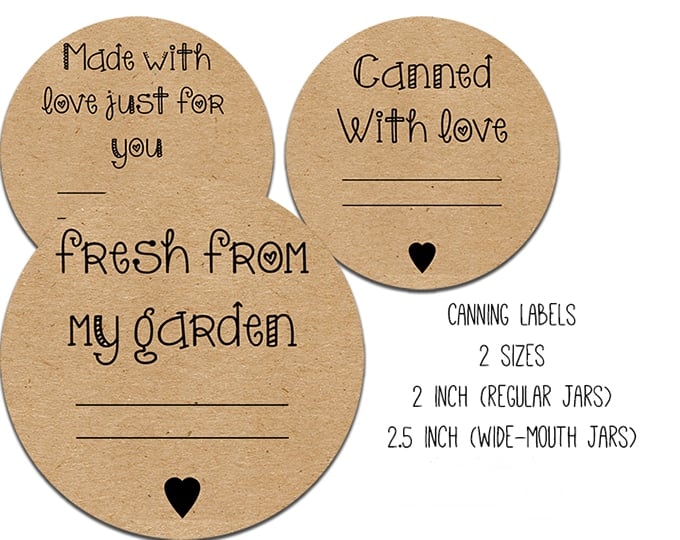 Guys, I'm so excited to share these new set of printables with you! I am sure you'll love them as much as I do and will find them very useful in your homemaking.
Along with the gorgeous outdoor weather, summer brings a bounty of delicious produce. Berries, cherries, peaches, tomatoes, peppers, corn, cucumbers and most of our favorite sweet, juicy fruits and vegetables are all in abundance. And not only are they plentiful, they are also at their best quality and at their most affordable.
Fortunately, we can celebrate summer flavors year-round by canning and pickling. By preserving nature's bounty, we can enjoy our favorite produce throughout the year and stock up when prices soar with the change of season. And they also make great hostess or holiday gifts! Who wouldn't love a bottle of strawberry jam made with love, right?
Watch the video and see how you can easily edit the labels:
These FREE canning labels printables come in 2 sizes per design. The 2.5-inch size prints 12 in a sheet and will fit wide mouth mason jars while the smaller 2-inch size prints 15 in a sheet and fit regular mason jars.
Another cool thing about these printables other than being super duper cute is you can easily customize them for all your labeling and gifting needs. Watch the video above for the simple instructions.
Download your FREE Canning Labels Printables by clicking the links below. Enjoy!