Homemade Coffee Sugar Body Scrub is a luxurious body treat for smooth, silky and invigorated skin! Only three all-natural ingredients!
Guys, do I have a treat for you! It's not our usual recipes but, you guessed it, a homemade coffee sugar body scrub that's perfect for your everyday pampering.
I am in my (late) forties and although I wouldn't exactly call myself punctilious about my (fading) looks, I'm not adverse to getting all the (non-surgical) help I need to yank back a bit of my (lost) youth. Face masks, hand creams, body lotions, foot soaks and the occasional spa treatments are my favorite ways to spoil my body and feel good.
But as much as I love to indulge in beauty aids, I try to stay away as much as possible from products laden with chemical additives I can't spell or pronounce. And that's why this homemade body scrub has become my new yummy addiction! It's so easy and inexpensive to make at home, and with all natural ingredients you probably already have on hand.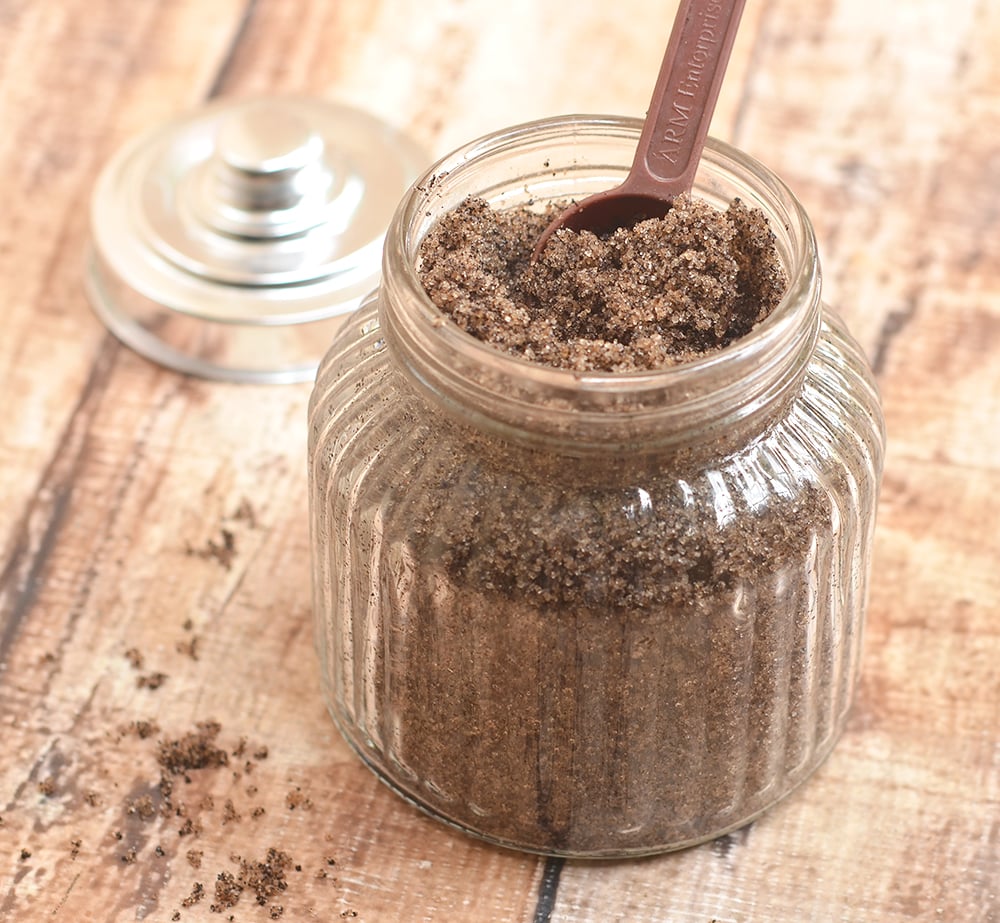 Religious use of a coffee-based scrub is touted to reduce the appearance of cellulite due to the caffeine stimulating dilation and the scrubbing motion increasing circulation.
Now, I am not going to claim such tall statements as I don't have the scientific expertise to back it up. However, I can assure you that after a warm shower using this homemade coffee sugar body scrub, you'll feel refreshed and invigorated. Your skin will feel like a million dollars, soft, smooth and supple!
Of course, bonus points for walking around smelling like everyone's favorite drink.
Homemade Coffee Sugar Body Scrub
Prep time: 5 minutes
Yield: 3 cups
Ingredients
2 cups pure cane sugar
1 cup coffee grounds
1/2 cup coconut oil or olive oil
Instructions
In a bowl, combine sugar and coffee grounds. Add olive oil and stir until well-combined and moistened. Store in an air-tight container for up to 2 months.
Apply in the shower, massaging on the skin in a circular motion. Rinse thoroughly.