Homestyle Beef Stew is the ultimate cold weather comfort food. Chock-full of tender beef, chunky vegetables, and a flavorful broth, it's hearty and delicious!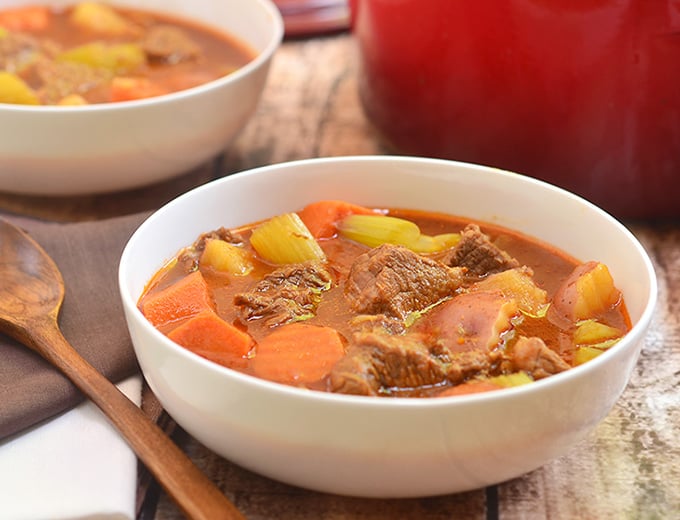 Has it been a week since my last recipe? Oh no! Forgive me, my loyal readers (AKA mom, bro, and bae), I've been down with a bug these past few days and all I wanted to do was sleep. Ugh, flu season!
Sniffles, minor headache, slight fever might have been troublesome but I have to say, I kinda enjoyed the extra pampering I got from being sick. G made this huge pot of homestyle beef stew last Thursday and he was kind enough, albeit, muttering spoiled little brat under his breath, to bring serving after serving of the stew for me in bed. I was feeling off sorts yet my appetite remained as healthy as ever!
Or maybe it was the stew? With tender beef and chunky vegetables served up to me like I was queen, who was I to resist a delectable bowl?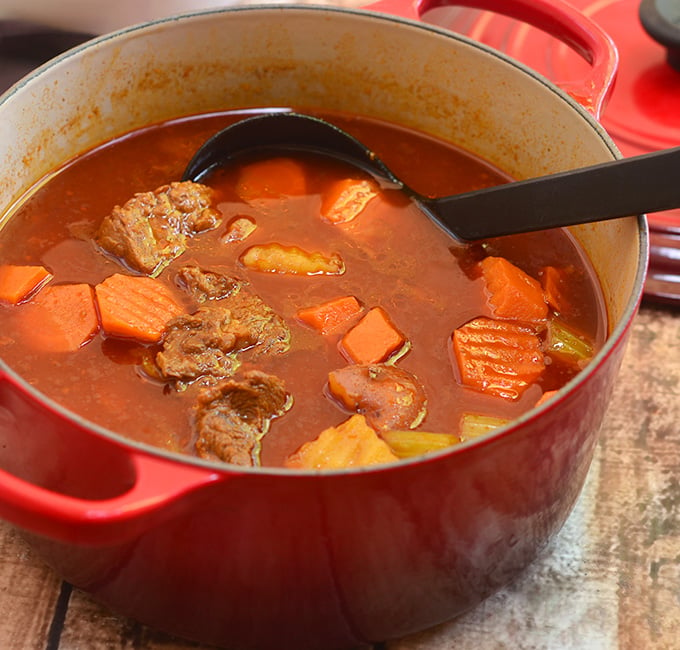 The weather outside is starting to get chilly and what could be better in bitter winters than the inviting aroma of homemade beef stew wafting around your home? Warm and filling, it's the perfect comfort food to see you through the colder months!
Not only is beef stew a good use of tougher, more affordable cuts of meat, it's also an easy, no-fuss dish to make. Other than the short prep of the veggies and the searing of the meat, cooking is mostly hands-off.
Here a few simple techniques on how to take our favorite winter food from good to great.
Make sure to pan-sear the meat to brown its surface and enhance its flavor. Do not overcrowd the pot and cook the beef in batches for it to properly brown and not cook in its steam. I like to use a Dutch oven as it has a thick bottom for a good sear and enough room for all stew ingredients to simmer happily for hours without spills.
Dredge the beef chunks in seasoned flour before browning. The resulting browned bits will help enrich the flavor and thicken the liquid.
Add the vegetables during the last 30 to 40  minutes of cook time so they'll be fairly tender but not falling apart.
Tougher cuts of meat need to be cooked low and slow to break down tough connective tissues. For fork-tender beef, allow 2 to 3 hours at a low simmer.
Enjoy and keep warm!
Homestyle Beef Stew is the ultimate cold weather comfort food. Chock-full of tender beef, chunky vegetables, and a flavorful broth, it's hearty and delicious!
Servings
Ingredients
3 pounds chuck roast, cut into 1 1/2-inch cubes
4 tablespoons flour
salt and pepper to taste
3 tablespoons oil
1 onion, peeled and chopped
3 cloves garlic, peeled and minced
4 cups beef broth
1 cup tomato sauce
2 tablespoons Worcestershire sauce
2 bay leaves
4 red potatoes, quartered
2 large carrots, peeled and cut into 1-inch cubes
2 stalks celery, cut into 1-inch cubes
Instructions
In a bowl, combine flour, about 1/2 teaspoon salt, and 1/4 teaspoon pepper. Add beef and dredge in flour mixture.

In a Dutch oven over medium-high heat, heat 2 tablespoons of the oil.

Add beef in batches and sear until browned on all sides. Remove beef from the pot and keep warm.

Add another 1 tablespoon of oil to the pot. Add onions and garlic and cook, stirring occasionally, until softened.

Add beef broth, tomato sauce, and Worcestershire sauce.

Add bay leaves. Bring to a boil.

Lower heat, cover, and simmer for about 1 1/2 to 2 hours or until meat are tender.

Remove bay leaves and discard.

Add potatoes, carrots, and celery.

Continue to cook for about 30 to 40 minutes or until meat is fork-tender and vegetables are cooked.

Season with salt and pepper to taste. Serve hot.
Nutrition Information
Serving: 636g, Calories: 474kcal, Carbohydrates: 25g, Protein: 37g, Fat: 25g, Saturated Fat: 9g, Cholesterol: 117mg, Sodium: 824mg, Potassium: 1348mg, Fiber: 3g, Sugar: 4g, Vitamin A: 2750IU, Vitamin C: 14.9mg, Calcium: 70mg, Iron: 5.4mg
"This website provides approximate nutrition information for convenience and as a courtesy only. Nutrition data is gathered primarily from the USDA Food Composition Database, whenever available, or otherwise other online calculators."