Oven-Baked Baby Back Ribs with Coffee Whiskey Barbecue Sauce are super easy to make yet moist, flavorful and fall-off-the-bone tender. They're finger-licking, lip-smacking amazing!
Guys, I've never been this excited to share a recipe with you as I am now. These oven-baked baby back ribs with coffee whiskey barbecue sauce are just absolutely fantabulous. Is fantabulous even a word? Wow, I just googled it and it is a word! Well, I am glad it is because it's the only way to describe the lip-smacking, finger-licking goodness of these ribs.
Aside from being insanely delicious, these ribs are ridiculously easy to make, too. The only thing keeping you from digging in right now is the slow cooking in the oven needed to turn each piece into fall-off-the-bone, melt-in-your-mouth tender.
I love grilling outdoors like the most avid pitmaster out there but if I could churn out the best BBQ ribs ever while watching reruns on Netflix, I am all for it.
The slow cooking in the oven takes about two hours but please, please, don't let that deter you. Hands-on prep is just under 15 minutes and the rest of the struggle is but waiting.
And look at those oven-baked baby back ribs with coffee whiskey barbecue sauce ⬆️, they're worth the time! So moist and tender, they fall apart with a simple swipe of a fork!
Let's talk coffee whiskey barbecue sauce. It's sweet, sticky, tangy, spicy and ultra yummy! Made of tomato ketchup, a heaping tablespoon of coffee, a generous splash of whiskey and a hodge podge of spices, and then simmered low and slow until thick and hearty, it's bound to be amazing. And it is.
So good, you can eat it with a spoon!
The BBQ sauce does take an hour to cook over low heat for everything to meld together beautifully. So while the pork ribs are tenderizing in the oven, have the sauce gurgling gently in a sauce pot. Or, you can prepare it a few days beforehand and have it ready to go when BBQ cravings hit.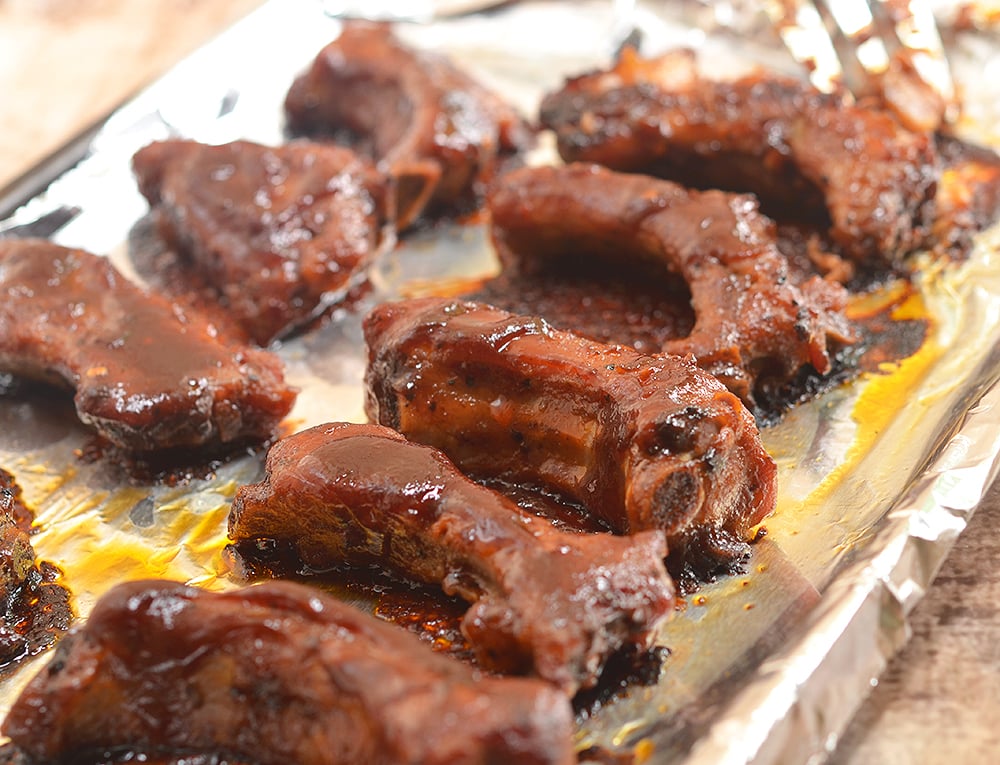 A word of caution from someone who's been there and done that, please make sure you line your baking sheet with foil. You'll thank me later. 🙂
Baby Back Ribs with Coffee Whiskey Barbecue Sauce
Author:
Lalaine | Onion Rings and Things
Ingredients
4 pounds baby back ribs, cut between bones into pieces
salt and pepper to taste
For the Coffee Whiskey Barbecue Sauce
1½ cups ketchup
4 cloves garlic, peeled and minced
1 small sweet onion, peeled and finely chopped
1 cup firmly-packed brown sugar
½ cup apple cider vinegar
½ cup Whiskey
½ cup orange juice
2 tablespoons Worcestershire sauce
2 tablespoons Molasses
½ cup strong brewed coffee or 1 tablespoon instant coffee granules dissolved in ½ cup warm water
1 tablespoon olive oil
1 tablespoon salt
½ tablespoon pepper
1 teaspoon smoked paprika
1 teaspoon crushed red pepper flakes
Instructions
Line a baking sheet with foil.
Season baby back ribs with salt and pepper to taste. Arrange in a single layer on prepared baking sheet. Cover tightly with foil. Bake in a 300 F oven for about 1 to 1½ hours or until fork-tender.
Meanwhile, in a sauce pan, combine BBQ sauce ingredients: ketchup, garlic, onions, brown sugar, apple cider vinegar, Whiskey, orange juice, Worcestershire sauce, molasses, coffee, olive oil, salt, pepper, smoked paprika and red pepper flakes. Stir until blended.
Over medium heat, bring sauce to a boil. Lower heat and simmer for about 1 hour or until thick and reduced by half.
Remove meat from oven and using tongs, dip ribs in the BBQ sauce to fully coat. Arrange in a single layer on baking sheet. Bake for another 15 to 20 minutes or until sauce is thickened and nicely caramelized. Remove from heat and serve hot.