Apricot-Nut Chicken Salad Sandwich with moist chicken, dried fruit, and nuts in a creamy mayo-yogurt dressing. Bursting with flavor and crunch, it makes for a filling lunch or midday snack.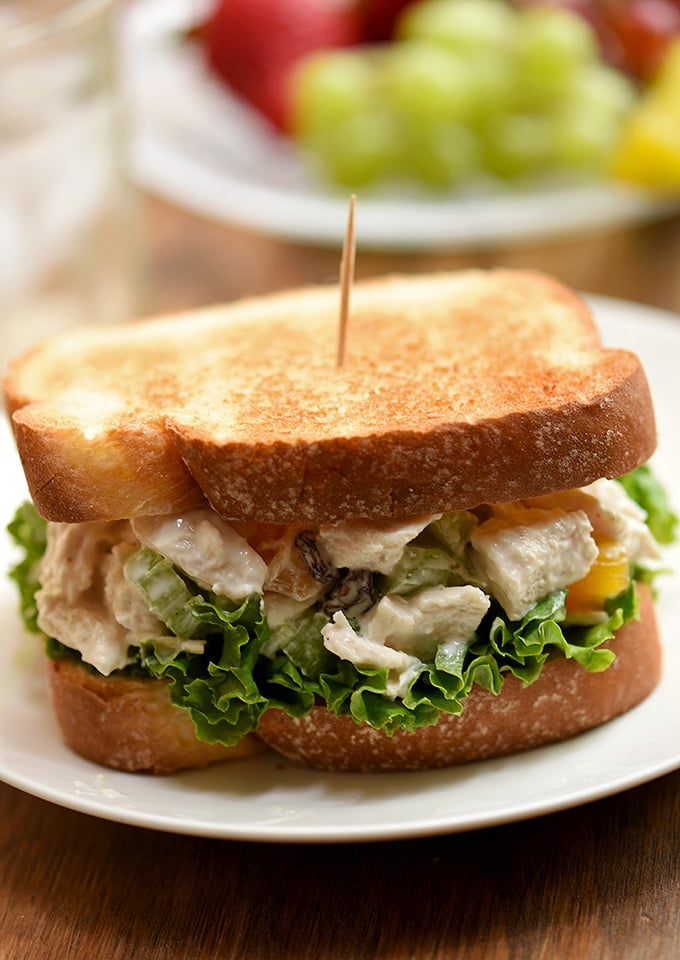 What to do with last night's leftover chicken roast? Turn it into a scrumptious chicken salad sandwich!
Chock-full with moist chicken, dried apricots, crunchy cashews, crisp celery, plump raisins, and green onions, it's perfect for brown bag lunches and is sure to make you the envy of the breakroom. This sandwich is bursting with so much flavor and texture; it's like a party in your mouth!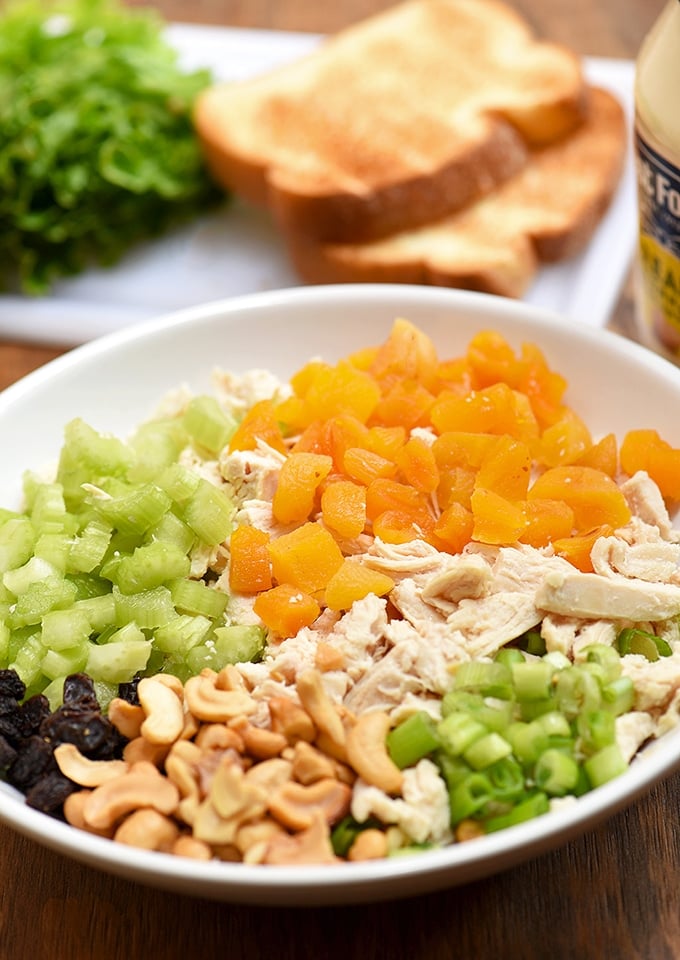 What Can You Add to Chicken Salad?
Chicken salad, at its basic, is traditionally made with chopped or shredded cooked chicken, mayonnaise, and seasonings.
I find the hint of sweetness from the dried apricots and raisins plus the crunch of cashews and celery in this recipe work well with the savory flavors of the chicken and mayo-yogurt dressing, but you can certainly add extra mix-ins if you like. Here are a few suggestions:
seedless grapes, pineapples or apples (tart Granny Smiths!)
red or sweet onions
dried cranberries
candied walnuts or pecans
cucumbers or sweet peppers
roasted green chilis or pepperoncini, seeded and chopped
fresh or sun-dried tomatoes
chopped pickles or sweet relish
fresh basil, dill or mint
BACON!
cajun spice, jerk seasoning or curry powder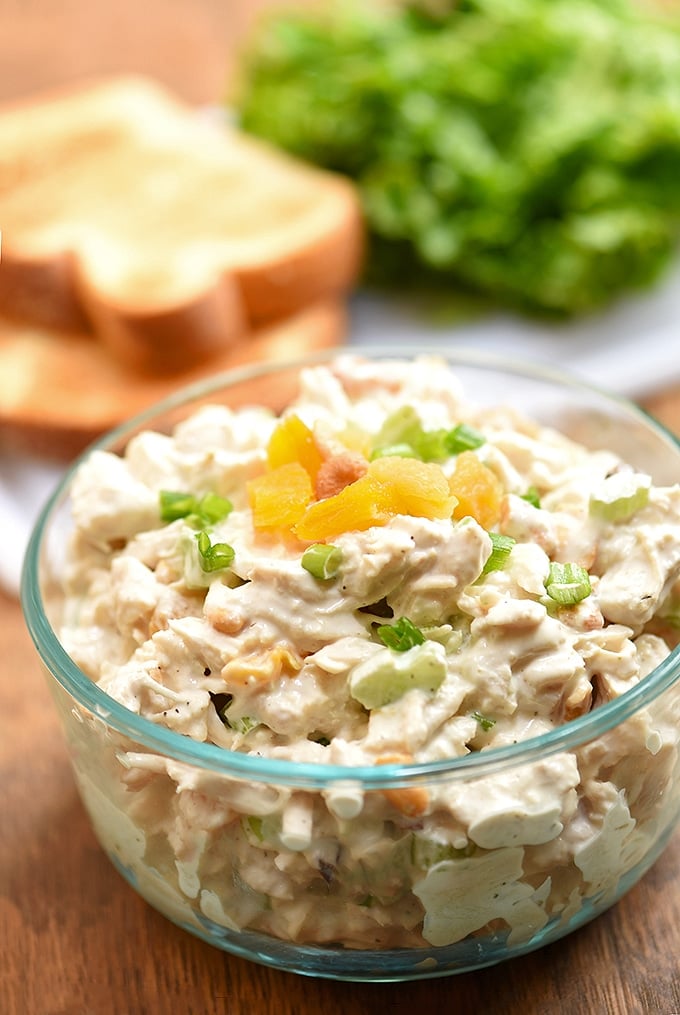 This chicken salad sandwich recipe is easy to pull together and so versatile! It's a fantastic filling for wheat bread, croissants, tortilla wraps, or pita pockets but it's also great as a spread for crackers and crostinis. Watching carbs? Add it to green salads or wrap in crisp green leaf lettuce!
However way you enjoy, it makes for a satisfying lunch, midday snack or appetizer.
How Many Days Can You Keep Chicken Salad?
With its many delicious uses, you'll hard-pressed to have leftovers, but in the SLIM chance you do, the salad should last for 2 to 3 days in the fridge. As it is high in protein and has mayo, I won't recommend keeping for more than 72 hours.
If packing it for on-the-go lunch or serving for a picnic, keep the temperature at 40 F or below by setting the container on ice. Discard if it has sat at room temperature for more than 2 hours.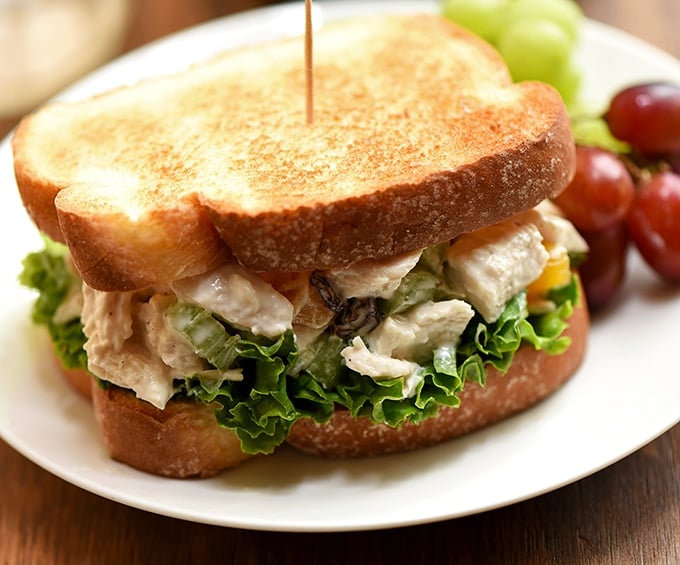 This sandwich filling is a great use for leftover rotisserie chicken or roasted turkey but for extra moist meat, try poaching! The delicate cooking technique in which the chicken is gently simmered in liquid and aromatics keeps the chicken from toughening and adds flavor as well.
How to Poach Chicken Breast:
Wash chicken and drain well.
In small, heavy-bottomed pot, arrange chicken breasts in a single layer. Add water, quartered onions, smashed garlic cloves, bay leaf, salt, and peppercorns.
Bring to a boil, skimming scum that floats on top. Lower heat, cover, and cook in a barely a simmer for about 10 to 15 minutes or until thermometer inserted in the thickest part of chicken reads 165 F.
With a slotted spoon, remove chicken from heat and allow to cool to touch. Coarsely shred chicken and chill in the fridge to cool completely.
Want more light lunch ideas? This chicken quesadilla with caramelized onions and gouda cheese is the bomb!
Apricot-Nut Chicken Salad Sandwich with moist chicken, dried fruit, and nuts in a creamy mayo-yogurt dressing. Bursting with flavor and texture, it makes for a filling lunch or midday snack. It's great for sandwiches or pita pockets, with crackers, on green salads, or in lettuce wraps.
Course:
Main Entree, Snack
Servings
Ingredients
2 cups cooked chicken breast meat, coarsely chopped
1/4 cup dried apricots, chopped
1/4 cup celery, chopped
2 tablespoons unsalted cashews, chopped
2 tablespoons green onions, chopped
2 tablespoons raisins
1/4 cup mayonnaise
2 tablespoons plain yogurt
salt and pepper to taste
12 slices wheat or white bread
6 leaves green leaf lettuce
Instructions
In a bowl, combine chicken, dried apricots, celery, cashews, green onions, and raisins Stir to distribute.

Add mayonnaise and yogurt. Season with salt and pepper. Stir to combine.

Spread chicken salad evenly over bread slice. Place lettuce over filling and top with remaining bread slice. Repeat with remaining bread slices and filling.
Nutrition Information
Calories: 324kcal, Carbohydrates: 32g, Protein: 19g, Fat: 13g, Saturated Fat: 2g, Cholesterol: 40mg, Sodium: 427mg, Potassium: 423mg, Fiber: 4g, Sugar: 6g, Vitamin A: 1325IU, Vitamin C: 2mg, Calcium: 84mg, Iron: 2.2mg
"This website provides approximate nutrition information for convenience and as a courtesy only. Nutrition data is gathered primarily from the USDA Food Composition Database, whenever available, or otherwise other online calculators."