Baked Honey Lemon Chicken bursting with sweet honey and fresh lemon flavors, and baked for a healthier twist is the epitome of modern comfort food. Refreshing tangy and delicious, it's amazing over steamed rice!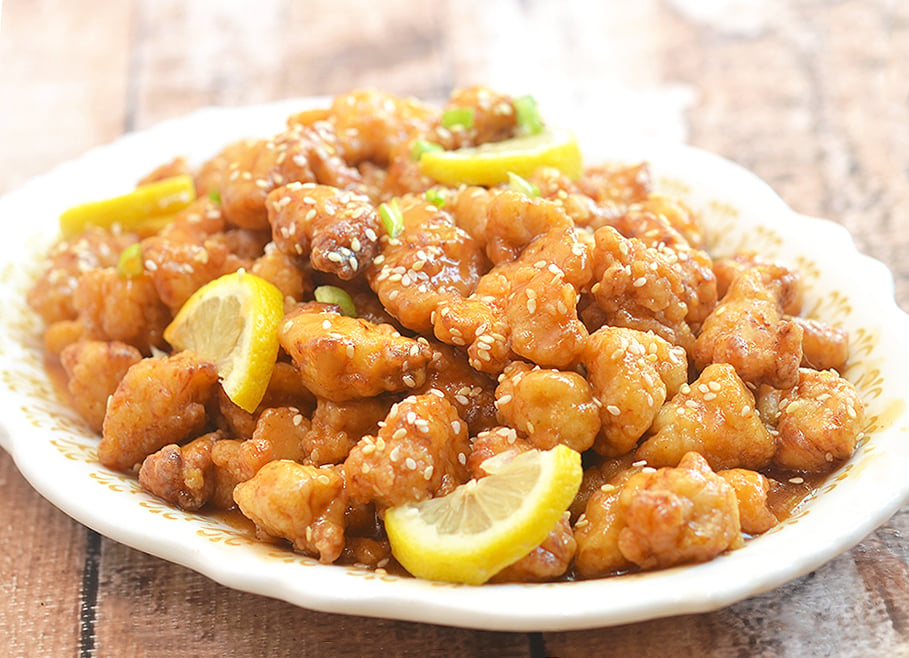 It's just G and me at home now yet deciding what to eat on a daily basis can still be a battle of wills. We both share an appetite for great food but our tastes can't be more different.
While I adore seafood in any form, he won't touch anything from the sea with a ten-foot pole. And while he's happiest with a thick slab of rib eye done rare, I won't have any of that bloody gore.
One thing we can both agree on, however, is our love for chicken. Stew it, roast it, bread it, grill it, fry it, bake it, it's always our favorite answer to "what's for dinner?". Any way you cook chicken, it makes a satisfying and comforting dinner meal.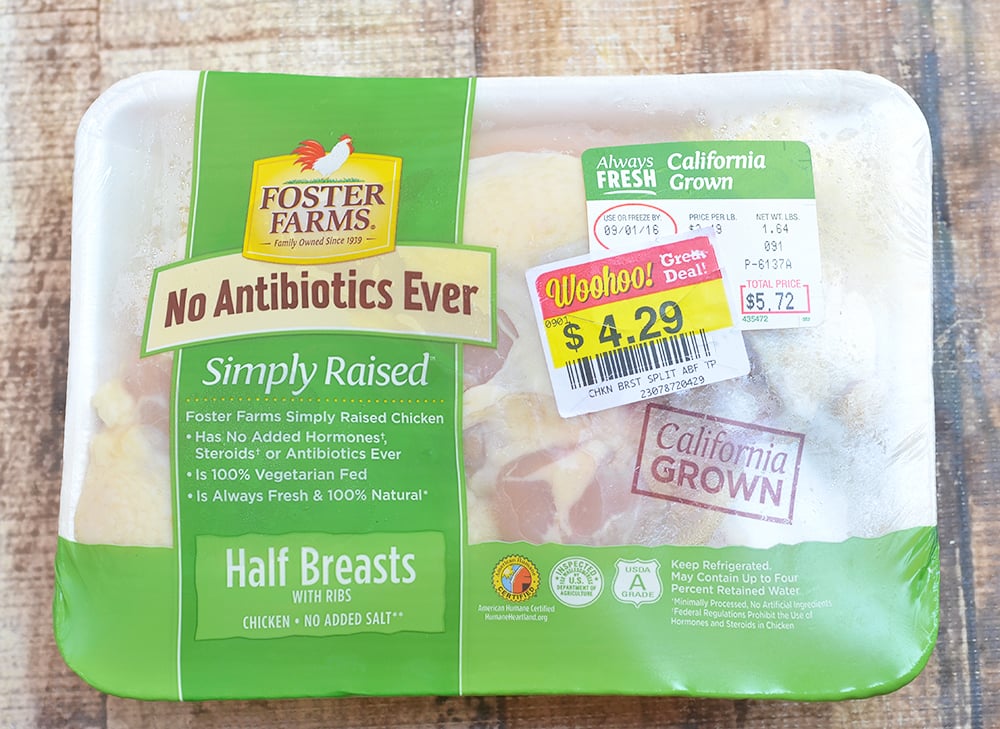 A good source of protein and lean in fat, quick and easy to prepare, and with a bland and uniform texture that lends well to various applications, chicken has become America's most popular meat.
However, not all things in life are made equal. There's chicken, and then there's Foster Farms Simply Raised chicken.
As we all know, great food starts with fresh ingredients. And with their birds locally grown and raised right here in California, Foster Farms Simply Raised fresh chicken guarantees what you get is Always Fresh. The faster the chicken travels from farm to table, the better the quality and the fewer the risks of improper handling.
You'll feel good knowing the food you share with your family are healthy, delicious, and distributed with no antibiotics ever!
Foster Farms Simply Raised fresh chicken is redefining what it means to get comfortable with your food again through quick and easy New Comfort Food recipes. Using mostly local, seasonal ingredients and encouraging quick, easy and fast prep time, classic favorites are given a modern, healthy twist.
Of course, you can start your road to simple, fast and accessible dinner meals with our very own baked honey lemon chicken. 🙂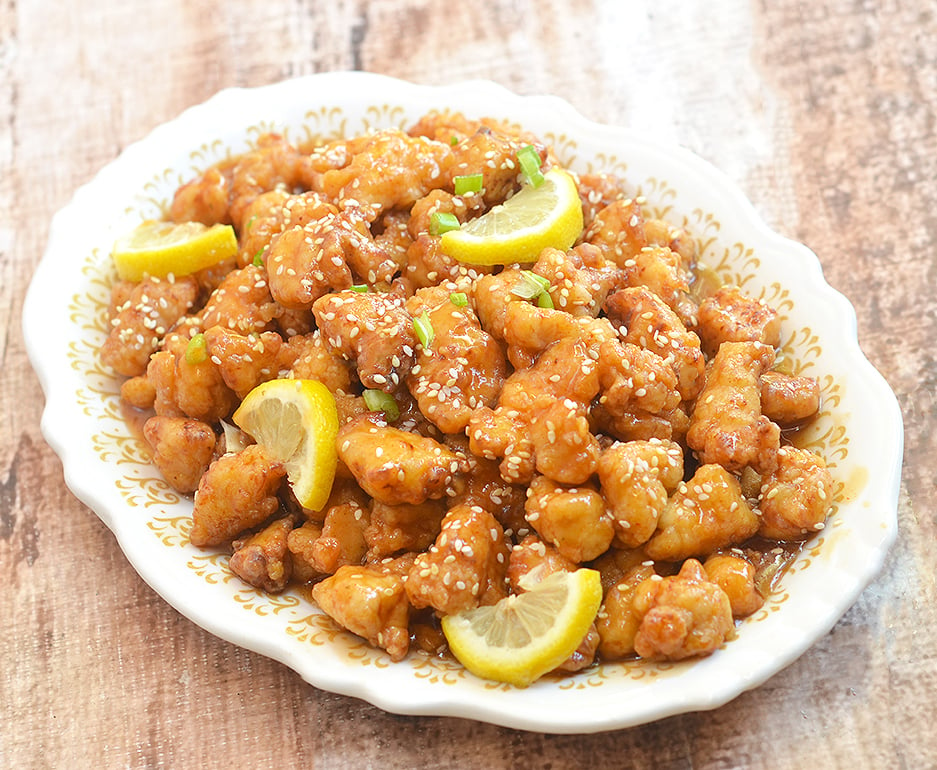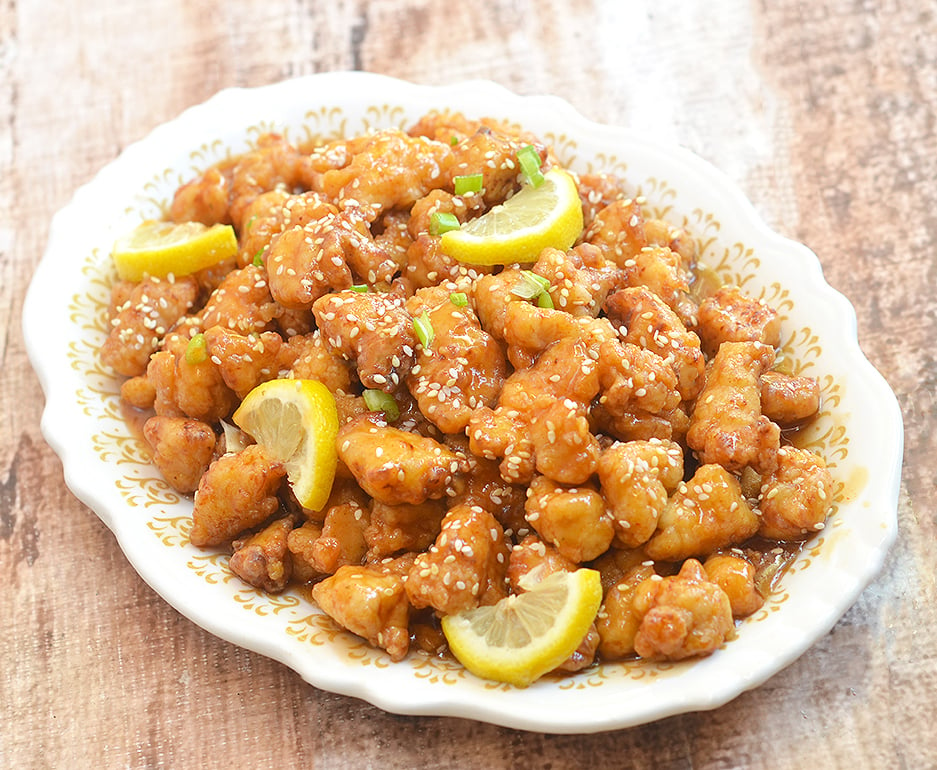 But first, a few notes on how to recreate this baked honey lemon chicken with delicious success:
I used half-breasts with ribs instead of boneless chicken breasts or fillets. It might prove a little trickier and time-consuming if you're feeding a crowd but for a regular family dinner, deboning a couple of pieces shouldn't be much work. My thought is, why pay more for boneless, skinless chicken breasts or tenders when you're going to cut them into cubes anyway? Even with the discarded bones and skin, half-breasts with ribs still cost less pound per pound. Besides, the bone scraps can be saved and made into chicken stock for future use. Win, win!
For chicken nuggets that are light and airy instead of dense and eggy, I used egg whites and cornstarch to coat the pieces.
Baking the breaded chicken is definitely healthier but require a few tricks to come out as deliciously crisp as when deep-fried. For maximum crunch, don't overcrowd the baking pan and adequately space out the chicken pieces. Make sure to bake at a high temperature (400 F) so the breading crisps up and develops a golden brown without overcooking the chicken.
Please do not be tempted to use bottled lemon juice for the honey lemon sauce. Although more convenient, its flavor just can't equal that of freshly-squeezed. To get the most juice from your citrus fruits, make sure they're at room temperature and roll them a few times on a flat surface to soften before juicing.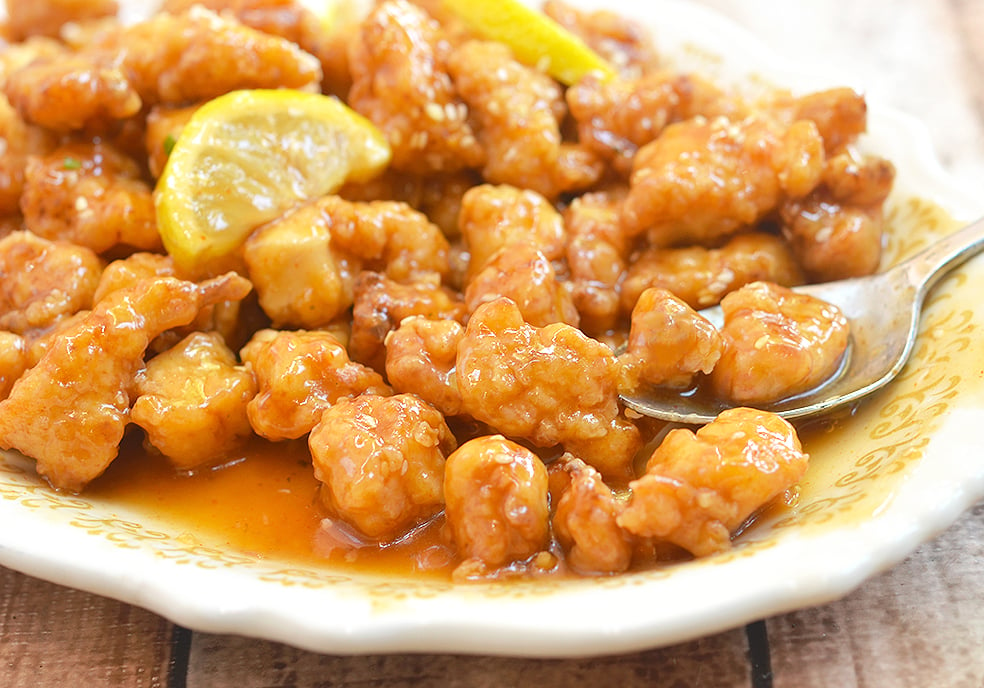 Guys, let's talk honey lemon sauce for a quick minute. The moist and flavorful chicken pieces are without a doubt the star of the show but the sauce makes them shine! Perfectly sweet and tangy, it's made for spooning over generous heaps of steamed rice.
I hope you give this baked honey lemon chicken a spin tonight and please check out Foster Farms Simply Raised fresh chicken for more delicious ideas. Remember to use their coupon for additional savings!
This baked honey lemon chicken recipe is made with sweet honey and fresh lemon. This chicken is baked for a healthier twist on takeout. Refreshing tangy and delicious, it's amazing over steamed rice!
Servings
Ingredients
2 pounds boneless, skinless chicken breasts (or about 2 1/2 pounds half breasts with ribs)
2 egg whites
1 cup cornstarch
teaspoon ½ salt
For the Honey Lemon Sauce
1/4 cup fresh lemon juice
1/4 cup honey
2 tablespoons light soy sauce
2 cloves garlic, grated
1/8 teaspoon ground ginger
zest of 1 lemon
1 teaspoon cornstarch
1/2 teaspoon sesame oil
sesame seeds
Instructions
Trim chicken of any excess fat. Wash and drain well. Cut into 1-inch pieces. If using with ribs, debone and remove skin.

In a bowl, whisk egg whites until frothy.

In a plate, combine cornstarch and salt. Stir until well-dispersed.

Dip chicken in egg and then dredge in cornstarch to fully coat. Arrange in a single layer on a parchment-lined baking sheet. Do not overcrowd the pan.

Bake chicken in a 400 F oven for about 10 to 15 minutes or until lightly browned and cooked through. Remove from heat and keep warm.

In a wide pan, combine ingredients for the honey lemon sauce: lemon juice, honey, soy sauce, garlic, ground ginger, lemon zest, cornstarch, and sesame oil. Stir until smooth. Over medium heat, cook for about 2 to 3 minutes or until sauce begins to bubble and thicken. Add chicken pieces and gently toss to coat with sauce.

Sprinkle with sesame seeds, if desired.
Nutrition Information
Serving: 323g, Calories: 644kcal, Carbohydrates: 48.9g, Protein: 68.3g, Fat: 17.6g, Saturated Fat: 4.8g, Cholesterol: 202mg, Sodium: 960mg, Potassium: 633mg, Fiber: 0.5g, Sugar: 18g, Vitamin A: 100IU, Vitamin C: 10.7mg, Calcium: 40mg
"This website provides approximate nutrition information for convenience and as a courtesy only. Nutrition data is gathered primarily from the USDA Food Composition Database, whenever available, or otherwise other online calculators."
Nutrition Facts
Baked Honey Lemon Chicken
Amount Per Serving (323 g)
Calories 644 Calories from Fat 158
% Daily Value*
Fat 17.6g27%
Saturated Fat 4.8g30%
Cholesterol 202mg67%
Sodium 960mg42%
Potassium 633mg18%
Carbohydrates 48.9g16%
Fiber 0.5g2%
Sugar 18g20%
Protein 68.3g137%
Vitamin A 100IU2%
Vitamin C 10.7mg13%
Calcium 40mg4%
* Percent Daily Values are based on a 2000 calorie diet.