Charro Bean cooked with bacon, chorizo, tomatoes and chili peppers for a delicious accompaniment to your favorite Mexican entrees. They're hearty enough to be enjoyed on their own with warm tortillas and the recipe can be easily doubled to feed a crowd!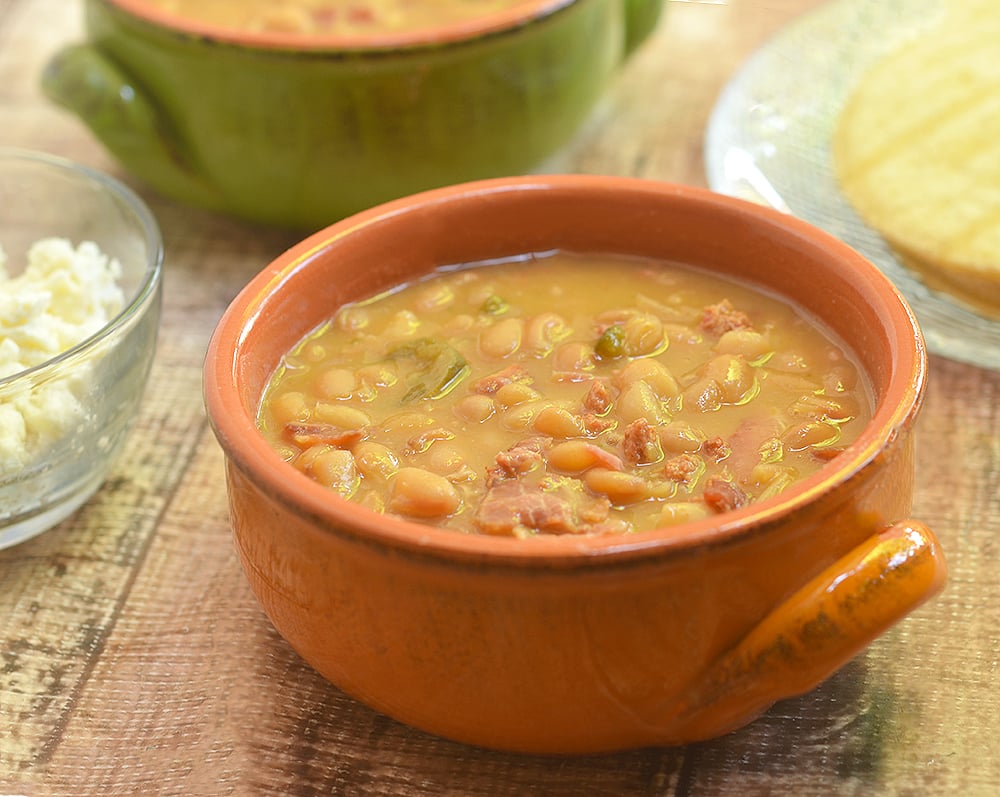 Hello, everyone! How was your Labor day weekend? I hope you had a fabulous time and fabulous food to boot.
G and I spent the last three days mostly cooped up in the house as our previously planned out-of-town trip was waylaid by the taillights of our van suddenly not working. To add to the aggravation, the auto shop we usually bring our old clunker to for repairs was closed for the long weekend. We couldn't very well be driving around with a busted taillight and risk a ticket or worse, an accident, so home we stayed. Ugh.
To ease some of the disappointment, we decided to fire up the pit on Labor day and grill us an awesome Mexican lunch. I guess nothing heals a broken heart better than great food because halfway through our plateful of pollo asado, Spanish rice, and charro beans, our scrapped mini vacay was long forgotten.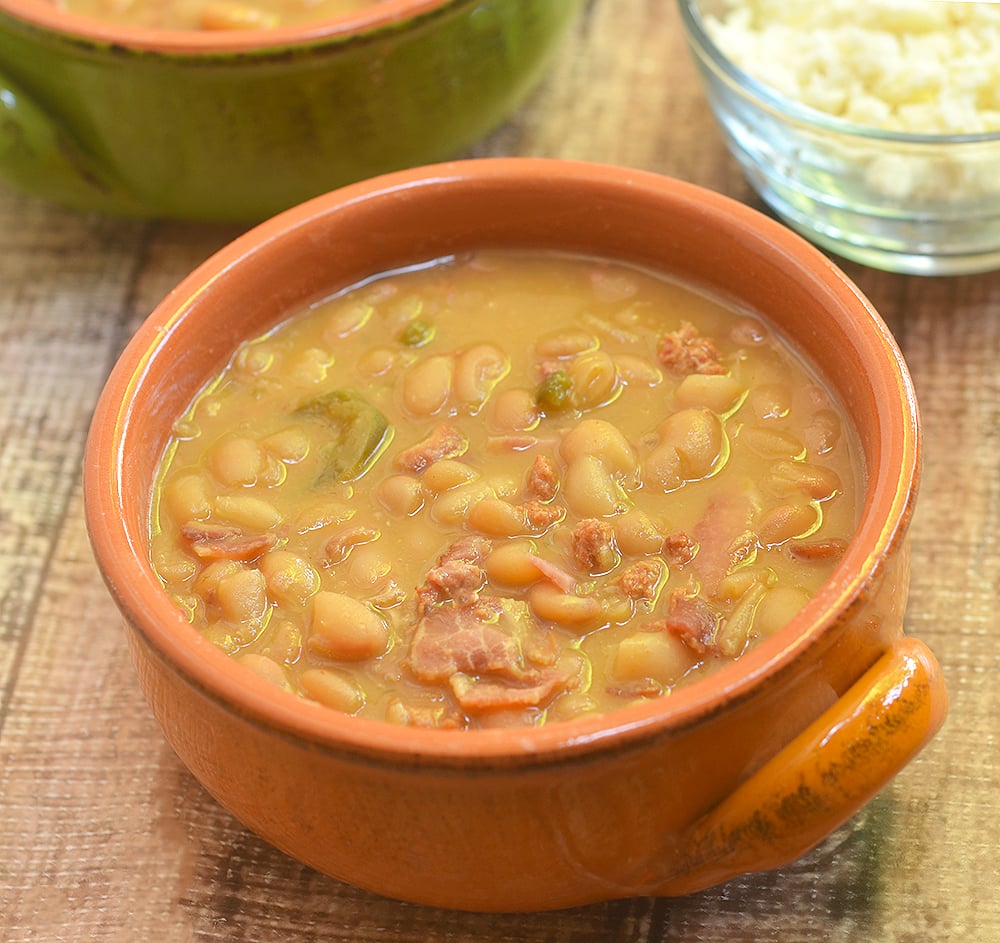 Charro beans or otherwise known as cowboy beans are, indeed, comfort food at its best. These Mexican-style beans start with frijoles de olla which basically means beans from the pot. The tender beans are simmered anew in bacon, chorizo, onions, garlic, tomatoes, and chili peppers for a rich, smoky taste.
Before I blogged full time in what feels like a lifetime ago but was just April of this year, I managed the dietary department of a skilled nursing facility and worked with a predominantly Hispanic crew. Every day, my staff would bring food from home and everyone in the department would group together at lunch time to share in the delicious bounty. Most often than not, you'll find charro beans a part of our feast.
Like most classic dishes, you'll find many ways of making these charro beans. The use of bacon and chorizo is the most typical but I've tried (and loved) versions that included chopped hot dogs, ham, and chicharrones (pork rind)! Hearty and delightfully spicy, they're the perfect accompaniment to your favorite Mexican entree!
Here are a few helpful tips on how to make Charro Beans:
When cooking the beans, toss in the salt when the beans are already a bit soft as adding it at the beginning will toughen the beans.
You can cut a bit of the cook time by soaking the beans in water beforehand but do not soak for more than a few hours as they will begin to ferment.
Bring the beans to a boil and then lower heat to continue to cook in a simmer. This will ensure the beans will cook tender but with skins intact. Vigorous boiling will make the beans split or burst at the seams.
Use a large, heavy-bottomed pot to give the beans enough space to cook and to allow for even heat distribution.
Charro Beans are cooked with bacon, chorizo, tomatoes and chili peppers making them a perfect side for your favorite Mexican entrees. These are so satisfying and savory!

Ingredients
1 pound dry pinto beans
10 cups water
1 onion, peeled and quartered
3 cloves garlic, peeled and quartered
1/2 pound bacon, chopped
8 ounces pork chorizo
1 large onion, peeled and chopped
2 garlic, peeled and chopped
4 tomatoes, chopped
1 jalapeno, stemmed and sliced into rounds
Instructions
Pick and discard any "bad" beans.

In a deep pot over medium heat, bring about 10 cups of water (or enough to cover beans at about 3 inches) to a boil. Add beans and continue to boil, skimming scum that floats on top. Add quartered onion and peeled garlic.

Lower heat, cover, and simmer for about 1 to 1 1/2 hours or until beans are soft. Add about 1 tablespoon of salt and continue to cook for about 10 to 15 minutes or until liquid is thickened to a soupy consistency. Add more water as needed during cooking to maintain about 8 cups.

In a pot over medium heat, add bacon and cook, stirring occasionally, until it begins to crisp and render fat. With a slotted spoon, remove from pan and drain on paper towels. Discard fat.

Add chorizo and continue to cook, breaking apart with the back of the spoon, until lightly browned. Discard meat.

Add chopped onions and garlic and cook until limp. Add tomatoes and cook, mashing with the back of the spoon, until softened and begins to release juice. Add jalapeno pepper and continue to cook for about 1 to 2 minutes, stirring regularly.

Add cooked beans and liquid (about 8 cups). Bring to a simmer for about 10 to 15 minutes to allow flavors to develop. Season with additional salt to taste.

Ladle into bowls and top with cilantro if desired.
Nutrition Information
Serving: 331g, Calories: 334kcal, Carbohydrates: 27.6g, Protein: 20.3g, Fat: 15.7g, Saturated Fat: 5.4g, Cholesterol: 37mg, Sodium: 1265mg, Potassium: 835mg, Fiber: 6.7g, Sugar: 2.5g, Vitamin A: 350IU, Vitamin C: 13.2mg, Calcium: 60mg
"This website provides approximate nutrition information for convenience and as a courtesy only. Nutrition data is gathered primarily from the USDA Food Composition Database, whenever available, or otherwise other online calculators."
Nutrition Facts
Charro Beans
Amount Per Serving (331 g)
Calories 334 Calories from Fat 141
% Daily Value*
Fat 15.7g24%
Saturated Fat 5.4g34%
Cholesterol 37mg12%
Sodium 1265mg55%
Potassium 835mg24%
Carbohydrates 27.6g9%
Fiber 6.7g28%
Sugar 2.5g3%
Protein 20.3g41%
Vitamin A 350IU7%
Vitamin C 13.2mg16%
Calcium 60mg6%
* Percent Daily Values are based on a 2000 calorie diet.