It's almost 11 PM as I am typing this and I can still hear the bang! boom! bang! of fireworks outside. I don't know about our neighbors but my 4th of July celebration ended with my last bite of this humongous buffalo burger with bacon and blue cheese. And what a celebration of tastes it was: thick and juicy beef patty with a touch of spice, crisp bacon and pungent mayo-blue cheese dressing. Nom nom nom!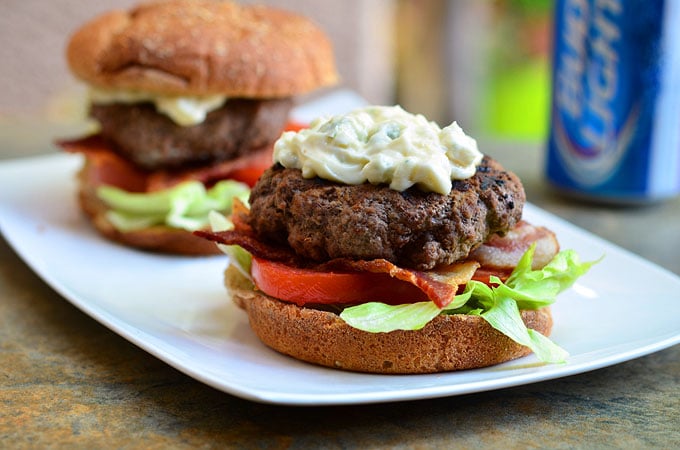 Buffalo Burger with Bacon and Blue Cheese
Ingredients
4

thick-cut bacon

2

tablespoons

unsalted butter

, melted

4

tablespoons

hot sauce

1/4

cup

mayonnaise

1/2

cup

blue cheese

2

pounds

ground beef

2

teaspoons

Worchestershire sauce

1/2

teaspoon

salt

1

teaspoon

pepper

4

hamburger buns

4

lettuce leaves

2

large tomatoes

, sliced
Instructions
In a pan, cook bacon until golden and crisp. Remove from pan and drain on paper towels. Cut each into two and set aside.

In a bowl, combine butter and 2 tablespoons of the hot sauce.

In a bowl, combine mayonnaise and blue cheese. Set aside.

In a bowl, mix together ground beef, Worchestershire sauce, the remaining 2 tablespoons of hot sauce, salt and pepper until just combined. Divide into four and form into 1/2 inch thick patties. Brush on both sides with hot sauce-butter mixture.

On a lightly-oiled grill over medium-high heat, cook patties, brushing with hot sauce-butter halfway through, for about 3 to 5 minutes on each side or until desired doneness. Remove from grill and let rest.

With cut side down, warm buns on the grill for about 45 seconds or until lightly toasted.

On bottom hamburger bun, lettuce, tomato , bacon, beef patty and a dollop of mayo-blue cheese dressing. Top with remaining top of hamburger bun.