With the plethora of jalapeno poppers, sweet chili bacon-wrapped chicken tenders and beef taquitos on the blog, it is safe to assume I am all about fun foods.
Every year, I look forward to Superbowl, not because I can tell a linebacker from a quarterback, but because I can't get enough of the fabulous game day eats.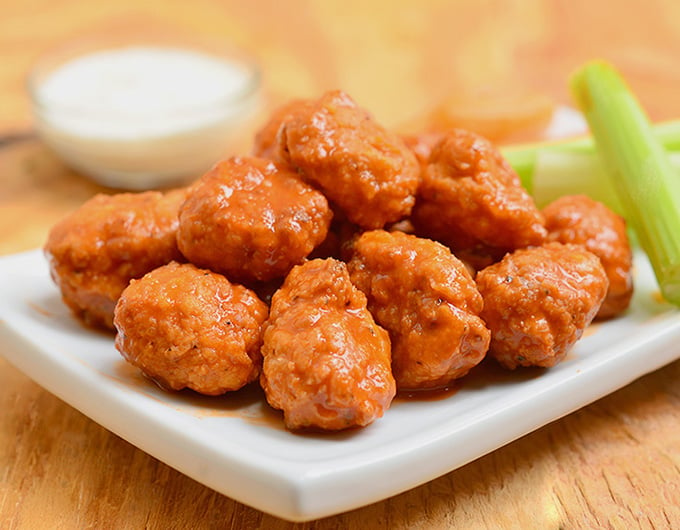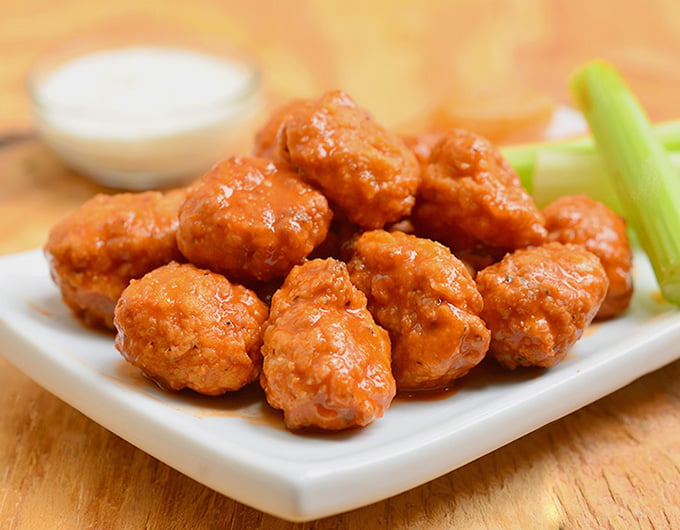 These cajun buffalo chicken wing bites make a regular appearance on my football menu every year. And for good reason! Moist and tender on the inside and sweet, spicy and delightfully crunchy on the outside, they're absolutely addicting. I always make a huge batch as I always seem to be refilling their platter nonstop. Party guests just can't enough of their finger-licking, lip-smacking awesomeness!
I discovered these cajun buffalo chicken bites on Frank's Red Hot but instead of wingettes and drummettes, I used breaded and deep-fried boneless chicken pieces for maximum texture and less mess enjoyment. I also modified the sauce a tad by replacing the ketchup with barbecue sauce for a touch of sweetness to balance spicy, bold flavors.
Seriously, peeps, these cajun-flavored boneless wings need to be on your next shindig. Serve them with ranch or blue cheese dressing for dipping and you'll easily be the hostess of the year. Enjoy!
Cajun Buffalo Chicken Bites
Ingredients
1

cup

flour

2

teaspoons

salt

¼

teaspoon

cayenne pepper

¼

teaspoon

paprika

⅛

teaspoon

garlic powder

1

egg

1/4

cup

milk

1

pound

boneless, , skinless chicken breasts, cut into 1-inch chunks

oil

1/2

cup

hot pepper sauce

1/3

cup

butter

1/3

cup

barbecue sauce

2

teaspoons

Cajun seasoning
Instructions
In a bowl, combine flour, salt, cayenne pepper, paprika and garlic powder.

In a bowl, combine egg and milk and whisk until blended.

Dip each chicken into the egg mixture and then dredge in flour mixture. Dip again in egg mixture and dredge again in flour mixture to double-coat. Arrange in a single layer on a baking sheet and refrigerate for about 10 minutes to chill.

In a deep pot, heat about 3-inches deep of oil to 350 F. Add chicken in batches and deep fry until chicken is cooked through and breading is crisp and golden. Remove from heat and drain on a wire rack.

In a sauce pan over medium heat, combine butter and hot pepper sauce. Cook, stirring regularly, until butter is melted. Add barbecue sauce and Cajun seasoning and stir until combined. Continue to cook for about 3 to 5 minutes or until heated through.

Add fried chicken pieces and toss to fully coat with sauce. Serve hot with ranch dressing.