Rich, creamy and with generous bits of mushrooms, this Homemade Cream of Mushroom Soup is so much better and fresh tasting than store bought. It's so quick and simple to make, you'll be enjoying a piping-hot bowlful in no time!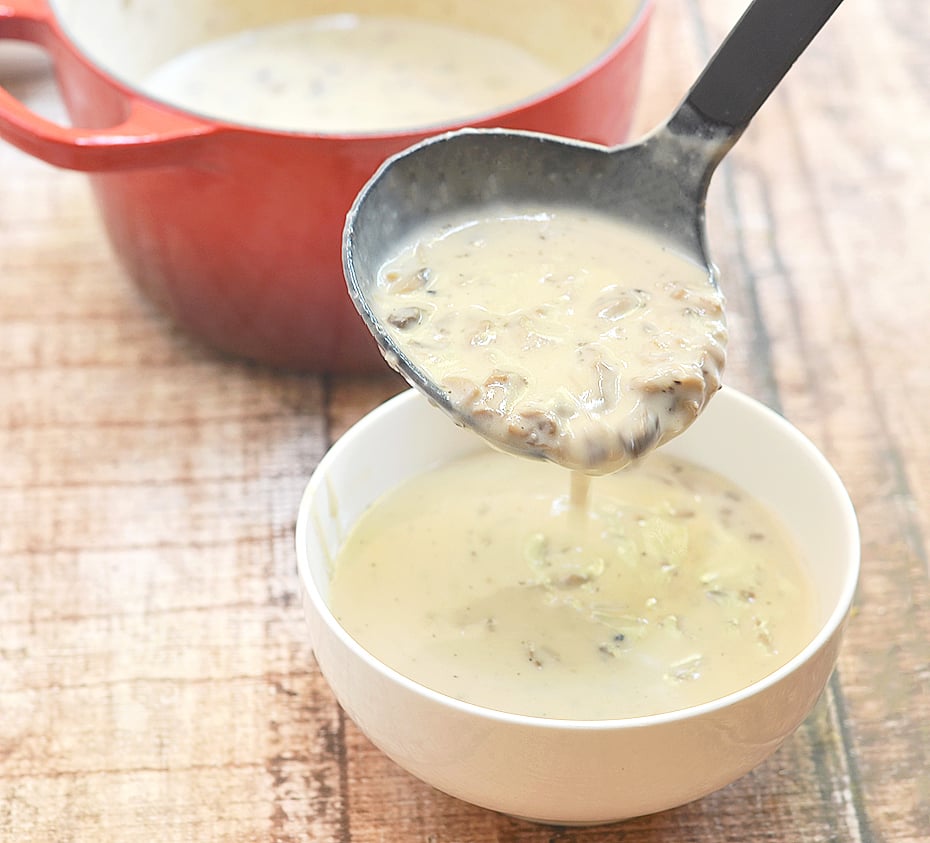 It's the height of summer and Southern California has been mercilessly pounding us with temperatures on the high 90's all week. Yet, here I am, with a piping hot bowl of homemade cream of mushroom soup begging for you to try. 🙂
In my defense, button mushrooms were on a BOGO (buy one, get one free) sale last weekend and my penny-pinching self is not one to pass up a great deal. Especially when an extra 2-pound box means a batch of these stuffed mushrooms in my future.
Second, it may seem counterintuitive to consume hot liquids on the dog days of summer when all your body is screaming for are icy cold drinks, but I am not it's really not as crazy as you think!
Studies show that drinking hot liquids on hot weather actually helps cool us down. There's a whole scientific basis to the theory but put simply: drinking hot liquids = more sweat to release heat = lower body temperature. I guess that explains why hearty soups are popular in Philippine cuisine, even with the tropical weather.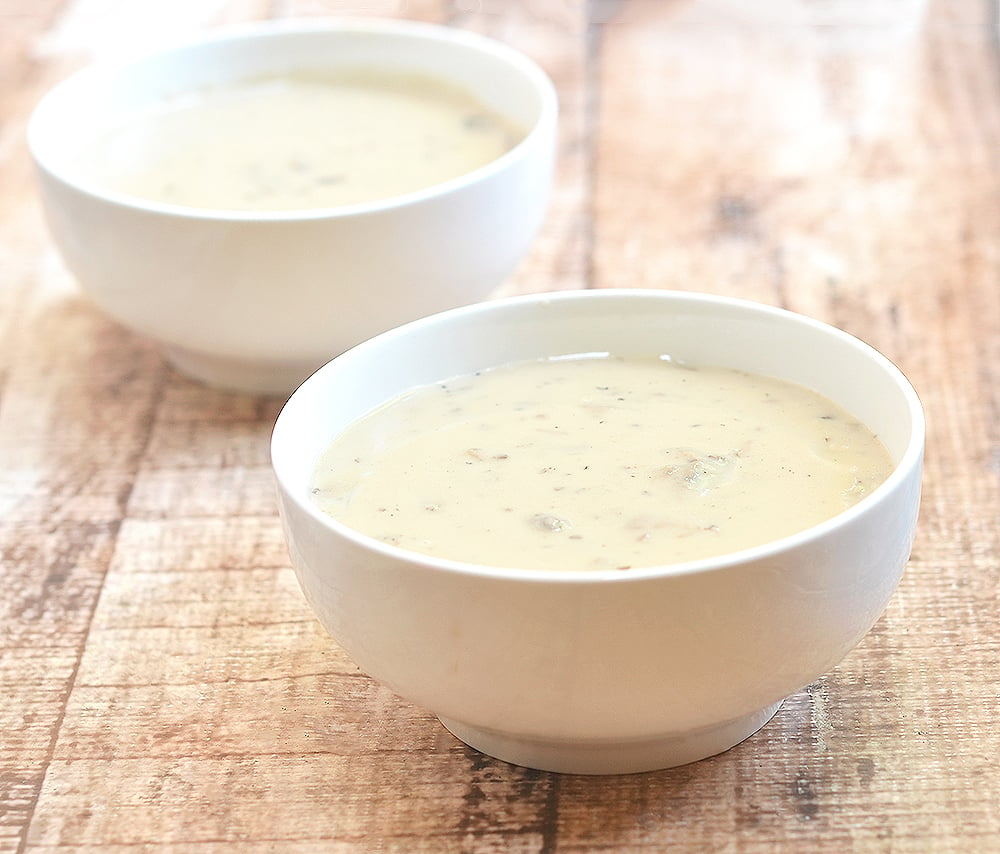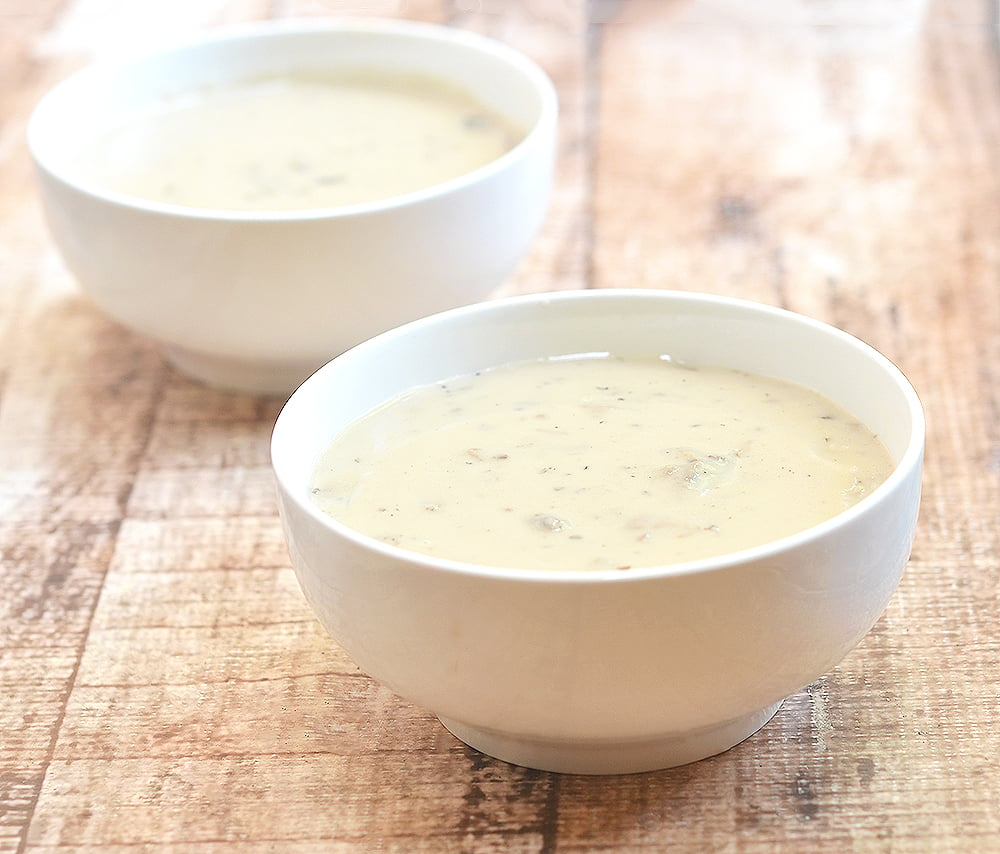 As much as I love cooking meals from scratch, it was only recently that I've started making my own mushroom soup. Why bother with the extra work when a bowl of this creamy soup could be had with a quick opening of a can, right?
Well, G's mom sent over one day a Tupperware-full of the mushroom soup she made and I was hooked! One spoonful of the homemade goodness rightfully convinced me to bother with the extra work. With generous bits of mushrooms and a rich, creamy broth that's out of this world delicious, it's really worth all the trouble.
And when I say trouble, I mean another 30 minutes or so than what it would take to reconstitute and warm up the canned version you get from the store. There's a reason canned food last for ages and that is their long list of additives we'll be hard pressed to pronounce or spell. Considering you get fresh ingredients versus the commercial condensed soup that has been sitting on the shelf for God knows how long, thirty minutes shouldn't be trouble at all.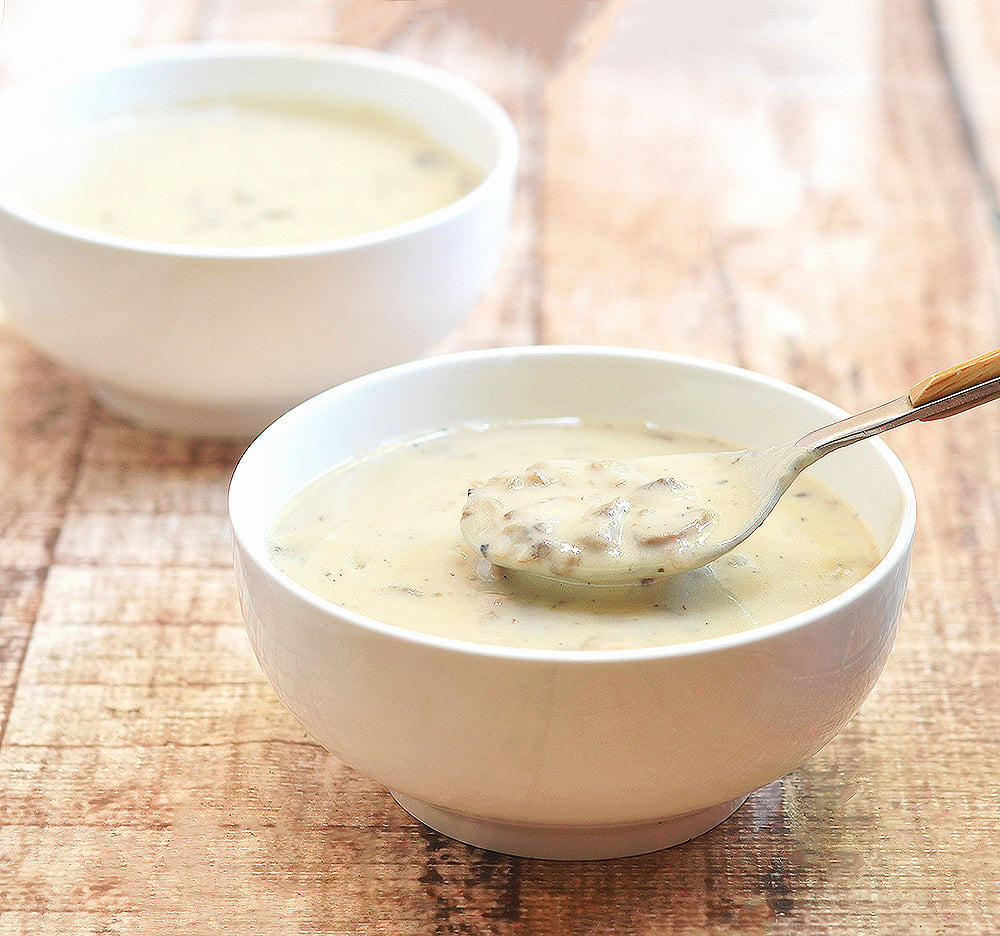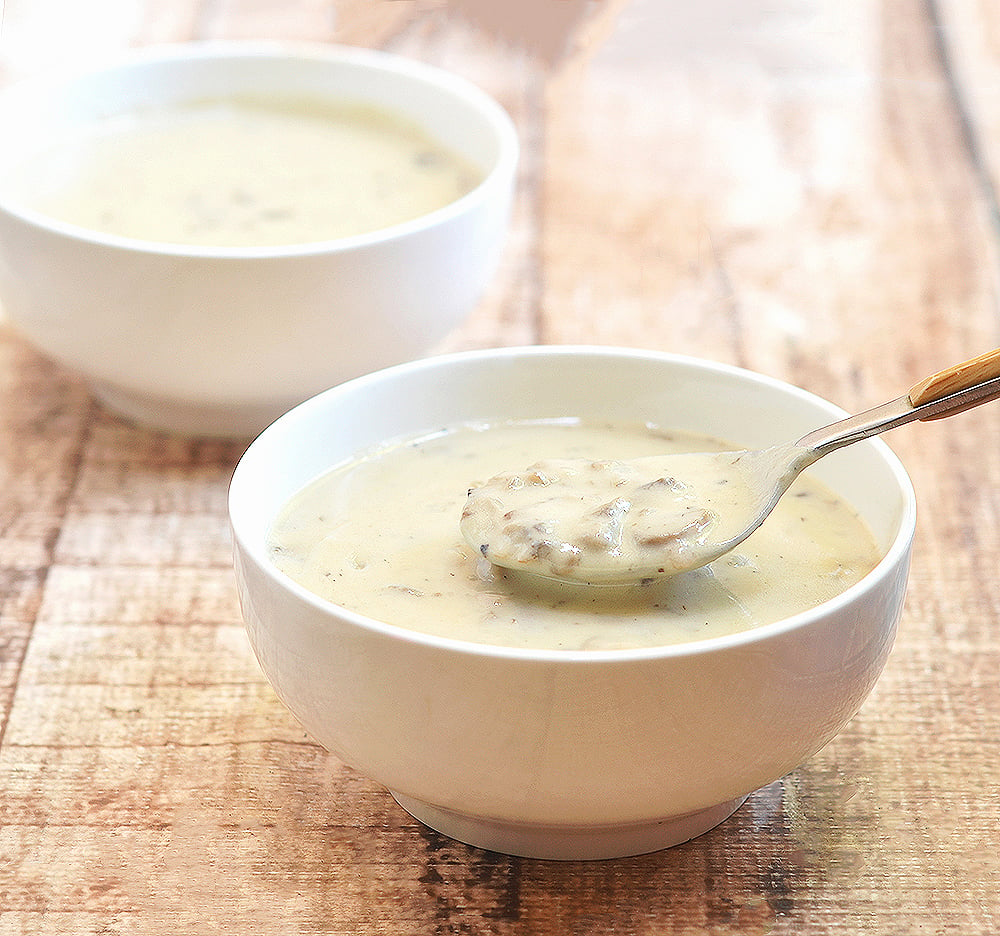 This homemade cream of mushroom soup starts by sweating the chopped mushrooms in butter, onions, and garlic to intensify their flavor. The flour is added and browned for a few good minutes until golden and nutty. You then whisk in the broth until everything comes together nice and thick, and cap it all up with a cup of heavy cream for another layer of flavor. That's it! You get a thick, creamy and delicious soup everyone will be raving about.
If anything, the hardest part of making your own cream of mushroom soup at home is preparing the mushrooms. I like to briefly rinse them in a bowl of water and pat them dry with paper towels to prevent them from absorbing too much liquid. Do you know the best way to slice mushrooms is with an egg slicer? Oh yes! Using this nifty trick and a couple runs with the knife after, our favorite fungi will be nicely chopped and ready for the pot.
Try this homemade cream of mushroom soup today. Serve a  hefty bowl with tossed salad and chunks of crusty loaf bread, and you have a light yet satisfying meal perfect for summer. Enjoy!
Rich, creamy and with generous bits of mushrooms, this Homemade Cream of Mushroom Soup is so much better and fresh tasting than store bought. It's so quick and simple to make, you'll be enjoying a piping-hot bowlful in no time!
Servings
Ingredients
1/4 cup butter
2 pounds fresh button mushrooms, coarsely chopped
1 small onion, peeled and chopped
2 cloves garlic, peeled and minced
6 tablespoons flour
4 cups chicken broth
1 cup heavy cream
Instructions
In a pot over medium heat, add butter. When it begins to melt, add mushrooms, onions and garlic, and cook for about 8 to 10 minutes or until tender.

Add flour and cook, stirring regularly, until golden and nutty in aroma. Slowly add broth, whisking vigorously. Cook, stirring regularly, for about 3 to 5 minutes or until slightly thickened.

Reduce heat. Add heavy cream. Season with salt and pepper to taste. Simmer, uncovered and stirring regularly, until heated through and thickened. Serve hot.
Nutrition Information
Serving: 543g, Calories: 344kcal, Carbohydrates: 20.4g, Protein: 14.2g, Fat: 24.8g, Saturated Fat: 14.6g, Cholesterol: 72mg, Sodium: 1161mg, Potassium: 999mg, Fiber: 3g, Sugar: 5.4g, Vitamin A: 800IU, Vitamin C: 11.6mg, Calcium: 40mg, Iron: 7.6mg
"This website provides approximate nutrition information for convenience and as a courtesy only. Nutrition data is gathered primarily from the USDA Food Composition Database, whenever available, or otherwise other online calculators."
Nutrition Facts
Homemade Cream of Mushroom Soup
Amount Per Serving (543 g)
Calories 344 Calories from Fat 223
% Daily Value*
Fat 24.8g38%
Saturated Fat 14.6g91%
Cholesterol 72mg24%
Sodium 1161mg50%
Potassium 999mg29%
Carbohydrates 20.4g7%
Fiber 3g13%
Sugar 5.4g6%
Protein 14.2g28%
Vitamin A 800IU16%
Vitamin C 11.6mg14%
Calcium 40mg4%
Iron 7.6mg42%
* Percent Daily Values are based on a 2000 calorie diet.