Looking for a quick and easy yet impressive and totally irresistible appetizer recipe for your next get-together? Then these bacon and cream cheese stuffed mushrooms are for ya! With juicy mushroom caps generously stuffed with a creamy filling, they are a surefire way to please the crowd.
There are different methods on how to prepare stuffed mushrooms but I trust my Martha and I, too, "par bake" my mushrooms before stuffing to dispel some of their natural liquid. Less messy and watery but still moist and scrumptious. Um, um, um! A perennial party favorite, expect these delectable bites to go as fast as you make them.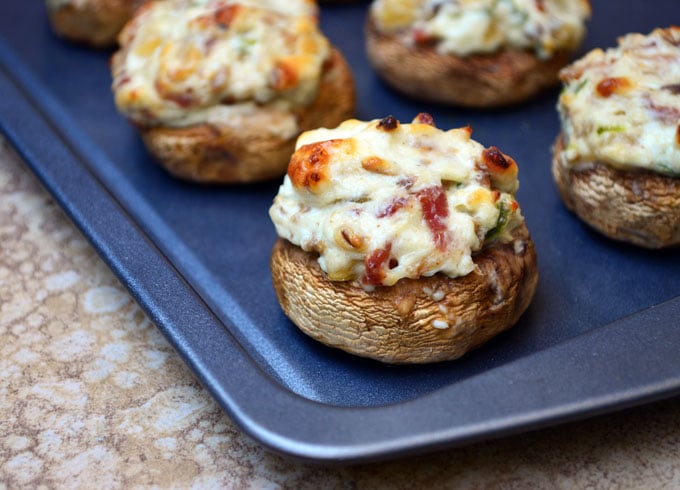 Bacon and Cream Cheese Stuffed Mushrooms
Ingredients
1

pound

(20 to 24) button mushrooms

4

strips bacon

, finely chopped

2

small shallots

, peeled and finely chopped

1

to 2 cloves garlic

, peeled and minced

salt and pepper

1

tablespoon

dry sherry

8

oz

cream cheese

, softened

2

oz

blue cheese

, crumbled

2

tablespoons

green onions

, chopped
Instructions
Using a soft mushroom brush or with a damp cloth, wipe mushrooms to rid of any grit or dirt. Gently break off stems from caps and finely chop.

In a pan over medium high heat, cook bacon until lightly brown and crisp. Remove from heat and set aside. In the pan, add shallots and garlic until limp and fragrant. Add chopped mushroom stems and continue to cook, stirring regularly, for about 4 to 5 minutes. Season with salt and pepper to taste. Add in sherry wine and continue to cook, stirring regularly, until mushrooms are tender and liquid is evaporated. Remove from pan and allow to cool.

In a bowl, combine cream cheese and blue cheese. Fold in mushroom mixture, crisp bacon and green onions.

Arrange mushroom caps gills down on a baking sheet and lightly brush with olive oil. Bake in a 400 F oven for about 4 to 5 minutes or just until mushrooms start to leak. Turn mushroom caps to cavity side up and using a small spoon, fill with stuffing mixture. Return to oven and bake at 400 F for another 5 to 6 minutes or until filling is heated through and tops are golden brown.