Italian Meatballs perfect as party appetizers with dipping sauces or served over pasta with hearty marinara sauce. Learn the easy tips on how to make them super moist and flavorful!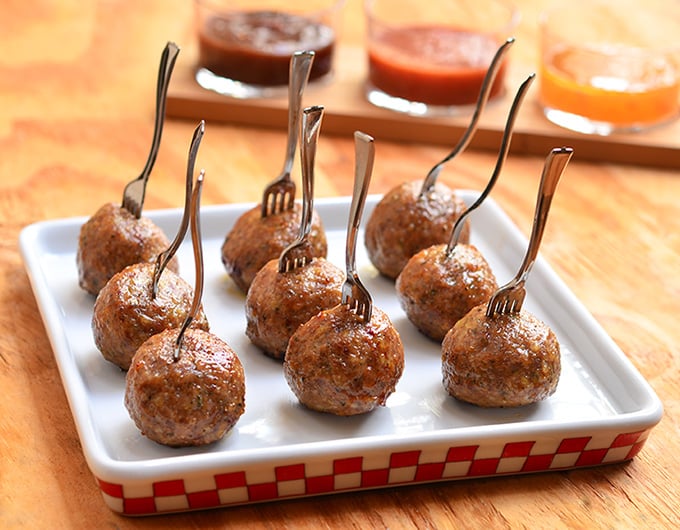 Planning your Superbowl shindig? Guys, these Italian meatballs are a must! Plump, juicy, moist and flavorful, they're a guaranteed party hit.
I usually serve them with different kinds of sauces such as BBQ, sweet and sour, and marinara on the side so everyone can help themselves to the flavor boosts they like. Guests seem to appreciate the choices because these delicious appetizers are the first to go at every gathering I bring them to!
If you're looking for meatballs that are super tender and carry big flavors, these simple tips will help:
Use equal parts of ground pork and ground beef for a good ratio of fat.
Grate the onions instead of chopping for an extra depth of flavor and moisture.
Add a teaspoon of fennel seeds along with the other herbs to nicely complement the ground pork.
To keep the meatballs moist and tender, bind the meat mixture with bread soaked in milk.
Mix ingredients until just combined. Do not over manipulate the meat mixture and do not pack the meatballs too tightly or they will turn tough and rubbery.
Use a cookie scoop to evenly portion and easily shape the meatballs.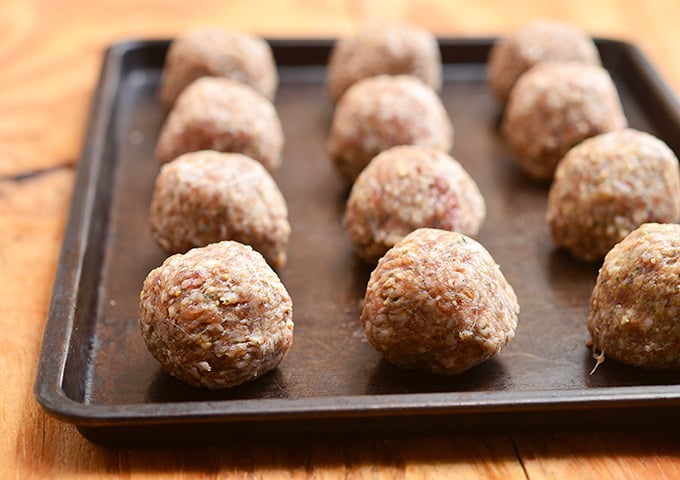 These Italian meatballs are not only great as party appetizers but are amazing served swimming in a hearty tomato sauce over a bed of pasta. They are wonderful sandwiched between sturdy French loaves and topped with marinara sauce and mozzarella cheese. Whichever way you serve them, they're sure to please hearty appetites!
Good thing the recipe can be easily doubled and the meatballs keep well in the freezer. Just arrange them in a single layer on a baking sheet, freeze until firm and then transfer to resealable bags or airtight containers for future use.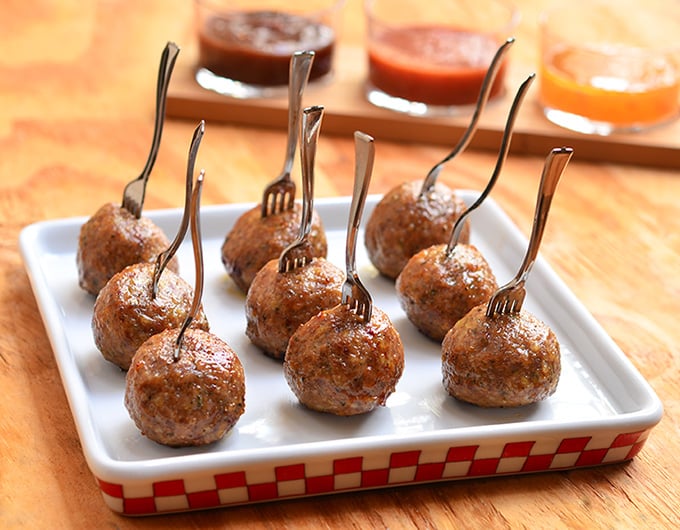 Italian Meatballs
Italian meatballs perfect as party appetizers with dipping sauces or served over pasta with hearty marinara sauce. Learn the easy tips on how to make them super moist and flavorful!

Ingredients
2

slices

sourdough bread, crust removed

1/3

cup

milk

1

large egg

2

cloves

garlic, peeled and grated

1

teaspoon

salt

1/4

teaspoon

pepper

1/2

pound

ground beef

1/2

pound

ground pork

1/2

cup

Reggiano cheese, freshly grated

1

onion, peeled and grated

1/2

cup

Italian parsley, finely chopped

1

teaspoon

fennel seeds, toasted
Instructions
Line a baking sheet with foil.

In a bowl, combine bread and milk. Mash together and soak for about 10 minutes or until bread is moistened and paste like.

In a bowl, whisk together egg, garlic, salt, and pepper.

In a large bowl, combine ground beef and ground pork and gently break up to chunks.

Add bread, egg mixture, Reggiano cheese, onions, Italian parsley, and fennel seeds. Gently mix together until just combined. DO NOT OVER HANDLE AND OVER MIX.

Using a scoop, portion meat mixture. With lightly oiled hands, shape meat into the size of a golf ball by rolling between the palm of hands.

Arrange meatballs in a single layer on prepared baking sheet.

Bake meatballs in a 425 F oven for about 10-15 minutes or until internal temperature of 160 F is reached.

Remove from pan and keep warm. Serve with marinara, BBQ or sweet and sour sauce.
Nutrition Facts
Italian Meatballs
Amount Per Serving
Calories 480
Calories from Fat 261
% Daily Value*
Total Fat 29g 45%
Cholesterol 132mg 44%
Sodium 1045mg 44%
Potassium 491mg 14%
Total Carbohydrates 23g 8%
Protein 30g 60%
* Percent Daily Values are based on a 2000 calorie diet.