These Mango Habanero Chicken Wings with Curry Yogurt Mango Dip are sweet, sticky, slightly spicy, and one of most delicious appetizers you can find. They're lip-smacking, finger-licking addictive!
Born and raised in the Philippines, which touts the sweetest and best tasting mangoes on earth (seriously, if you haven't tried Manila mangoes, you're missing half of your life!), my deep obsession for the fruit is but expected.
I love cooking with mangoes and use them extensively in many delicious recipes, from refreshing smoothies, fruit candies, no-churn ice creams to sweet and sour stir-fries. You can just imagine my excitement when I was presented with this opportunity to work with LA VICTORIA® and come up with meal ideas using their mango habanero salsa.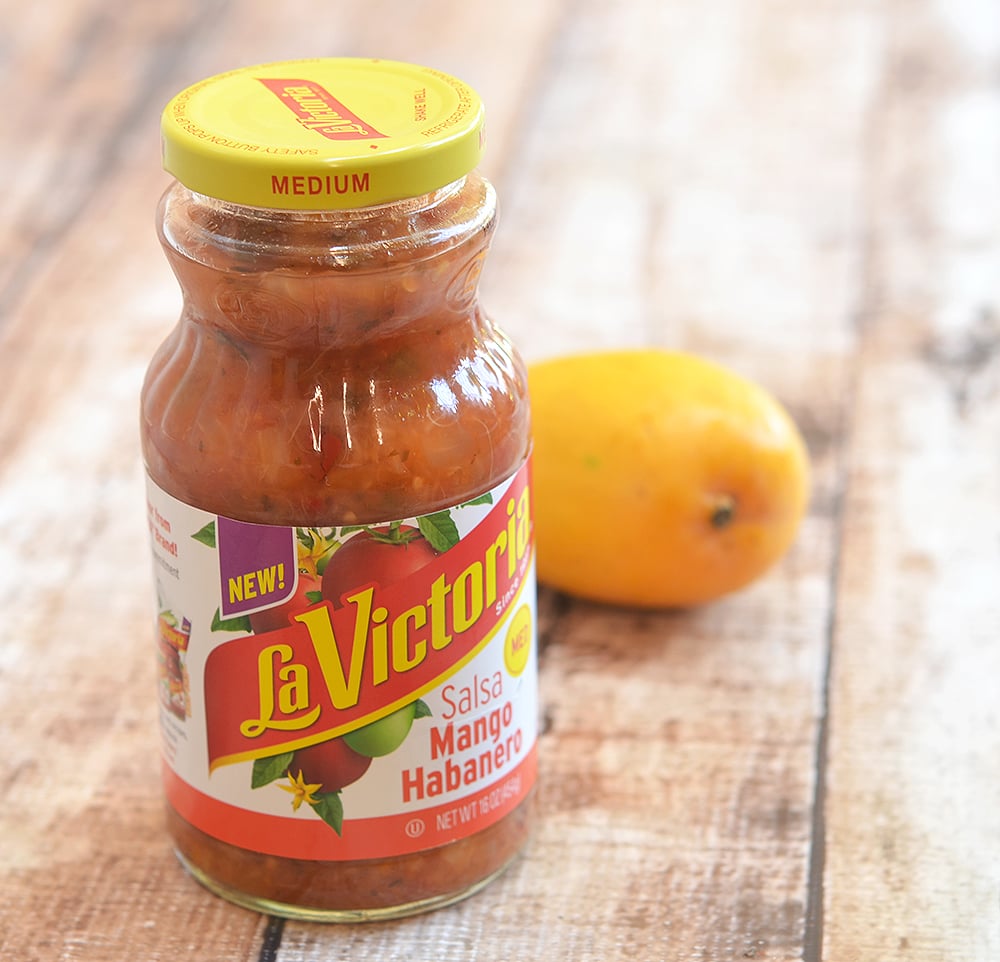 Chock-full of mango chunks, tomato and peppers, I've been a fan of LA VICTORIA® Mango Habanero Salsa long before this. Anytime I want a little me time, I just dump the whole bottle in a bowl and lounge in our backyard patio, dipping and munching corn chips all afternoon long. Believe me, once I get started, it will be almost impossible to peel me away from my chips and dip. It's comfort food at its best!
Now, when we have people coming over (or when I am in the mood to spoil G a bit), I like to spruce up the already awesome bottle of LA VICTORIA® Mango Habanero Salsa and turn it into a fantabulous curry yogurt mango dip. Generous dollops of mayo and yogurt, and a good sprinkling of curry powder, I have a party dip guests can't get enough of! Curry + mango= best flavor combo ever.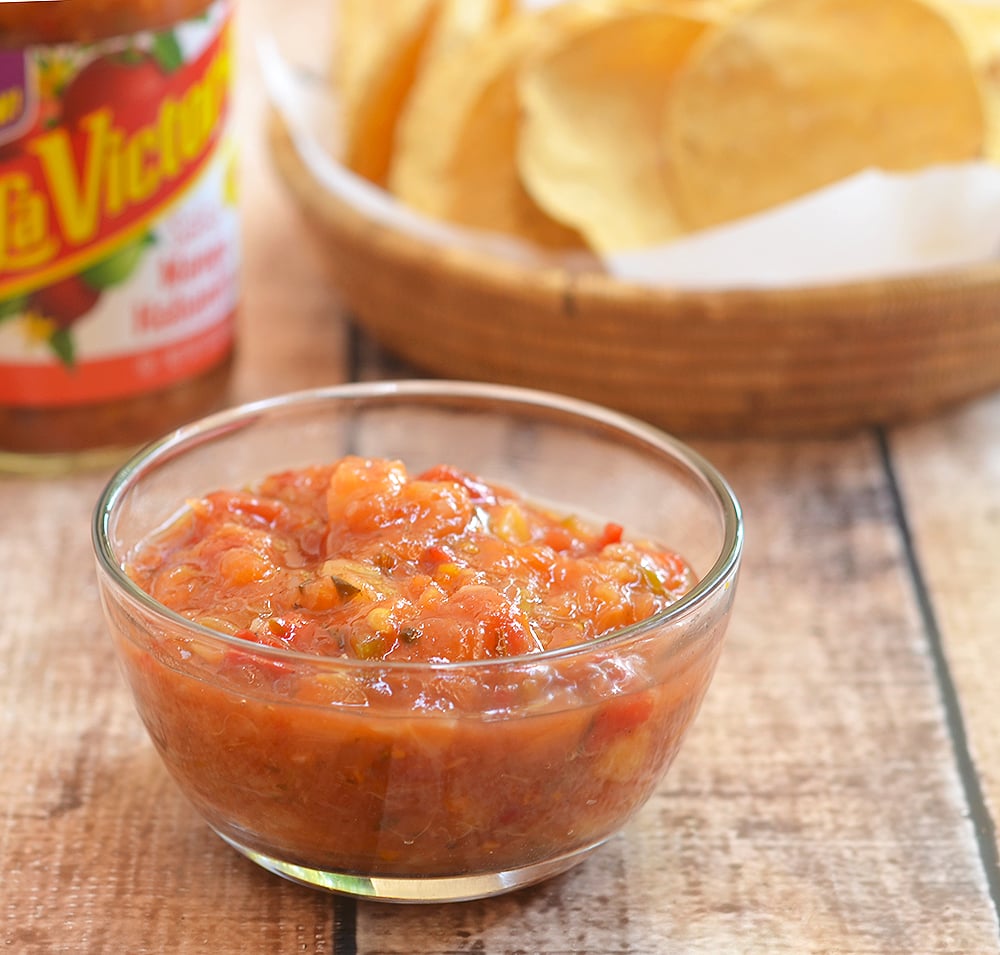 And for bonus points, this dip is not only delicious with chips, it makes the perfect pair for sweet, sticky and slightly spicy mango habanero chicken wings, too!
The perfect balance of sweet and spicy, this mango habanero salsa makes a solid base for all your BBQ concoctions. And with the salsa bursting with the summer flavors you love, there's no need for a long list of ingredients to make a sauce that will totally rock your world.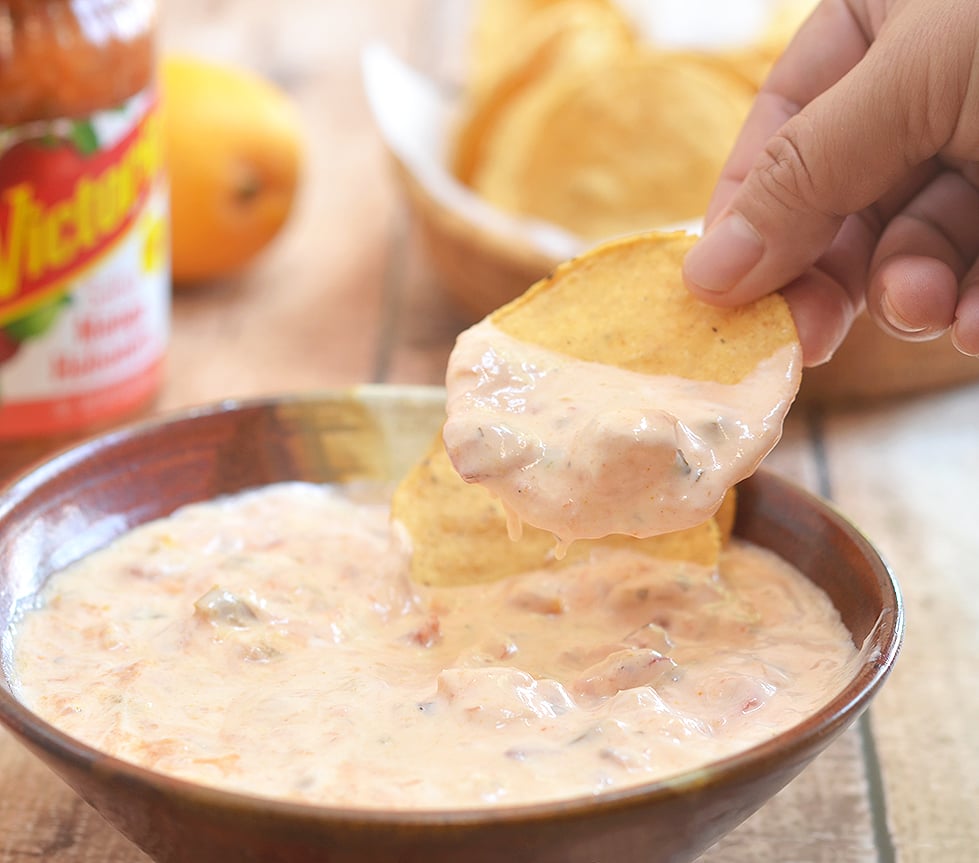 G and I love to barbecue outdoors and summer is our best excuse to fire up the grill almost every day. He was, however, at work when I did these mango habanero chicken wings this afternoon and as I don't know how to start up charcoal, I cooked them in the oven instead. They were still lip-smacking, finger-licking delicious but definitely much better done on the grill and enjoyed al fresco. Ugh, made me wish we have a gas grill at home I could easily turn on with a flip of a switch!
If you're like me and still have a charcoal grill from the ice age, or just want a brand new one, you can enter LA VICTORIA® View from my Plate giveaway for a chance to win a $500 four-burner gas grill. Just imagine the fabulous feasts you can make all summer long!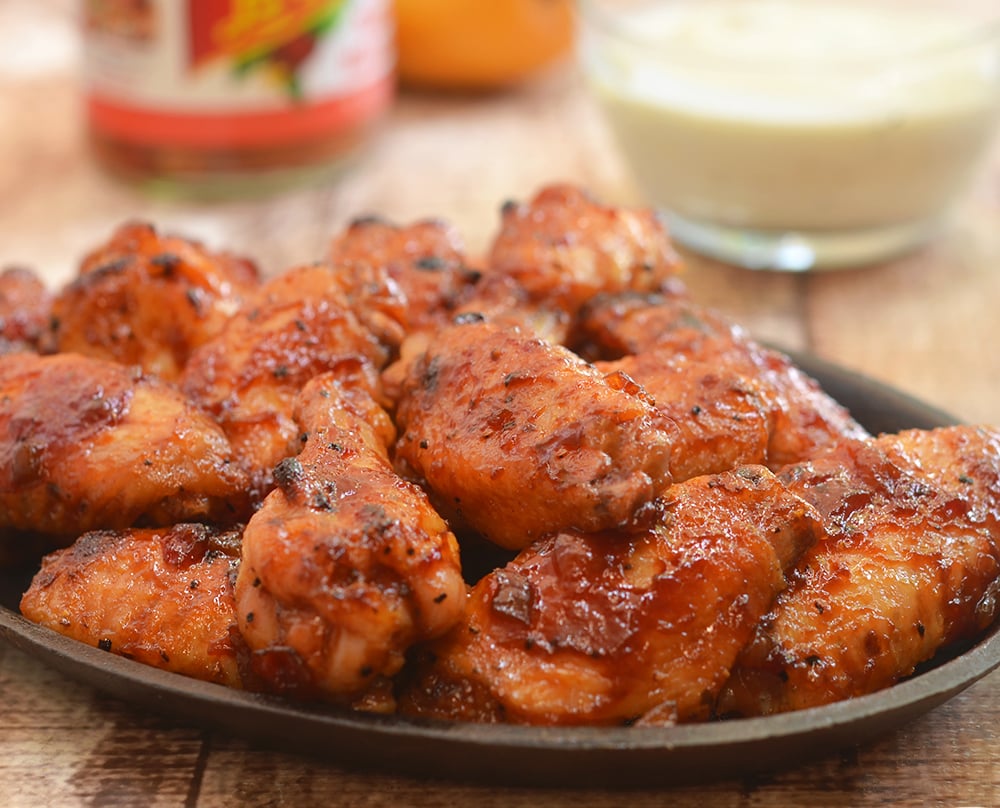 Nothing speaks summer better than sweet, juicy mangoes. Unfortunately, they're gone (or whatever is left are horribly poor quality and outrageously expensive) when summer leaves. Fortunately, LA VICTORIA® bottled up all that mango goodness so you can enjoy tropical flavors throughout the year. Try these mango habanero chicken wings with curry yogurt mango dip for a scrumptious summer meal and check out the LA VICTORIA® website for more amazing ways to celebrate great flavor.
And, yes, go win that gas grill!
Spicy, sweet, and addictive, these mango habenero chicken wings are a real crowd-pleaser. Serve with the curry yogurt dip for a cooling contrast to the spicy-sweet chicken wings.
Servings
Ingredients
3 pounds chicken wings, tips removed and cut into drummettes and wingettes
salt and pepper to taste
1 cup LA VICTORIA® Mango Habanero Salsa
1/2 cup tomato sauce
1/3 cup honey
1/4 cup soy sauce
2 tablespoons cider vinegar
juice of 1 lime
1/2 teaspoon ground ginger
Instructions
Wash chicken wings and pat dry. Season with salt and pepper to taste, and let stand for about 30 minutes.

On a wire rack set over a foil-lined pan, arrange chicken in a single layer. Bake in a 400 F oven for about 20 to 25 minutes or until cooked through. Raise temp to broil and broil chicken for about 2 to 3 minutes or until crispy.

In a sauce pot, combine mango habanero salsa, tomato sauce, honey, soy sauce, vinegar, lime juice and ginger. Stir together until well blended. Over low heat, simmer, stirring occasionally, until thickened and reduced.

Carefully remove rack from oven. Using tongs, dip chicken in mango habanero sauce until completely coated. Arrange chicken back onto wire rack in a single layer and broil for another 3 to 5 minutes or until sticky and nicely charred. Serve hot.
Nutrition Information
Calories: 104kcal, Carbohydrates: 25g, Protein: 2g, Sodium: 972mg, Potassium: 146mg, Sugar: 24g, Vitamin A: 135IU, Vitamin C: 2.1mg, Calcium: 7mg, Iron: 0.8mg
"This website provides approximate nutrition information for convenience and as a courtesy only. Nutrition data is gathered primarily from the USDA Food Composition Database, whenever available, or otherwise other online calculators."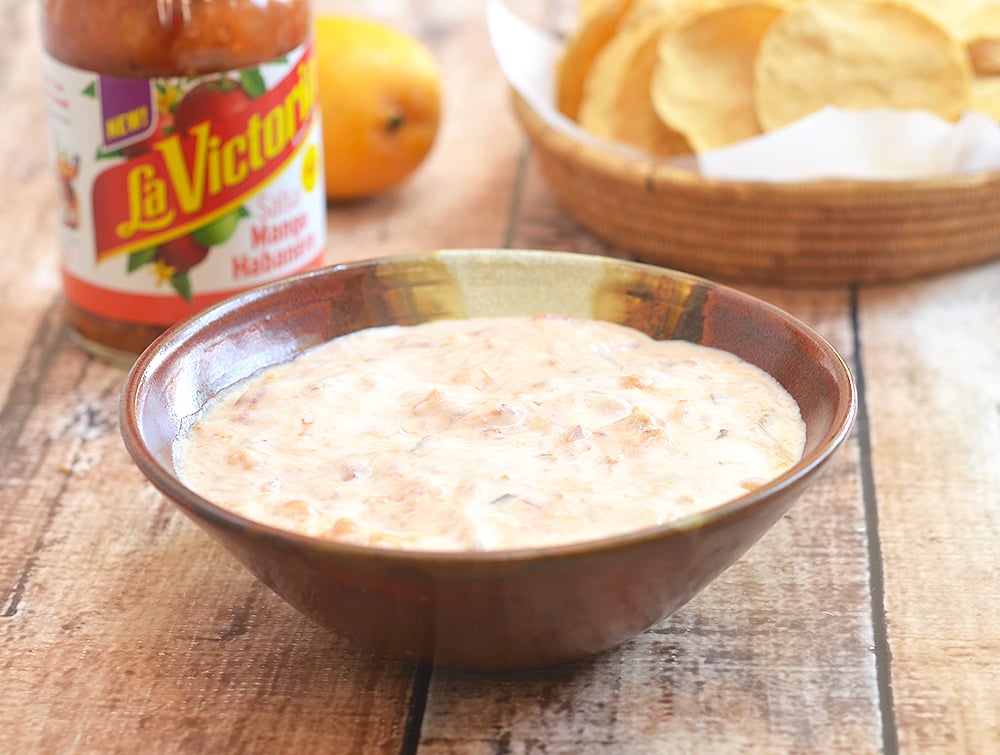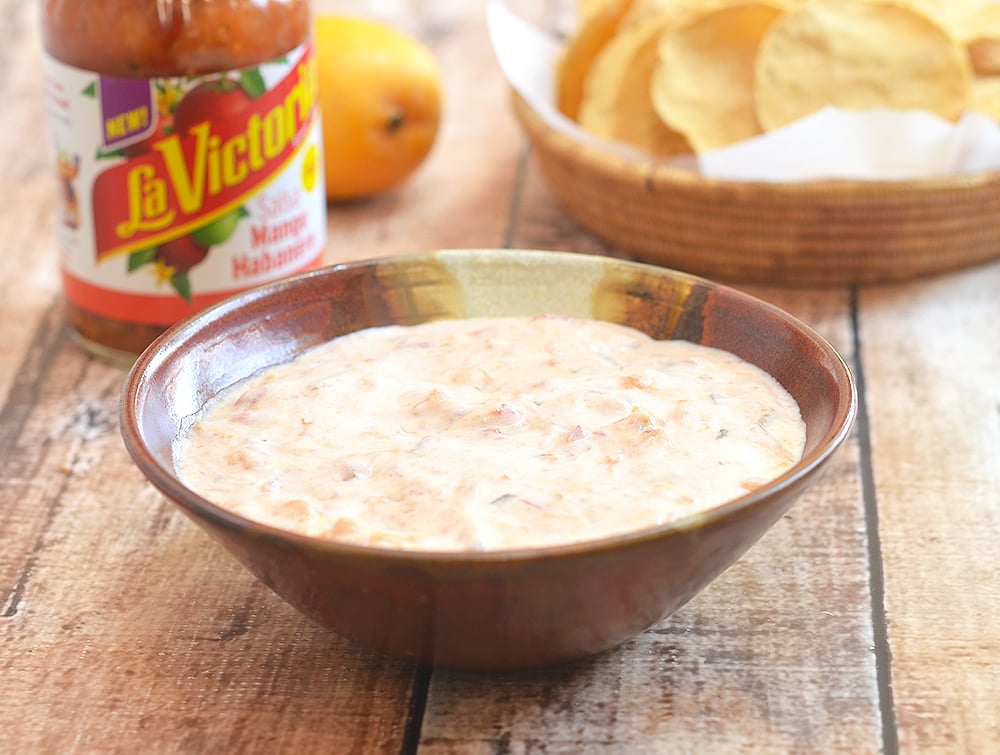 Cups
Ingredients
1 cup LA VICTORIA® Mango Habanero Salsa
1/2 cup plain Greek yogurt
2 tablespoons mayonnaise
1 tablespoon honey
1/2 teaspoon curry powder
1/2 teaspoon salt
Instructions
In bowl, combine mango habanero salsa, yogurt, mayonnaise, honey, curry powder and salt. Stir together. Refrigerate for about 10 minutes to allow flavors to meld.
"This website provides approximate nutrition information for convenience and as a courtesy only. Nutrition data is gathered primarily from the USDA Food Composition Database, whenever available, or otherwise other online calculators."