Split Pea and Ham Soup is made extra tasty with carrots, celery, and onions. Thick, hearty, and flavorful, it's the perfect cold weather comfort food!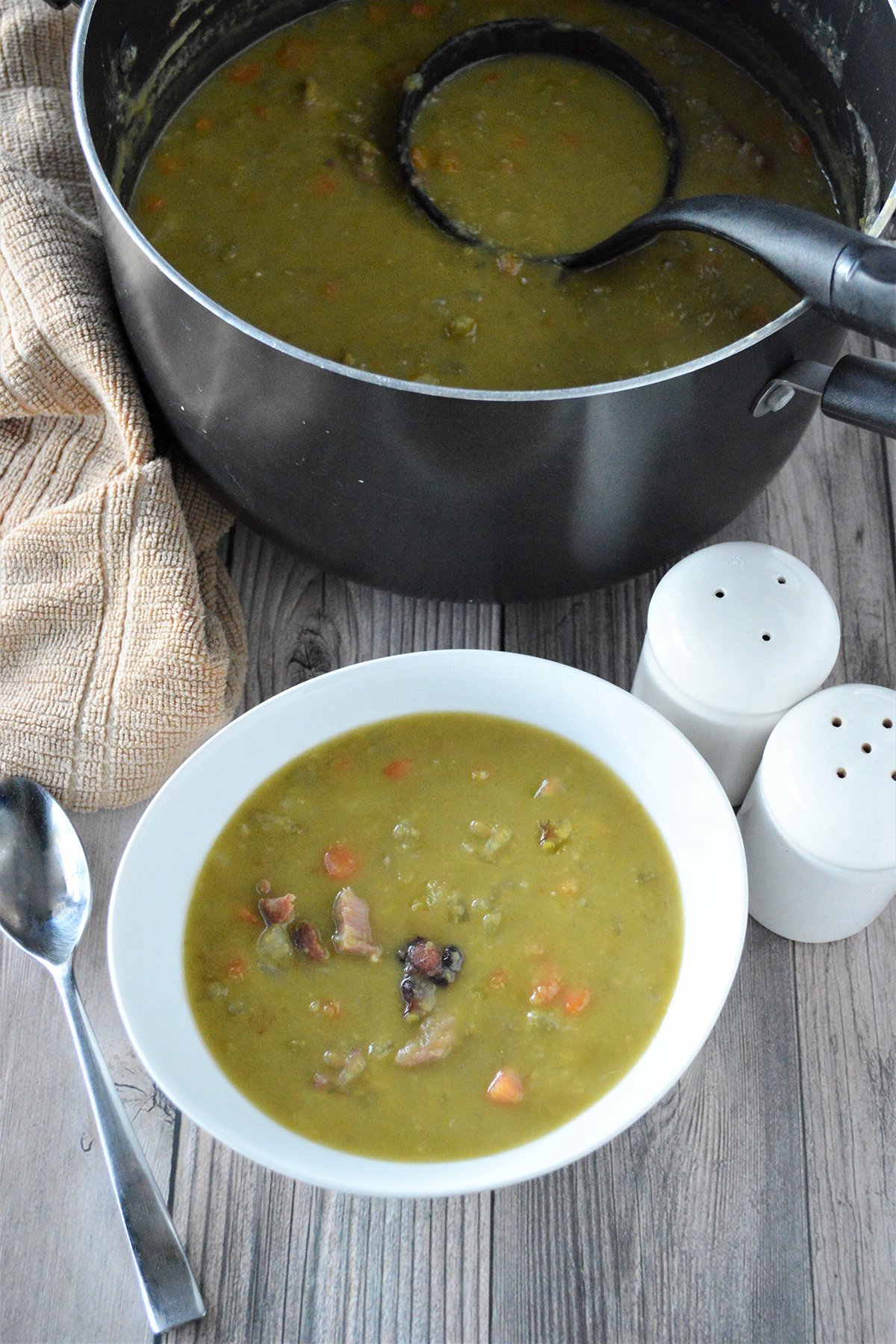 I was clearing the freezer today to make way for my freshly-bought meat when I found a lone ham bone tucked between trays of chicken legs and stewing beef. The bone was from the honey-glazed ham we had for Easter, which I bagged and meant to use for soups and stocks but forgot about as new purchases piled on top of the other in the freezer.
It was like a gift from above! The weather has been quite chilly this past week and a hearty split pea and ham soup was the perfect hug in a bowl we needed.
I sauteed a mirepoix blend of onions, carrots, and celery as the flavor base threw in the ham bone for a smoky depth, and added a potato the help thicken the soup. In no time at all, I had ready a scrumptious soup that was both nourishing and comforting.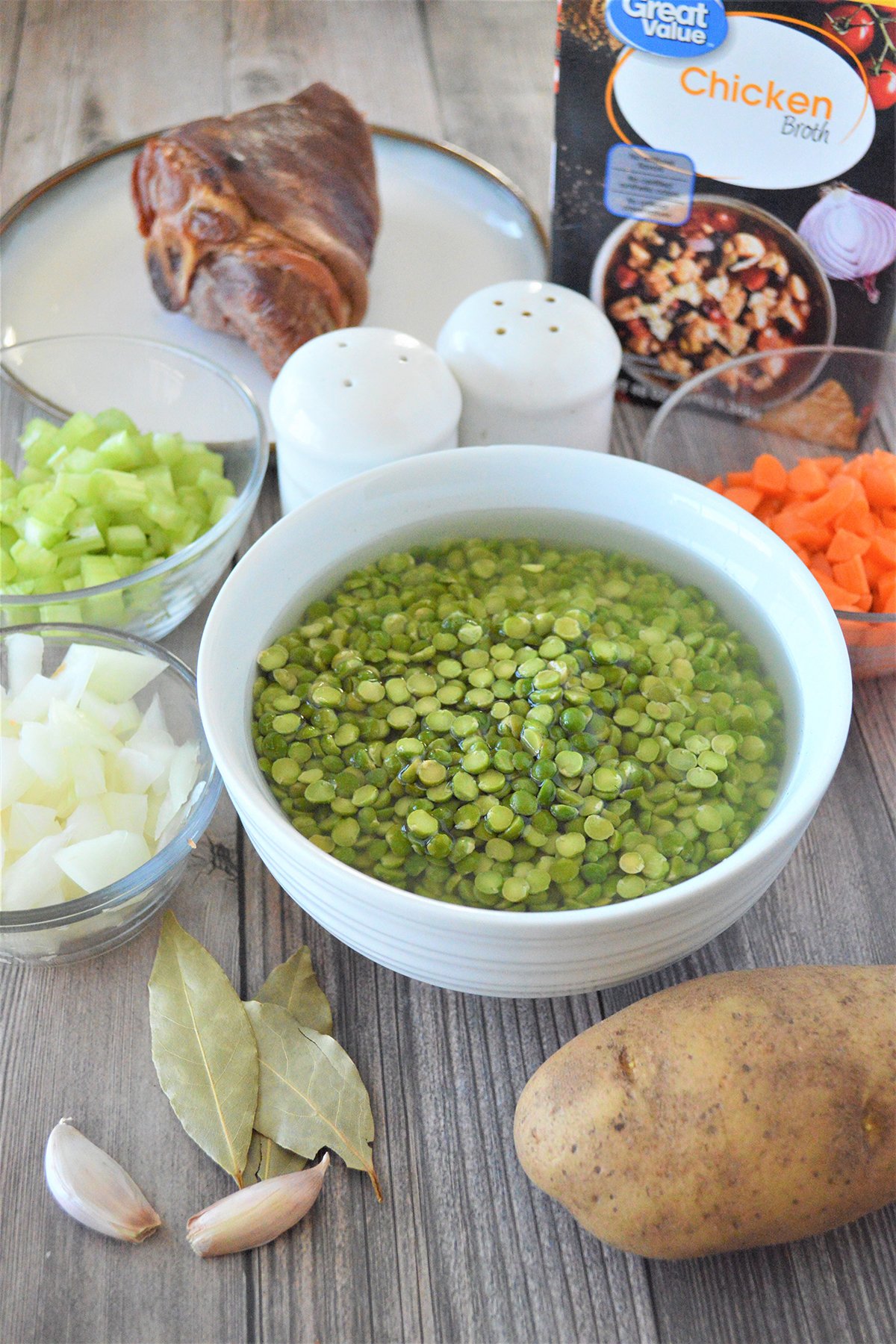 Split peas
Split peas are peas that have been dried, peeled, and divided into two cotyledons. The removal of the husk and the eventual splitting result in a softer texture and shorter cooking time. There's no need to soak split peas before cooking as they cook relatively quickly, and you can have a pot of soup ready in one to two hours, depending on the recipe.
Color can vary from green to yellow depending on the peas' genotype. While there is no difference in flavor, nutritional content, and cooking time, green peas have a slightly sweeter taste than their yellow counterpart.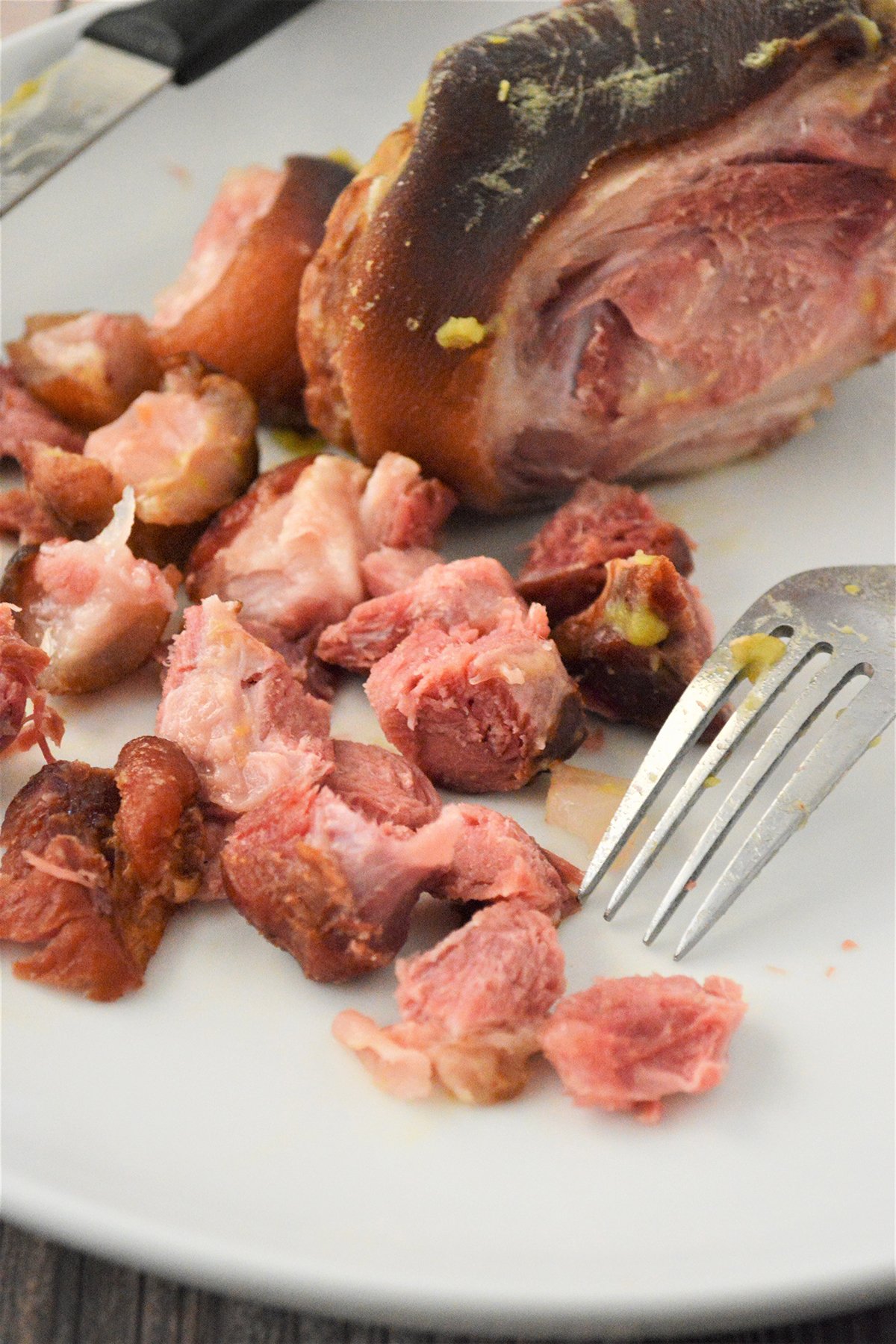 Split pea soup is typically made by simmering split peas with sautéed carrots, celery, and onions until tender. Although ham bone and hocks are commonly used to add meaty flavor, bacon, sausages, smoked turkey legs, and pork riblets are also great choices. You can also omit the ham for a vegetarian option!
The soup is hearty and delicious; it's also a nutrient-dense meal high in Potassium and Vitamin K, as well as fiber and protein.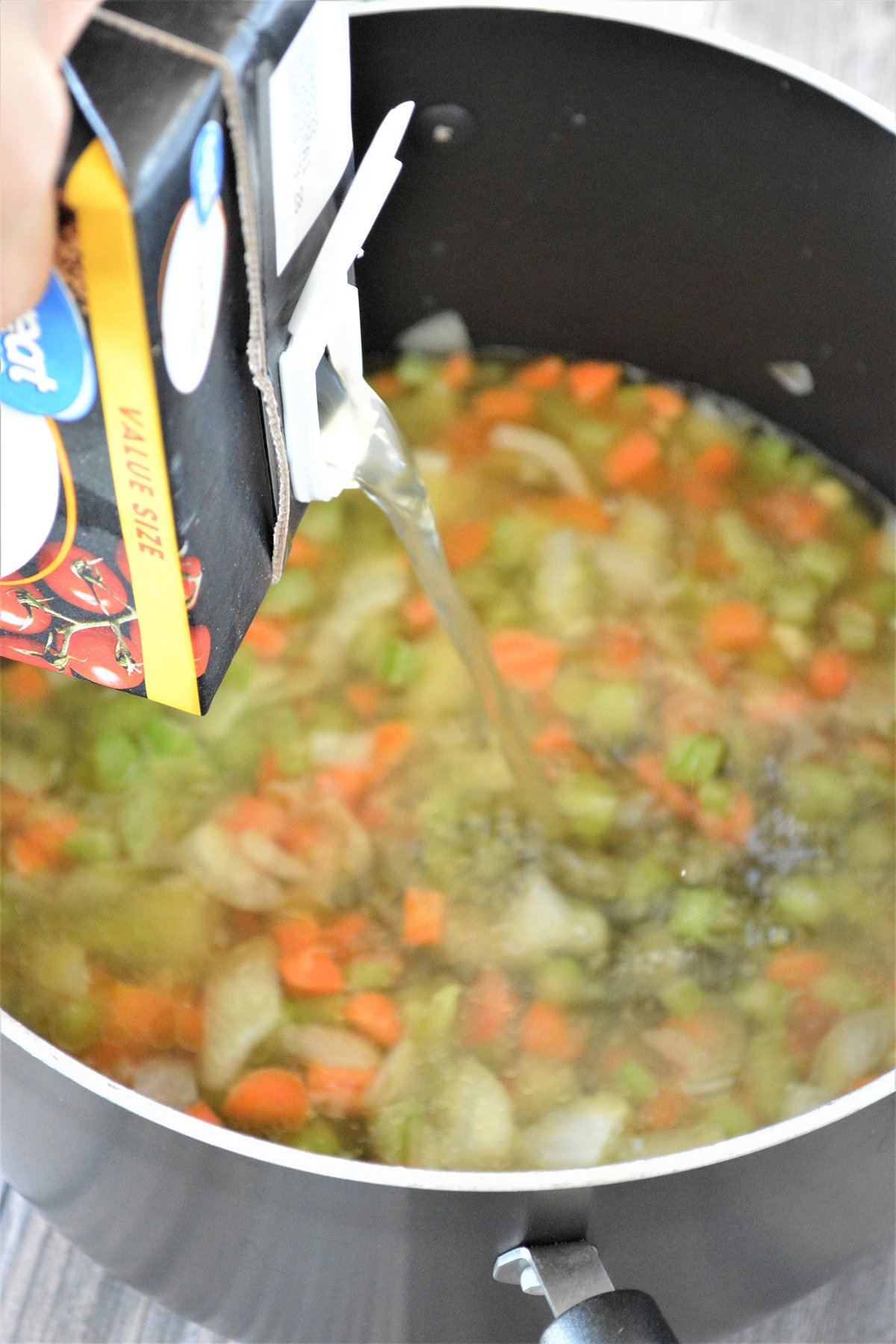 Quick tip
Do not forget the potato as it makes the soup thicker and heartier. Add at the last 30 minutes of cook time and mash when softened.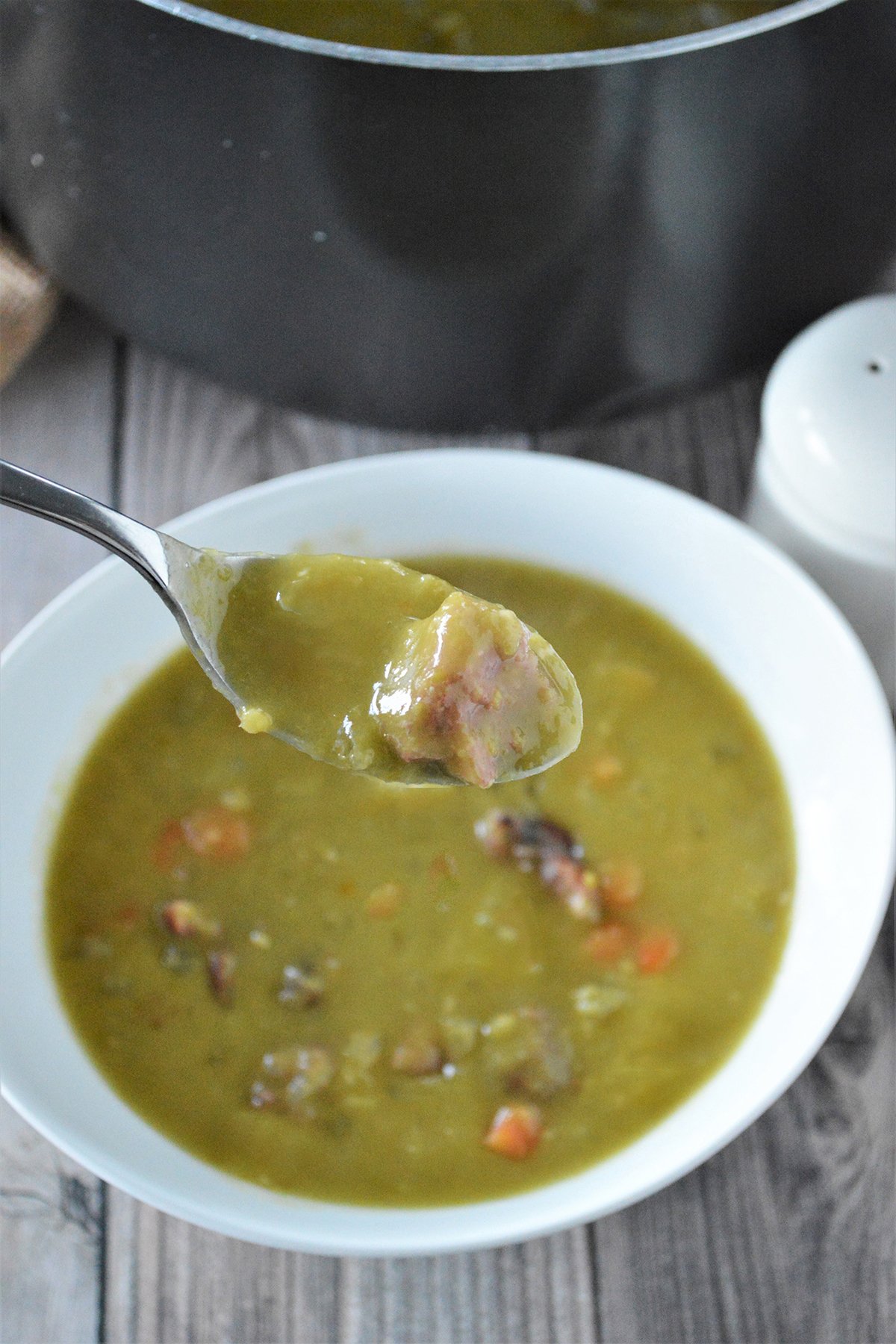 Serving suggestions
This split pea and ham soup makes a great meal starter or a standalone main dish. Feel free to spruce up your bowl of soup with chopped ham, crumbled bacon, or crunchy croutons for another layer of yum! Add a dollop of sour cream to make it extra creamy or a splash of hot sauce to spice it up. Serve piping hot with your favorite sandwich, tossed salad, or crusty bread, and enjoy!
Storage and reheating instructions
Transfer leftovers in a container with a tight-fitting lid and refrigerate for up to 3 days or freeze for up to 3 months.
Reheat in a saucepan over medium heat to 165 F, stirring well. Add more water or chicken broth as needed to loosen consistency.
Keep warm with a hearty bowl of Split Pea Soup. It's thick and flavorful with carrots, celery, onions, and ham for the ultimate comfort food.
Servings
Ingredients
1 pound dried split peas
1 tablespoon olive oil
1 large onion, peeled and chopped
2 cloves garlic, peeled and minced
3 medium carrots, peeled and finely chopped
2 celery stalks, finely chopped
8 cups chicken broth
1 ham bone
1 large russet potato, peeled and quartered
Instructions
Sort through the dried split peas and discard any grit or discolored peas. In a bowl, place peas and enough water to cover. After a minute, remove any peas or skin that float to top. Rinse split peas and drain well.

In a large pot over medium heat, heat olive oil. Add onions, garlic, carrots and celery. Cook, stirring regularly, until softened.

Add water and bring to a boil.

Add dried split peas, ham bone, and bay leaves. Bring to a boil, skimming off scum that may float on top.

Lower heat, cover and simmer for about 1 1/2 to 2 hours or until peas are tender.

In the last 30 minutes, add potatoes and cook until very tender. Using back of spoon, mash potatoes to help thicken soup.

Remove ham bone and scrape meat from bone. Chop ham meat and return to pot.

Season with salt and pepper to taste. Ladle into serving bowls and serve hot.
Nutrition Information
Calories: 253kcal, Carbohydrates: 42g, Protein: 16g, Fat: 3g, Sodium: 895mg, Potassium: 973mg, Fiber: 16g, Sugar: 6g, Vitamin A: 3950IU, Vitamin C: 23.4mg, Calcium: 69mg, Iron: 3.9mg
"This website provides approximate nutrition information for convenience and as a courtesy only. Nutrition data is gathered primarily from the USDA Food Composition Database, whenever available, or otherwise other online calculators."