Tacos de Lengua with melt-in-your-mouth tender ox tongue, corn tortillas, and your favorite taco fixings! Moist and flavorful, they're one of the best tacos you'll ever have!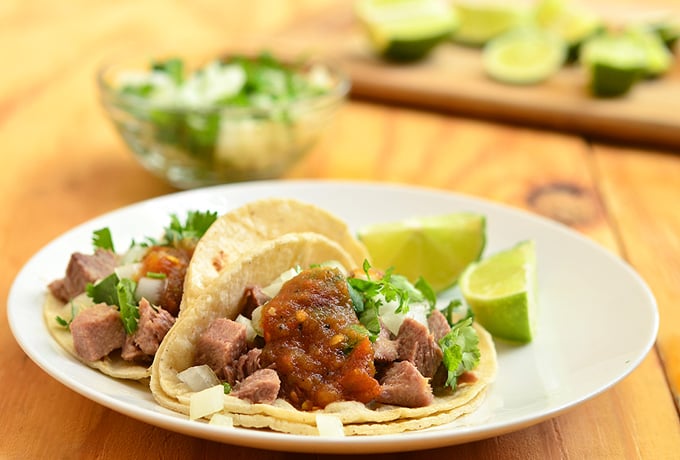 I was bending and contorting every which way taking photos of these lengua tacos when G crept behind me and commented wistfully, "Boy! Those look good, wish they were beef." Ha? Say what? Ox tongue=beef, right? But, of course, I understood what he meant. For him, beef=recognizable parts of the cow.
He was pretty stoked when I mentioned we were having tacos for lunch but when he saw the gargantuan cooked tongue on the kitchen counter and realized what was going into the anticipated tacos, he miserably dug into a cup-a-noodle instead. My poor guy, he just can't wrap his head around this Asian woman's ability to consume and enjoy an animal from nose to tail.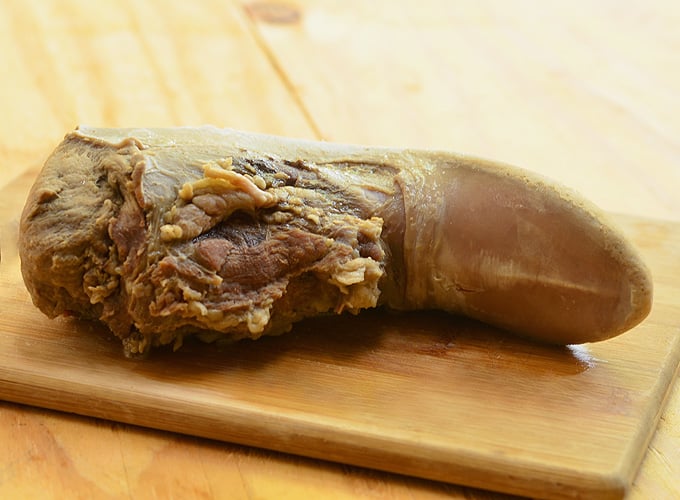 How Long to Cook Lengua?
To cook, allow 50 minutes to 1 hour per pound of tongue. If you're going to finish off the tongue in some form of sauce like this lengua estofado, cook just until it's tender enough to peel its skin and to cut into serving pieces as it will continue to tenderize during braising.
Since it takes quite awhile to cook, I suggest buying the largest you can find to make the effort worthwhile. You can cook the tongue, peel, slice and freeze half to use for another meal. Like other cooked meat and poultry, it will keep in the freezer for up to 6 months.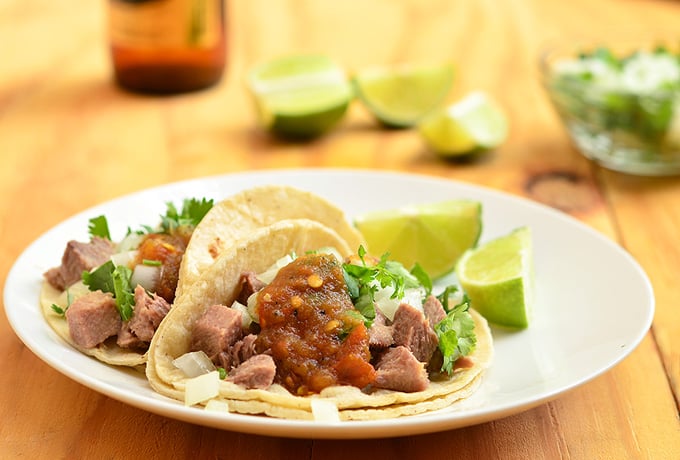 This offal might be offputting even to the sturdiest of stomachs but if you dare step outside of your culinary boundaries and get past the fact that yes, it IS tongue, you will be rewarded with meat that's far more tender and succulent than any other part or cut of beef.
Seriously, you've never really had tacos until you've had tacos de lengua. With meltingly rich meat cradled in warm tortillas and topped with onions, cilantro, and your choice of salsa roja or verde, they're best you'll ever have.
Still not convinced yet? You can try these blackened fish tacos made with boldly seasoned tilapia instead.
Tacos de Lengua with melt-in-your-mouth tender ox tongue, corn tortillas and your favorite taco fixings! Moist and flavorful, they're one of the best tacos you'll ever have!
Course:
Appetizer, Main Entree
Servings
Ingredients
3 pounds beef tongue
kosher salt
water
1 small onion, peeled and quartered
1 head garlic, peeled and pounded
2 tablespoons salt
1 teaspoon peppercorns
2 bay leaves
For the Tacos
32 pieces small corn tortillas
1 large onion, peeled and diced
1 bunch cilantro, stemmed and chopped
salsa roja or salsa verde
limes, cut into wedges
Instructions
Scrub surface of tongue with coarse salt. Rinse and repeat for a few times. Rinse well.

In a deep pot, combine beef tongue and enough water to cover. Over medium heat, bring to a boil for about 10 to 15 minutes, skimming scum that may float on top. Drain tongue and rinse well. Discard liquid and wash pot.

Return tongue to the pot and add enough water to cover. Add onions, garlic, salt, peppercorns and bay leaves.

Over medium heat, bring to a boil. Skim scum that my float on top. Lower heat, cover and simmer for about 3 to 4 hours or until meat is fork-tender. Add more water as needed during cooking to completely cover the tongue.

Drain tongue from liquid and discard liquid and aromatics. Allow tongue to cool to touch. Peel the skin and dice meat.

In a skillet over medium heat, arrange tortillas in a single layer and warm, turning once or twice, until soft and pliable.

To assemble tacos, spoon about 2 tablespoons of tongue on tortillas. Top with onions, cilantro, and salsa. Serve with limes.
Notes
Amount of servings depends on how much meat used on each taco. At about 2 tablespoons each, this recipe would yield approximately 16 servings with 2 tacos per serving.
Nutrition Information
Calories: 171kcal, Carbohydrates: 2g, Protein: 23g, Fat: 6g, Saturated Fat: 2g, Cholesterol: 66mg, Sodium: 961mg, Potassium: 231mg, Vitamin A: 70IU, Vitamin C: 0.8mg, Calcium: 12mg, Iron: 2.1mg
"This website provides approximate nutrition information for convenience and as a courtesy only. Nutrition data is gathered primarily from the USDA Food Composition Database, whenever available, or otherwise other online calculators."