Authentic Mexican Carne Asada marinated in citrus juices, beer, and spices, and then grilled over hot coals for a wonderful charred flavor. This delicious Mexican entree is wonderful with rice and beans and equally amazing in burritos, tacos, quesadillas, and nachos.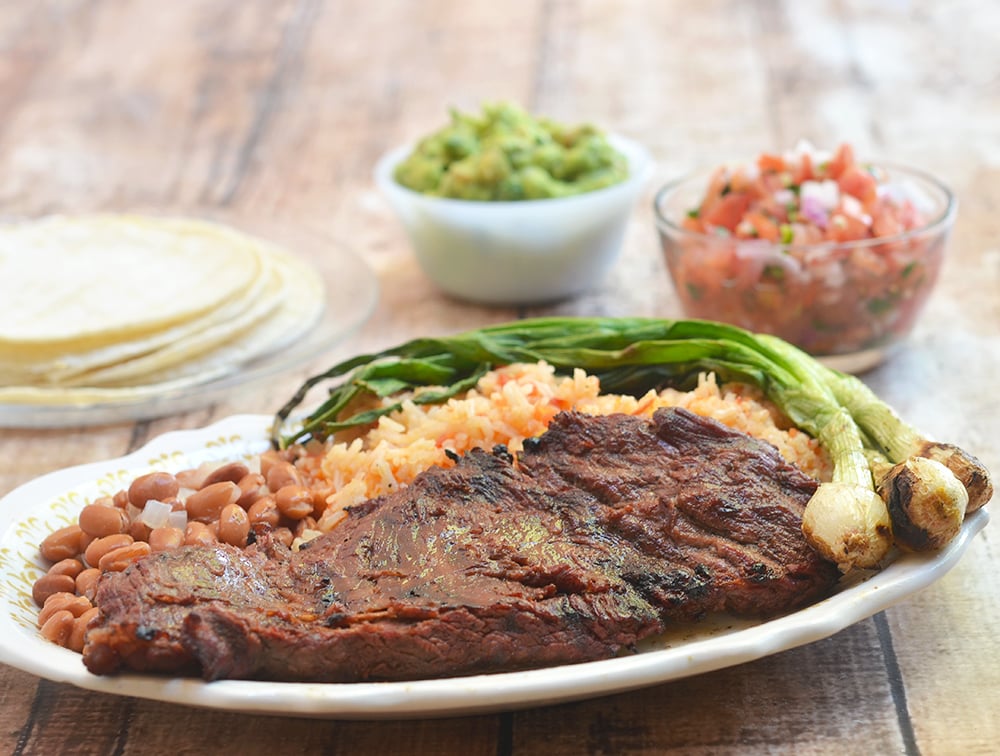 The Fall season has officially started this week but Southern California has yet to lay off the heat. While everyone is sipping on their Pumpkin spice lattes in their cute layered clothing, we're still sweating it out here in 90 F degree-plus weather!
But as much as I've whined about summer the whole summer and can't wait for days to get cooler, I am glad G and I could still squeeze in a few more BBQs before we finally put our beaten-down charcoal pit to rest. So this afternoon, we fired up the grill once again and had ourselves another Mexican grill-fest!
Carne asada is a popular Latin America dish made of skirt, flank or flap steaks grilled over hot coals until beautifully seared. Seasoning for the meat can vary from a simple spice rub of garlic powder, salt, and pepper to a more a complex marinade of citrus juices, beer, and spices.
The flavorful meat is commonly served as a main entree with rice and beans as accompaniments but it's also used in a wide range of other dishes such as tacos, burritos, nachos, quesadillas, sopes, and tortas.
Cooking beef has been a longstanding bone of contention between G and I. He prefers his steak done rare, I like mine cooked to death. We both, however, can happily agree on carne asada cooked juicy, tender and with barely a tinge of pink at medium well.
Although western tastes prefer carne asada medium rare in all its bloody glory, I've enjoyed this Mexican-style grilled meat countless times in Mexican restaurants and Mexican parties I've been invited to and it is traditionally cooked to the side of well done. This allows tearing the meat apart and tucking flavorful pieces into warm tortillas easier and more convenient.
You can, of course, grill the meat to your desired doneness. Medium rare takes 2 to 4 minutes per side on the hot grill while I find 6 to 7 minutes per side perfect for medium well. You can also cook the meat stovetop, just sear on high heat in a thick-bottomed skillet and then finish off on low heat. However way you, it makes a great al fresco dinner meal to enjoy with family and friends.
Authentic Mexican Carne Asada
Author:
Lalaine | Onion Rings and Things
Ingredients
3 pounds flap meat (Ranchera), sliced to about ¼-inch thick
2 tablespoons seasoned salt (I used Lawry's)
1 teaspoon pepper
½ cup lime juice (about 8 to 10 limes)
½ cup orange juice (about 2 oranges)
½ cup lager-style beer (preferably Mexican)
⅓ cup olive oil
2 tablespoons brown sugar
1 teaspoon ground cumin
1 teaspoon ancho chili powder
1 head garlic, peeled and minced
1 large onion, peeled and sliced thinly
Instructions
Season meat with seasoned salt and pepper. Massage onto meat and let stand for about 8 to 10 minutes.
In a bowl, combine lime juice, orange juice, beer, olive oil, brown sugar, cumin, and chili powder. Stir until sugar is dissolved. Add meat, garlic and onions. Massage onto meat to fully coat.
Cover with film and marinate in the refrigerator for at least 4 hours or overnight. Drain meat from marinade and bring to room temperature. Grill on hot coals for about 5 to 7 minutes per side or until desired doneness. Serve immediately.