Sausage and Spinach Spanish Frittata made with potatoes, sausage, spinach and cheese. Hearty and delicious, it's the best thing to wake up to in the morning!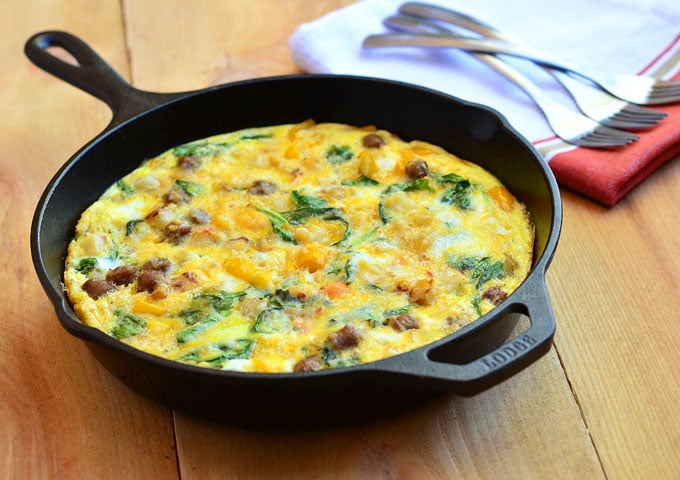 Frittata has got to be simplest, non-fussy egg dish to make any day of the week. You can throw in whatever bits and pieces of meat, veggies, and cheese you have in the fridge and you'll have a breakfast, brunch (or even dinner!) meal that's both delicious and satisfying.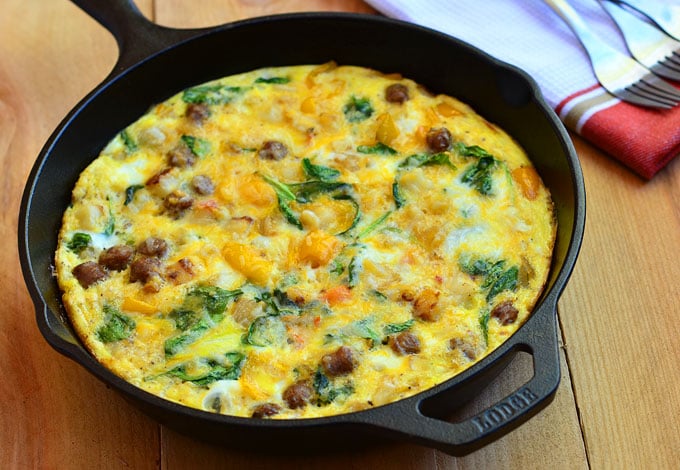 In this Sausage and Spinach Spanish I made and enjoyed yesterday morning, I added breakfast sausage links, sweet peppers, spinach, and Cheddar along with the standard potatoes to make it more substantial. Filling it indeed was! I had a couple of wedges early in the morning and I was good and full until late afternoon!
Sausage, Spinach, Peppers and Potato Fritatta
Author:
Lalaine | Onion Rings and Things
Ingredients
2 tablespoons oil
1 large potato, peeled and cut into ½-inch cubes
½ pound sausage links, chopped
1 small onion, peeled and chopped
2 to 3 sweet peppers, cored, seeded and diced
½ bunch spinach, stems trimmed
6 eggs, beaten
½ cup Cheddar cheese, shredded
salt and pepper to taste
Instructions
In a cast-iron skillet over medium heat, heat about 2 tablespoons of oil. Add potatoes and cook, stirring occasionally, for about 5 to 6 minutes or until tender and slightly browned. With a slotted spoon, remove from pan and drain on paper towels.
In the skillet, add sausage and cook, stirring occasionally. When meat starts to change color, add onions and continue to cook until onions are limp and sausage is cooked through.
Add sweet peppers and continue to cook until tender yet crisp. Return potatoes to skillet, stirring to combine. Add spinach and cook until just wilted. Season with salt and pepper to taste.
Add beaten eggs, swirling them around the pan. Continue to cook for about 1 minute or until eggs are set on the edges but still loose on top. Sprinkle top with cheese and transfer skillet to oven. Bake at 400 F for about 10 minutes or until frittata is slightly golden and set in the middle. Cut into wedges to serve.