With crusty french loaves filled with eggs, sausage, vegetables, and cheese and then baked until golden and bubbly, these Baked Eggs in Bread Boat are perfect for everyday breakfast yet equally impressive for a special Sunday brunch.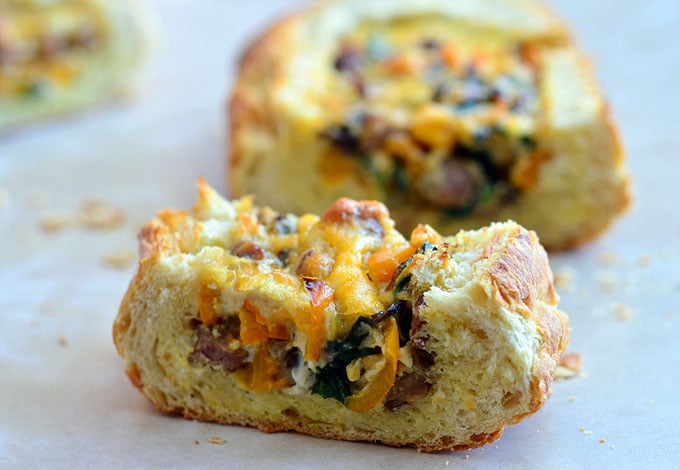 The way G sang praises about this baked eggs in bread boat I cooked for breakfast, you'd think I was a kitchen goddess who came down from pots-and-pans heaven to grace mortal cooks. Ingenious, creative and awesome were but a few of his delicious compliments.
Naturally, I basked in the glory and didn't admit that I found this idea on Pinterest and simply worked the egg filling with whatever odds and ends we had in the fridge.
These egg boats are truly amazing, guys! Aside from serving up nice and pretty for breakfast, brunch or any time of the day, you can fill them with anything and everything but the kitchen sink!
Baked Eggs in Bread Boat
Author:
Lalaine | Onion Rings and Things
Ingredients
1 (11-12 inch long) country-style loaf
1 tablespoon oil
½ small onion, peeled and chopped
5 to 6 sausage links, chopped
3 sweet peppers, cored, seeded and chopped
4 to 5 fresh button mushrooms, chopped
1 cup fresh baby spinach
salt and pepper to taste
6 eggs
½ cup milk
½ cup cheddar jack, shredded
2 tablespoons butter, melted
Instructions
Using a sharp, serrated knife, cut about ½ inch of the top of the bread loaf and with a spoon, hollow out inside loaf leaving about ¾-inch thick crust.
In a skillet over medium heat, heat oil. Add onions and cook until limp. Add sausage and cook until lightly browned, stirring occasionally. Add mushrooms and peppers and cook until softened. Add spinach and cook until just wilted. Season with salt and pepper to taste. Remove mixture from pan and allow to cool.
In a bowl, whisk together eggs and milk until blended. Add sausage mixture and stir to combine. Pour mixture into hollowed out bread loaf and sprinkle with cheese.
Place filled loaf onto a baking sheet and bake in a 350 F oven for about 20 to 25 minutes or until golden brown and set. Allow to cool for about 5 minutes and slice into servings.