Pollo Asado marinated in citrus juices and spices is delicious fresh off the grill and leftovers are amazing in tacos, burritos or quesadillas!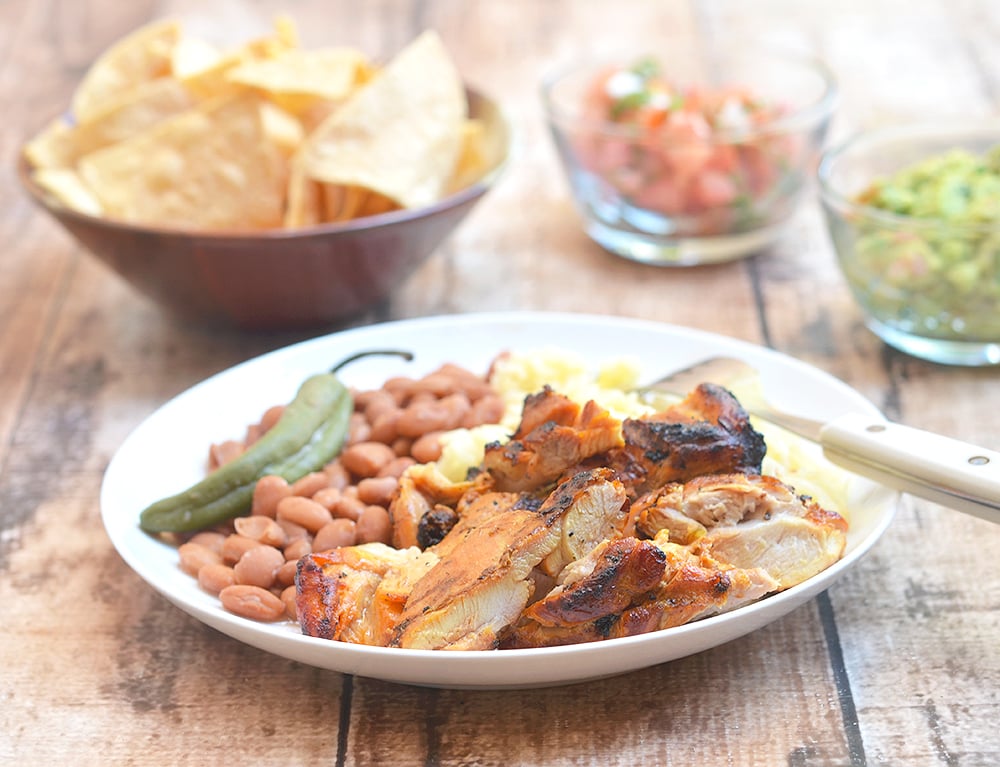 Oh wow, is it August already? Wasn't it just yesterday when we were welcoming the New Year with new resolutions? We're now halfway through the year and I can't even remember what I was promising myself to change!
Time sure flies when we're having fun.
July was indeed loads of fun for G and me, it's both our birthday month. We went on a three-day vacay to Las Vegas on my birthday week and you know how grand a time a trip to Sin City can be. Good thing what happens in Vegas stays in Vegas. 😉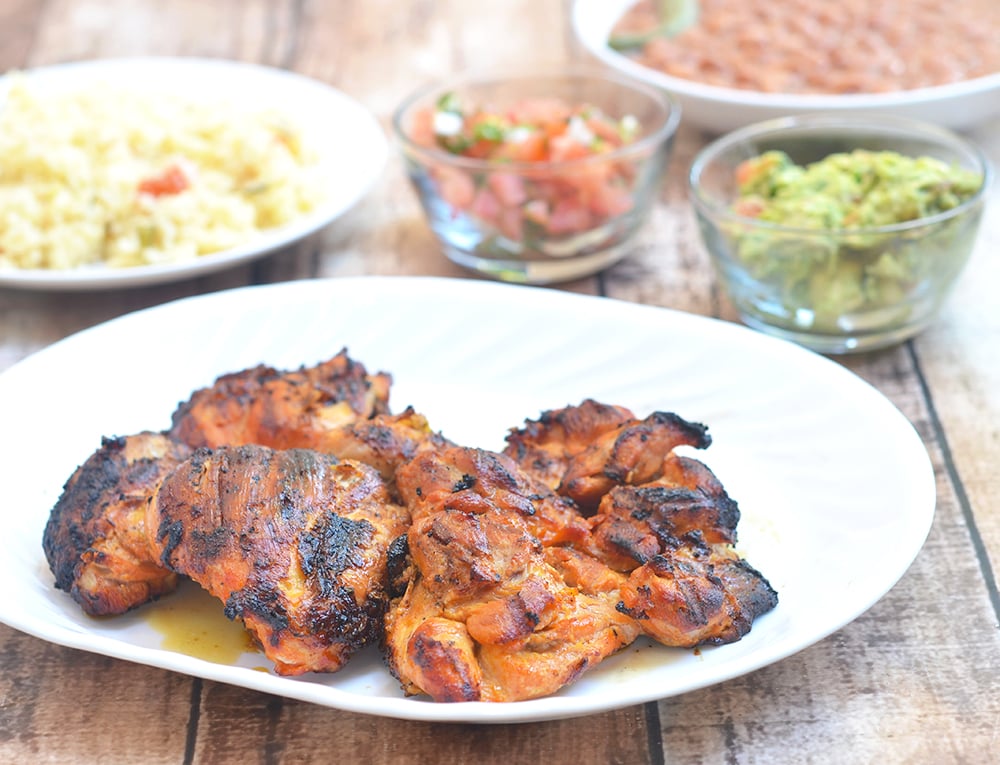 Last Saturday, I pulled together a small BBQ party at home to celebrate his. Nothing fancy, just a few of our closest friends in attendance and a simple dinner which I served al fresco. I decided on a Mexican theme for the party and I have to say, it turned out to be one of the most fun get-togethers I've thrown in a while. Everyone seemed to have enjoyed themselves and judging from the almost-empty disposable serving pans, they all loved the food.
We had carne asada, this chicken asada, rice, Charro Beans with chorizo along with the usual accompaniments of pico de gallo, guacamole, salsas, and homemade tortillas and corn chips. I will be sharing the rest of the recipes with you these coming days so stay tuned for lots of great food ahead.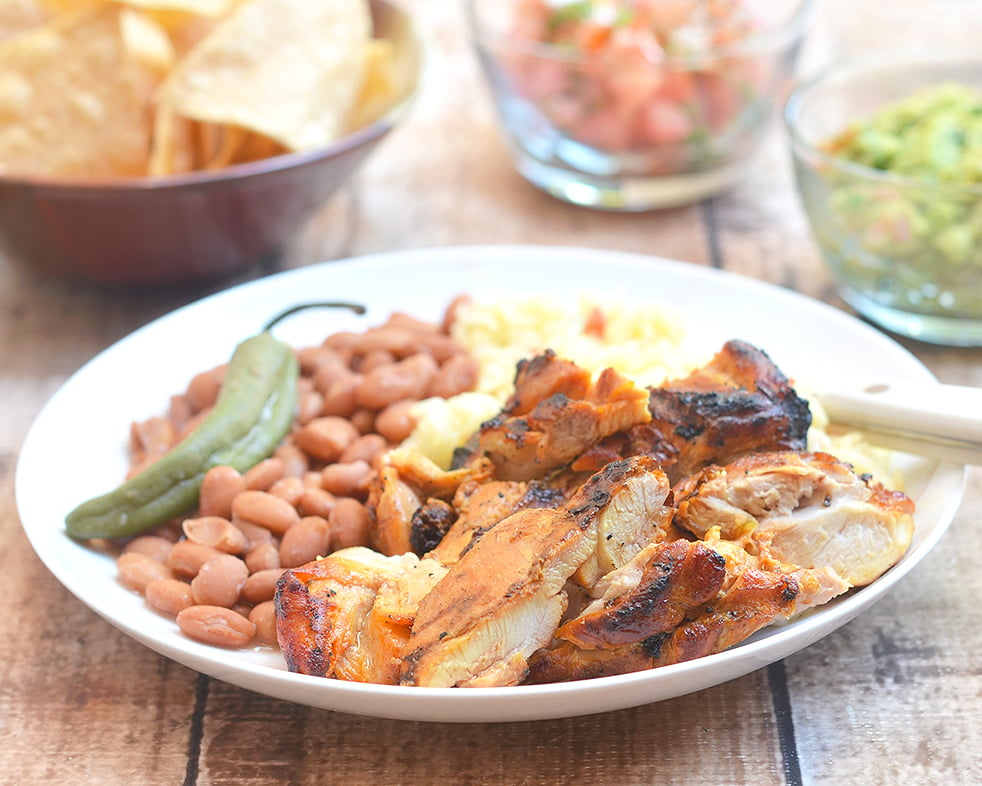 Pollo Asado is the equivalent of roasted chicken in Spanish cuisine. Made with a simple marinade of citrus juices and spices, it's one of the easiest and simplest you can throw on the grill for a delicious lunch or dinner meal. You can substitute bone-in chicken if you like, but I prefer boneless thigh meat as it takes less time to cook and can easily be turned into tacos or burritos without haggling with bones.
Along with orange, lime, and lemon juices, the marinade includes achiote paste which is widely used in Mexican cuisine. A thick paste of ground annatto, cumin, cloves, oregano, garlic, cinnamon, and pepper, it is used in cooking to add a subtle hint of flavor and an enticing golden color. You can find this seasoning paste (this is an affiliate link) at any Latin grocery stores or in the ethnic section of most major supermarkets. You can also order it on Amazon for convenient delivery.
This Mexican-style grilled chicken recipe serves about 4 to 6 persons but can be easily doubled for a large crowd. Amazing fresh off the grill, Pollo Asado also makes great leftovers. I always like to marinate and grill more than we can consume in one meal as I usually serve the first half with rice and beans for dinner, and the remaining half I use as filling for tacos, burritos, and quesadillas or as topping for nachos and salads to speed up next day's lunch.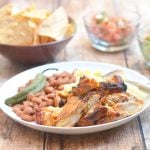 Pollo Asado
Pollo Asado marinated in citrus juices and spices is delicious fresh off the grill and leftovers are amazing in tacos, burritos or quesadillas!

Ingredients
2

pounds

boneless, skinless chicken thigh meat

1/2

cup

olive oil

4

oranges, juiced (about 1 cup)

2

limes, juiced

2

lemons, juiced

4

ounces

achiote paste

1

tablespoon

chicken bouillon powder

1

teaspoon

salt

1

teaspoon

pepper

1

head garlic, peeled and minced

1

onion, peeled and quartered
Instructions
Trim chicken of any excess fat. Wash and drain well.

In a large bowl, combine olive oil, orange juice, lime juice, lemon juice, achiote paste, bouillon powder, salt, and pepper. Whisk together until well-combined.

Place chicken, onions, garlic and the juiced oranges, limes and lemons (the skins) in the bowl. Massage meat to fully coat with marinade. Cover bowl and marinate meat for at least 2 hours or 4 hours for maximum flavor. DO NOT marinate for too long as the acids in the marinade will break down the meat.

Over hot coals, grill chicken for about 7 to 10 minutes on each side or until thermometer inserted in the center reads 165 F and the outside is nicely charred. Remove from heat and allow to rest for about 3 to 5 minutes before cutting.
Nutrition Facts
Pollo Asado
Amount Per Serving (140 g)
Calories 319
Calories from Fat 202
% Daily Value*
Total Fat 22.4g 34%
Cholesterol 105mg 35%
Sodium 486mg 20%
Potassium 27mg 1%
Total Carbohydrates 1.5g 1%
Protein 26.4g 53%
* Percent Daily Values are based on a 2000 calorie diet.