Chilaquiles with Salsa Verde for the perfect Mexican breakfast or brunch. Loaded with crunchy corn tortillas, salsa verde sauce, and cheese, it's pure comfort food!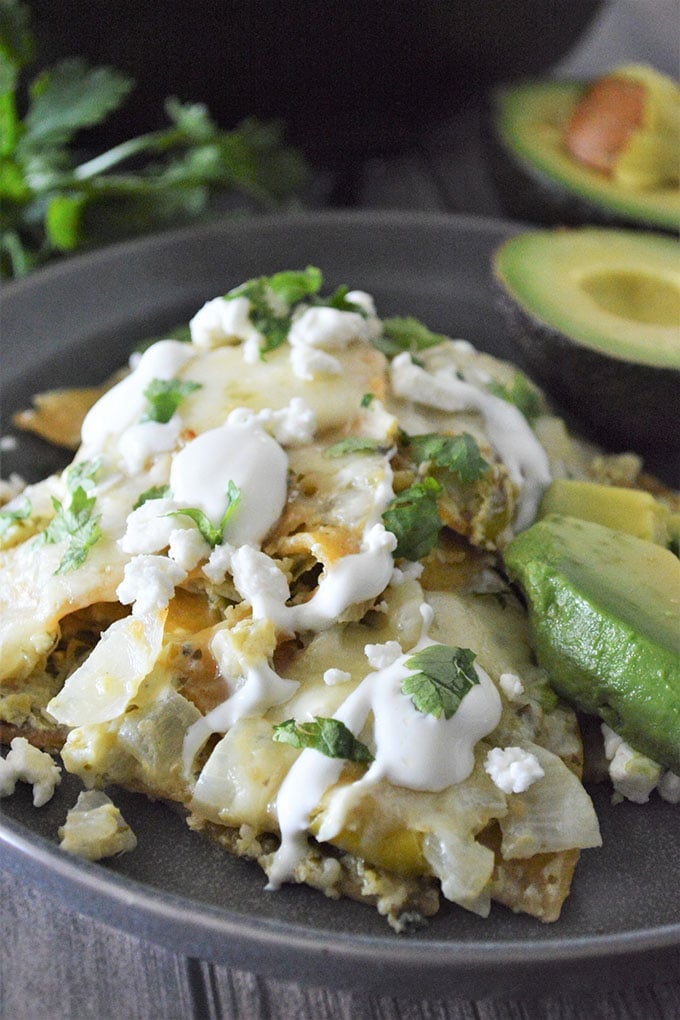 What do we do when we have homemade tomatillo sauce and days-old corn tortillas lying around? We make Chee-lah-kee-less!
What is Chilaquiles?
Chilaquiles is a classic Mexican dish made of days-old tortillas cut into quarters, crisp-fried, and then smothered with green tomatillo or red tomato sauce and cheese.
It is typically eaten for breakfast or brunch with a side of refried beans and topped with queso fresco, crema, chopped onions, and avocado slices. Fried or scrambled eggs and pulled chicken are also common additions for a truly hearty peasant fare.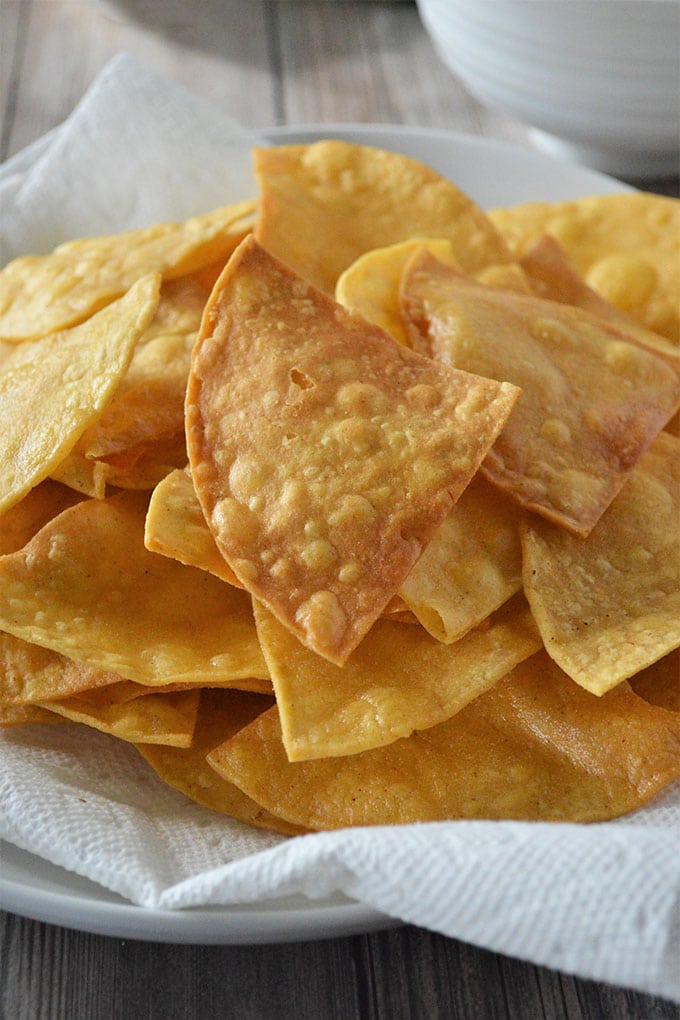 Tips on how to make homemade tortilla chips
The heart of every chilaquiles recipe is the crunchy corn tortilla chips. Make sure to check out these tips below.
Use dried out tortillas as they fry up crispier. Stale tortillas are best to use as they have lost their moisture or if using fresh ones, take them out of the bag and leave out overnight. You can also lay the tortillas in a single layer on a baking sheet and bake in a 350 F oven for about 3 to 5 minutes to dry out.
Use oil with a high smoke point such as canola, grapeseed, safflower, or peanut oil. Fry at an optimal temperature of 350 F. Too high heat and the tortillas will burn before they are adequately crisp, too low heat and the tortillas will absorb a lot more grease.
Do not overcrowd the pan, add enough chips to cover the bottom of the pan without overlapping.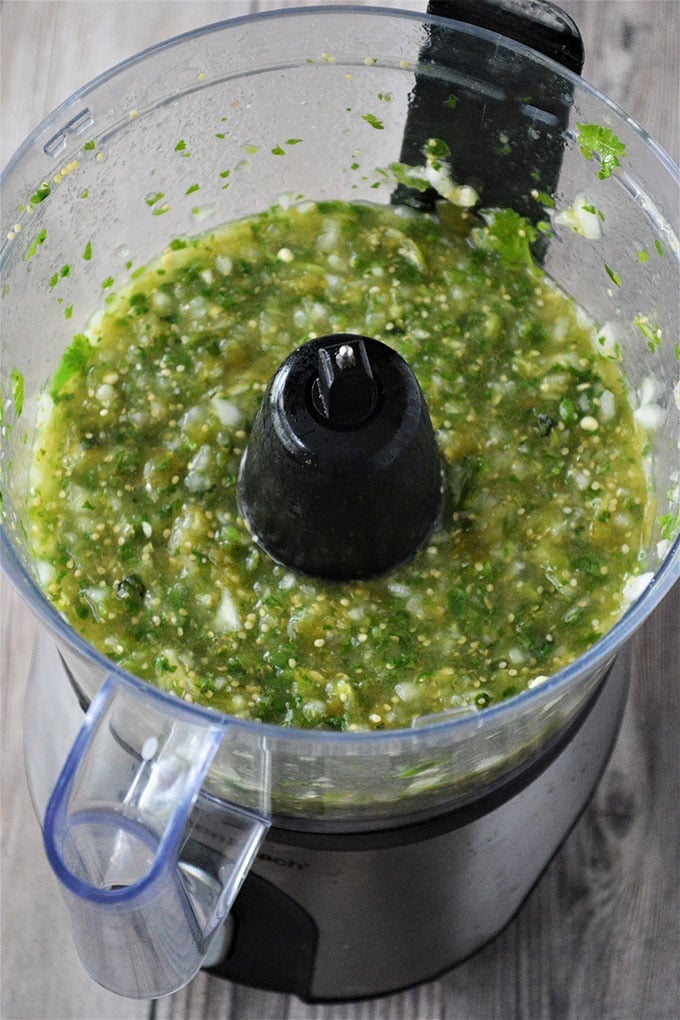 Salsa Verde sauce
The simple green sauce is made of tomatillos, jalapenos, chopped onions, garlic, lime juice, and salt.  It has a tangy, zesty flavor, and less heat than the red salsas.
You can make it from scratch or use store-bought. My favorite brand is Herdez and it's readily available at most major supermarkets.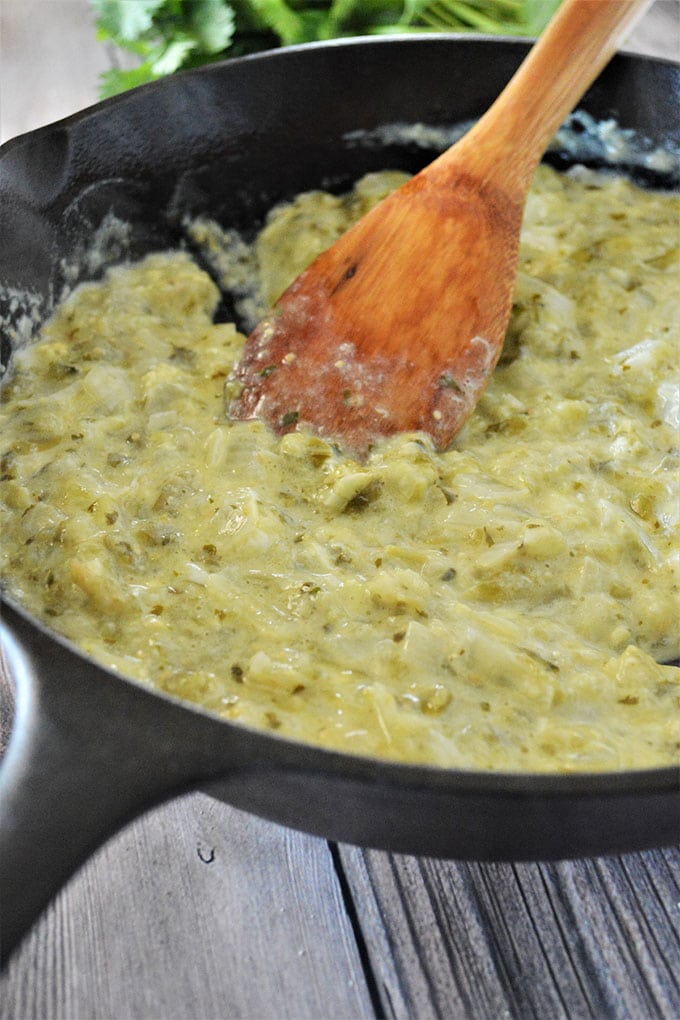 Cooking instructions
Deep-fry day-old tortillas until crispy. Remove from oil and drain on paper towels.
In a wide pan over medium heat, saute onions in about 1 tablespoon oil until softened.
Add salsa verde or roja of choice (you can use bottled salsas from the store or make it from scratch).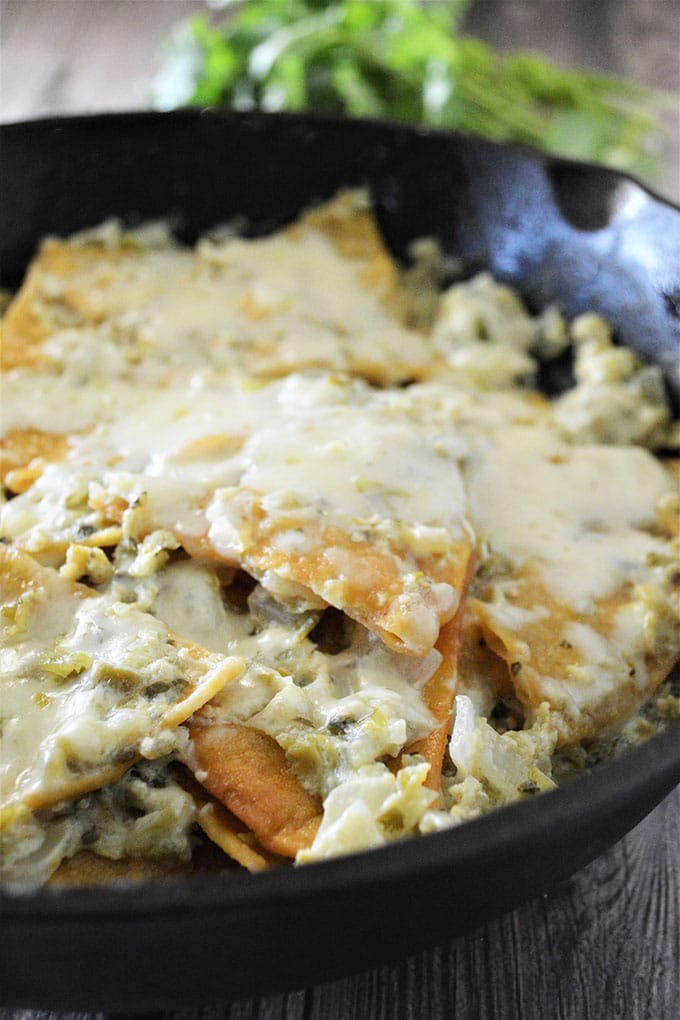 Add beaten eggs and cook, stirring as needed, just until it begins to set.
Add the fried tortillas and stir until fully coated with the sauce.
Sprinkle with cheese and cook for another 1 to 2 minutes or until cheese is melted.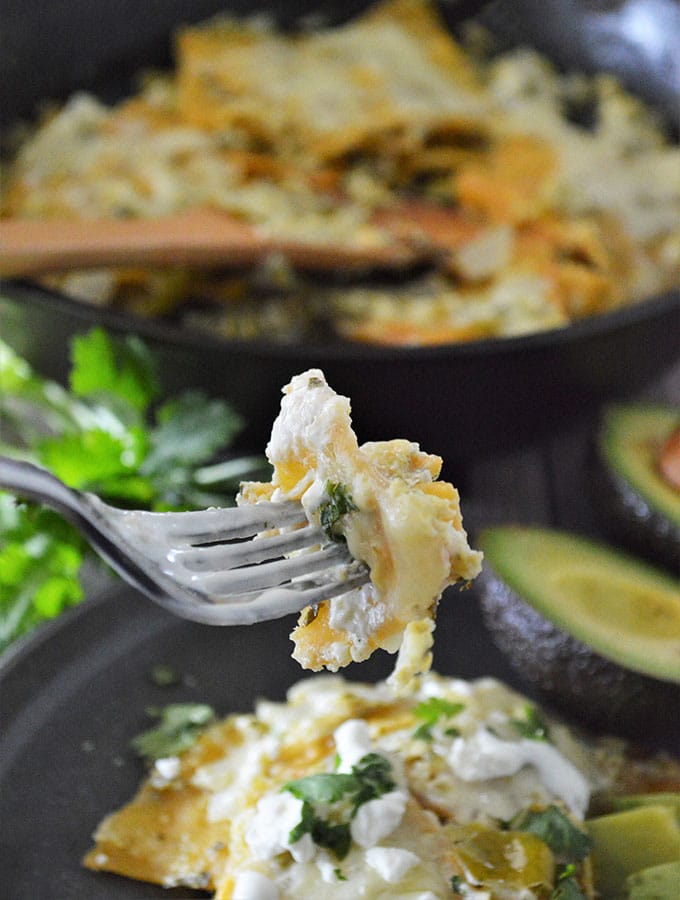 Serving suggestions
Chilaquiles are delicious for breakfast or brunch. Spoon the chilaquiles on a serving plate, garnish with chopped onion, cilantro, crema Mexicana, and avocado slices.
Serve immediately. This Mexican dish is best enjoyed freshly-cooked.
Chilaquiles recipe with freshly-fried corn tortillas and homemade tomatillo salsa verde sauce. This Mexican classic dish is hearty, tasty, and great for breakfast or brunch.
Servings
Ingredients
1 dozen stale corn tortillas, cut into quarters
1 small onion, peeled and chopped
2 cups Tomatillo Salsa Verde sauce
2 eggs, well beaten
1 cup Monterey Jack cheese, shredded
Garnishes
1/2 cup queso fresco, crumbled
1/2 cup crema de mexicana
1/2 small red onion, peeled and chopped
1/2 bunch cilantro, stemmed and chopped
1 avocado, pitted and sliced
For the Tomatillo Salsa Verde Sauce
1 pound tomatillos, husked
2 jalapeno peppers
1 small onion, peeled and chopped
juice from 1 lime
1/2 cup cilantro
3 cloves garlic, peeled
Instructions
In a pan over medium heat, heat about 2 inches deep of oil.

Separate the cut tortillas and add in batches to the pan. Deep-fry, stirring regularly, until golden brown and crisp.

With a slotted spoon, remove fried tortillas from pan, drain on paper towels and sprinkle with salt.

In another pan, heat about 1 tablespoon of oil until it begins to shimmer. Add onions and cook until softened.

Add salsa verde and simmer for about 3 to 5 minutes.

Add eggs and stir together until eggs begin to set.

Add fried tortillas and gently toss to coat with sauce for about 1 to 2 minutes.

Sprinkle with jack cheese, cover, and cook for another 1 to 2 minutes or until cheese is begins to melt.

Transfer onto serving plates, drizzle with crema Mexicana, and sprinkle with queso fresco, red onions, and cilantro. Garnish with sliced avocados. Serve immediately.
For the Tomatillo Salsa Verde
Peel and discard papery husks from tomatillos. Wash tomatillos well under cold running water to rinse off any sticky coating. Drain well.

In a saucepan over medium heat, combine tomatillos, jalapenos and enough water to cover. for about 5 to 8 minutes or until softened. Remove from water.

In a food processor or blender, combine tomatillos, chili peppers, onions, cilantro, garlic and lime juice. Pulse a few times to desired consistency. Season with salt to taste.
Nutrition Information
Calories: 307kcal, Carbohydrates: 12g, Protein: 10g, Fat: 23g, Saturated Fat: 6g, Cholesterol: 106mg, Sodium: 999mg, Potassium: 334mg, Sugar: 8g, Vitamin A: 1040IU, Vitamin C: 6.4mg, Calcium: 235mg, Iron: 0.7mg
"This website provides approximate nutrition information for convenience and as a courtesy only. Nutrition data is gathered primarily from the USDA Food Composition Database, whenever available, or otherwise other online calculators."