Grilled Turkey Legs are a fun take on Thanksgiving dinner! These Caveman Pops are moist and flavorful with a simple brine and so easy to cook on the grill!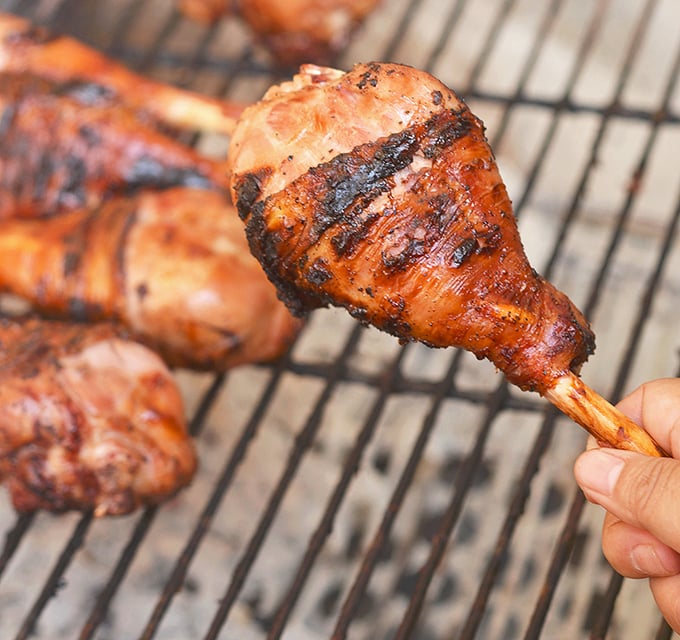 It'll just be G and me at home for Thanksgiving this year so we're not even going to bother with a full-on roasted turkey for our holiday dinner. Instead, we're getting our turkey fix from grilled turkey legs which we took on a couple of sample runs this week and absolutely loved!
We experimented with a variety of marinades in our recipe testings but a basic brine of salt and brown sugar was the clear winner for us. The meat came out moist and flavorful and the lack of additional trappings really allowed the smokey taste to shine through.
How to Add Flavor to Grilled Turkey
Use the simple brine as a great starting point and customize it with herbs and aromatics as you like. Garlic cloves, peppercorns, bay leaves, sage, thyme,  rosemary, and allspice berries are but a few of the savory choices you can play with.
If you like to spice up the turkey further with your choice of dry rubs, rinse the brined turkey well under cold running water, pat dry, and then season before grilling. Just remember the meat has already sat in a salt solution so I suggest adding salt sparingly if even.
If you want to glaze the turkey legs with BBQ or your favorite sauce, start basting during the last minutes of grilling so the outside doesn't burn before the inside is sufficiently cooked.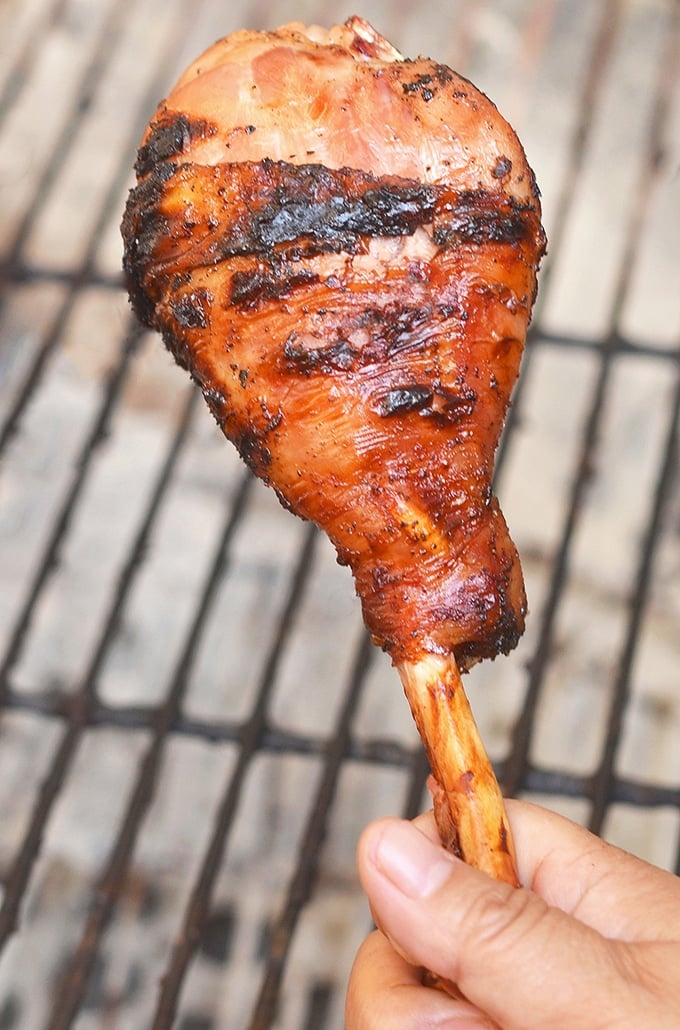 Tips for Making Grilled Turkey Legs
For food safety, use cool water and store the turkey and the brine in the refrigerator. Monitor the temperature of the liquid to make sure it's below 40 F.
Use a deep, non-reactive pot or container and enough brine to keep the turkey completely submerged during the brining process. You can weigh down the meat with a heavy plate or bowl to prevent from floating around.
The turkey meat will have a tinge of pink as the result of the curing process so use a meat thermometer to properly gauge doneness. Just insert the thermometer into the thickest part, making sure the probe doesn't touch the bone. If the internal temperature is 165 F, your drumsticks are ready to enjoy!
These turkey drumsticks are county fair favorites for good reason. They're mammoth, portable and so much fun to eat! Give them a try for Thanksgiving and have a more relaxed and enjoyable holiday dinner. They'll be just amazing with mashed potatoes, mac and cheese, and your other favorite Thanksgiving side dishes as a regular roast turkey!
How to Roast Turkey Legs in the Oven:
We're still getting sunny weather here in Southern California in Fall but if grilling outside is not possible for you, roasting in the oven is another option.
Rinse the brined turkey under cold running water to rid of excess salt and pat dry.
Rub under the skin and brush the skin with butter.
Arrange in a single layer on a roasting rack and pour a cup or so of broth in the roasting pan.
Roast, uncovered, in a 450 F oven for about 20 to 25 minutes or until golden brown. Lower the heat to 325 F and continue to roast for another 15 to 20 minutes or until thermometer inserted in the thickest part reads 165 F. If the skin is browning too fast, tent with foil.
That's it, folks! Enjoy these caveman pops and let me know what you think in the comments below. In case I don't see you here before then, I wish you a Happy Thanksgiving filled with many reasons to be thankful!
Watch the Video and See how Easy These Caveman Pops are to Make

Grilled Turkey Legs are a fun take on Thanksgiving dinner! These Caveman Pops are moist and flavorful with a simple brine and so easy to cook on the grill!

Course:
Appetizer, Main Entree
Servings
Instructions
In a large stockpot or container, combine water, kosher salt, and sugar. Stir until completely dissolved.

Place turkey legs in the brine until completely submerged. Cover and refrigerate for about 4 to 6 hours.

Drain turkey from the brine, and rinse inside and out under cool running water. Pat dry with a paper towel.

Build a fire in the grill, leaving one side free of coals. When coals are covered with gray ash and the temperature is medium, they're ready.

Arrange the turkey legs in a single layer on the grill directly over the coals and cook, turning once every 5 minutes, for about 10 to 15 minutes or until skin begins to crisp and lightly char.

Transfer the turkey pieces to the cooler side of the grill, cover the grill, and continue to cook, turning occasionally, for about 40 to 45 minutes or until thermometer inserted in the thickest part of leg reads 165 F.

Remove from grill and serve hot.
Nutrition Information
Calories: 276kcal, Carbohydrates: 1g, Protein: 36g, Fat: 12g, Saturated Fat: 3g, Cholesterol: 133mg, Sodium: 1011mg, Potassium: 513mg, Sugar: 1g, Calcium: 32mg, Iron: 3.2mg
"This website provides approximate nutrition information for convenience and as a courtesy only. Nutrition data is gathered primarily from the USDA Food Composition Database, whenever available, or otherwise other online calculators."