Easy Guacamole Dip is ready in minutes, packed with flavor and makes a great appetizer or side dish. Get the best tips on how to keep it fresh and green longer.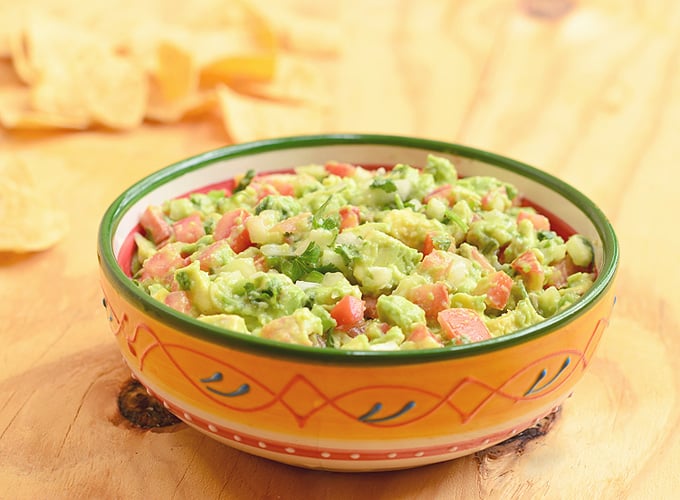 Yesterday, I shared with you my go-to pico de gallo recipe and the many delicious ways to enjoy it. If you love Mexican food, this homemade fresh salsa is a must in your fridge! Not only is it a flavor-packed dip for chips, it's a great condiment to easily spice up your favorite meals.
The major perk, however, of having homemade salsa fresca handy is that you are only one step away from getting homemade guacamole ready. Just peel and mash or coarsely chop (if you want it chunky) a few pieces of avocados and stir into the mix. This handy dandy tool makes it super easy (this is an affiliate link).
Easy Guacamole Ingredients:
Guacamole in its most basic form is a simple mixture of mashed avocados and salt. If you want to kick it up a notch, add tomatoes, green onions or onions, jalapenos, and cilantro for color, texture, and flavor. Drizzle with lime or lemon juice to help balance the richness and prevent the browning of the avocados.
I find salt and freshly-ground pepper enough to beautifully round up the flavors but feel free to experiment and season it up with garlic powder, minced onion powder, cumin and/or cayenne pepper.
Genius Ideas on How to Use Guacamole:
Skip the mayo and swap with guacamole in chicken, egg or potato salads.
Pile on top of burgers or hot dogs in place of catsup and mustard.
Spread on toasts, sandwiches and tortilla roll-ups.
Dollop on baked potatoes instead of sour cream or butter.
Whisk with Ranch dressing or with lime juice and oil for a creamy salad dressing.
Use as filling for egg rolls or wontons.
Toss with cooled pasta and your choice of chicken or shrimp for a light yet filling pasta salad.
With a long list of scrumptious uses for this easy guacamole, you'd be hard-pressed to have leftovers! But on the rare occasion you actually do, check out the tips below on how to keep it green and fresh as long as possible.
How to Keep Guacamole from Turning Brown:
Avocado flesh turns brown very quickly once it's exposed to air due to the reaction of the fruit's phenolic compounds to oxygen. To prevent this unappealing coloration, you can do a few of the following:
Drizzle a small amount of lime or lemon juice over the guacamole. The citric fruits' high acidity and natural antioxidants will help stanch the browning.
If you're not adverse to adding a little touch of oil, lightly brush the top of the guacamole with oil. This will create a barrier to oxygen.
This might not be appetizing to some but another effective method is to gently top the guacamole with a thin layer of water to act as a barrier to oxygen. When ready to serve, just drain the water and stir the guacamole.
Store in an airtight container or press plastic film directly to its surface to prevent exposure to oxygen.
Chill the guacamole as the lower temperature will help slow down the enzyme activity.
Are avocado pits in the guacamole effective in preventing browning? Yes, but ONLY on the part of the guacamole's surface they touch and shield from exposure to air. Exposed areas of the dip will still turn brown in time.
Give this avocado dip a try, it's packed with flavor and loaded with healthy fats! It's so easy to make, you'll be serving up a Cinco de Mayo fiesta in no time!
Easy Guacamole Dip is ready in minutes, packed with flavor and makes a great appetizer or side dish. Get the best tips on how to keep it fresh and green longer!
Course:
Appetizer, Condiment
Servings
Ingredients
6 ripe Avocados
2 Roma tomatoes, seeded and diced
1/2 onion, peeled and diced
1 jalapeno or serrano chiles, stems and seeds removed and minced
1/4 bunch cilantro, stems removed and coarsely chopped
juice of 2 limes
1/2 teaspoon salt
1/4 teaspoon pepper
Instructions
In a bowl, combine avocados and lime juice. Gently stir until incorporated.

Add tomatoes, onions, jalapenos cilantro, salt, and pepper. Stir to combine.

Gently press a plastic film directly to the surface of the guacamole to completely cover. Chill in the refrigerator until ready to serve.
Nutrition Information
Calories: 247kcal, Carbohydrates: 14g, Protein: 3g, Fat: 22g, Saturated Fat: 3g, Sodium: 157mg, Potassium: 777mg, Fiber: 10g, Sugar: 1g, Vitamin A: 385IU, Vitamin C: 19.8mg, Calcium: 21mg, Iron: 0.9mg
"This website provides approximate nutrition information for convenience and as a courtesy only. Nutrition data is gathered primarily from the USDA Food Composition Database, whenever available, or otherwise other online calculators."