Scaredy Squirrel Pumpkin turns a favorite book character into a fun Fall decor. The perfect activity to keep the kids entertained this holiday season!
Looking for a kid-friendly craft for your Fall pumpkin decorating parties? This Scaredy Squirrel Pumpkin combines your child's favorite book character into a fun Autumn decor!
It uses simple craft supplies you can find at your neighboorhood hobby stores and is so easy to make, the little ones will have a blast putting it together.
How to Make Scaredy Squirrel Pumpkin
Materials
Small oval/round pumpkin
Brown craft paint
Tan craft paint
Pink craft paint
White craft paint
Black craft paint
Clear spray paint
Brown cardstock paper or foam sheet
Black Sharpie
Set of paint brushes
Hot glue and hot glue gun
Instructions
Paint the top half of the pumpkin brown and the bottom half tan as pictured, with a tan hump in the center facing up and two brown humps facing down for the face.
Let dry. Paint a second coat and let dry.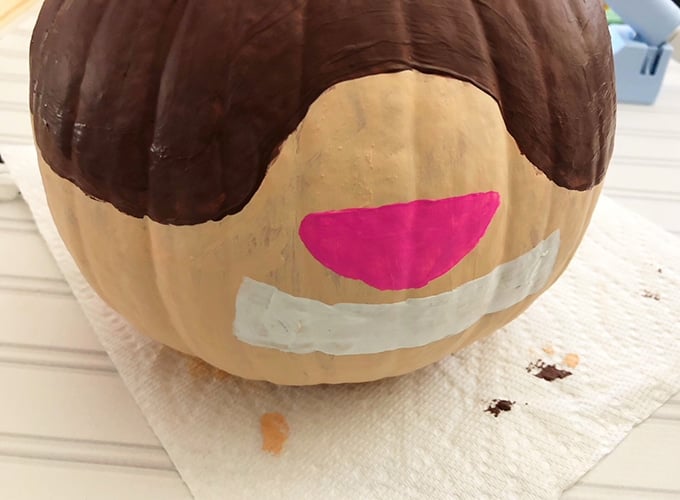 Paint a half circle in pink in the tan area of the pumpkin in the center to make the nose. Paint the white teeth in the shape of a long and wide rectangle under the nose.
Use a skinny paintbrush to outline the bottom of the nose, teeth and to draw lines in the teeth area to separate each tooth.
Paint one circle eye on each of the brown jumps. Stick the back of the paintbrush into white paint and use to dot each eye.
In a well-ventilated area, pumpkin with a clear coat of spray paint and let dry.
Cut out two brown half oval ears from cardstock paper. Cut each side from one end down the center and round each side like pictured. Fold the bottom flat and glue the ears to the top of the pumpkin.
More Holiday Craft Ideas
Grinch Jello Cups
Snowman Cottonball Craft
Homemade Toasted Pumpkin Chapsticks