Chicken teriyaki with moist meat, full flavor and from-scratch teriyaki sauce. It's a breeze to make and is sure to please the whole family!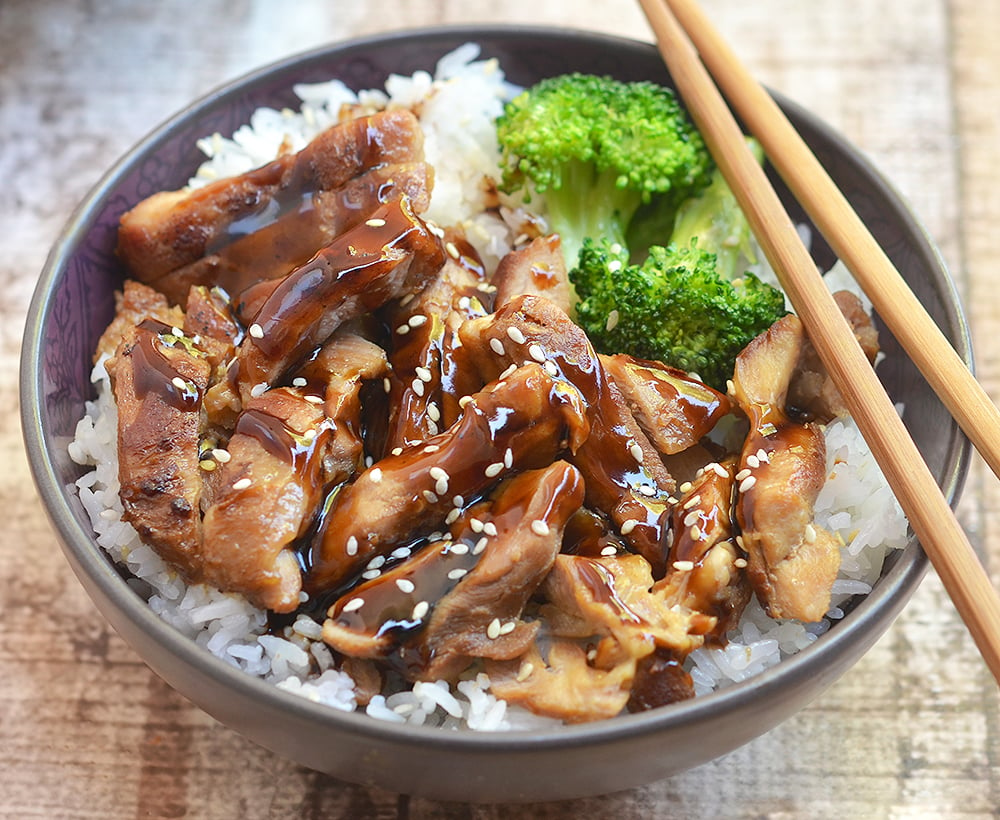 I initially planned to do a separate post when I have more time to write in detail but I am too excited to wait, I have to tell you now.
I QUIT MY JOB TO BLOG FULL TIME.
Whew! Just typing those last eight words gave me goosebumps! After years of dreaming about it and months of talking about it, I can't believe I finally gathered my (figurative) balls to make the jump.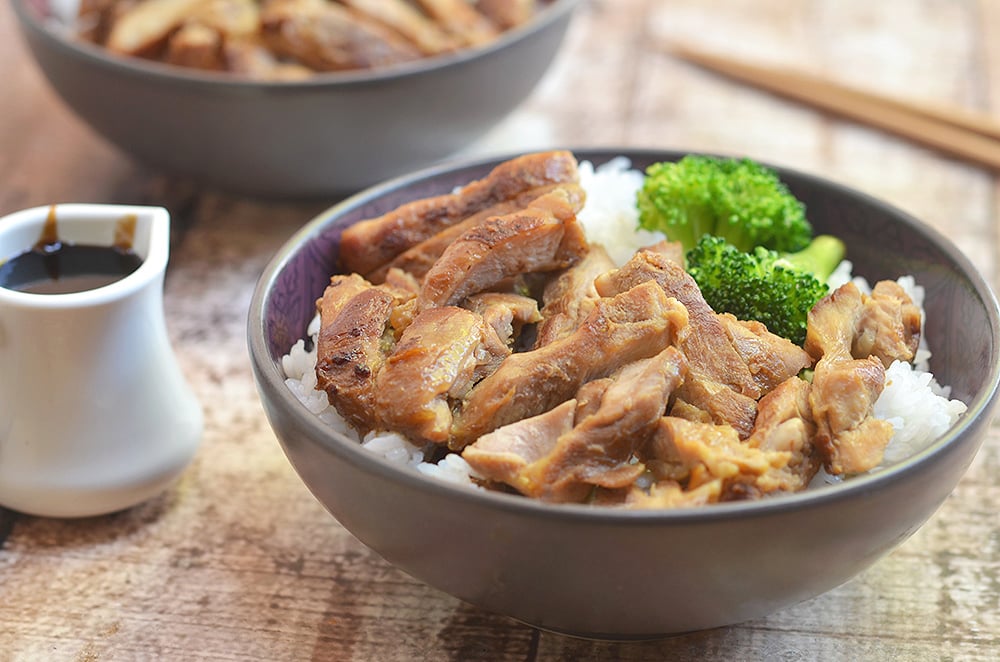 Making this decision was certainly not easy. I mulled and mulled, and mulled again over it for a loooong time. I am terrified as heck to lose the cushion of a regular paycheck yet I am beyond ecstatic to be able to live my passion and make the most of the business I've slowly built upon these last three years. I can't wait to spend the rest of my known existence cooking, shooting and writing about food! I am so looking forward to exploring and sharing more delicious recipes with you.
For the next two weeks, however, I will be nose deep in tightening up loose bits and nobs at work to ready my department for whomever I pass the torch to. For the next two weeks, as I work many odd hours, it will be fast and easy meals such as this chicken teriyaki on our dinner table.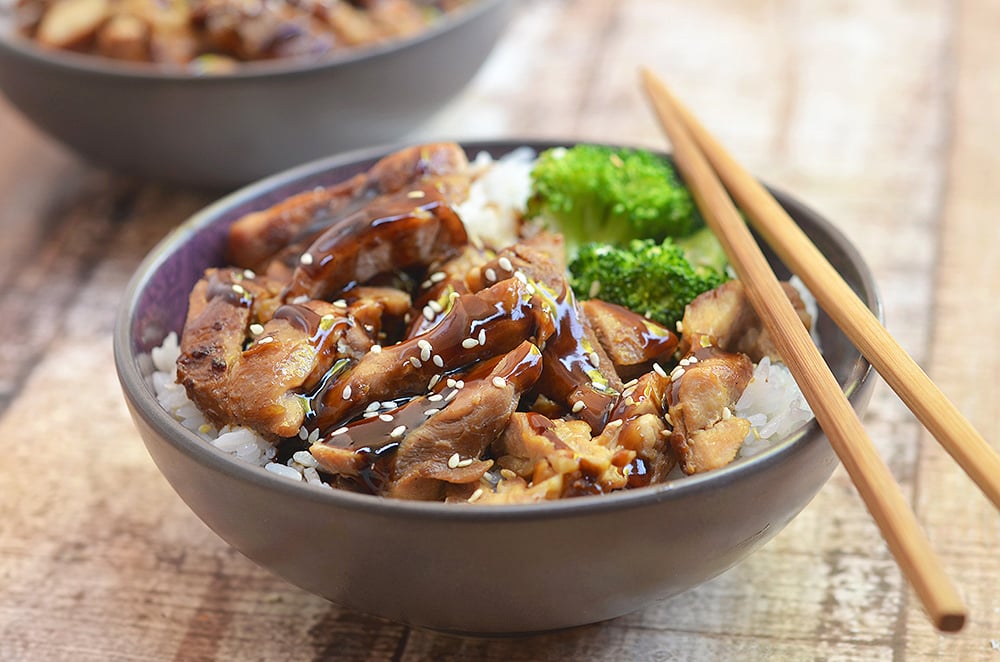 With succulent meat and full flavor, you won't believe what a breeze this chicken teriyaki is to make. Boneless chicken thigh or leg meat are marinated in a simple from-scratch teriyaki sauce and then finished off in the oven until tender and delicious. The chicken can also be pan-fried, if you're pressed for time, or grilled over hot coals if time and weather permits. Whatever way you go, these moist chicken morsels piled high over mounds of fluffy rice (and steamed broccoli, yes, please!) are a sure dinner win.
As I find the meat sufficiently seasoned from the marinade, I usually go light on the teriyaki sauce. Just a dab here and there to lightly moisten my rice. G, on the other hand, drowns his chicken like crazy, you'll wonder if he's having chicken with teriyaki sauce or teriyaki sauce with chicken. The amount of teriyaki sauce in the recipe allows about 1 tablespoon per serving but can be easily doubled. Enjoy!
Chicken Teriyaki
Author:
Lalaine | Onion Rings and Things
Ingredients
3 pounds boneless chicken thigh or leg meat
1 thumb-size ginger, peeled and grated
salt to taste
For the Marinade
1 cup water
4 tablespoons soy sauce (I used Kikkoman)
4 tablespoons mirin
4 tablespoons dark brown sugar
For the Teriyaki Sauce
2 tablespoons dark soy sauce
2 tablespoons mirin
2 tablespoons sake
2 tablespoons honey
Instructions
Cover baking sheet with foil and set aside. Gently rub surface of chicken with grated ginger and salt. Let stand for about 20 to 30 minutes. Using a paper towel, wipe off any stray bits of ginger on skin.
In a bowl, combine water, soy sauce, mirin and sugar. Stir until well dissolved. Add chicken and toss to fully coat. Transfer marinade and chicken into a ziplock bag and seal, pressing out as much air from the bag. Marinate in the refrigerator for at least 1 hour or 4 hours for best results.
In a small bowl, combine teriyaki sauce ingredients: dark soy sauce, mirin, sake and honey. Stir until well-combined and set aside.
Drain chicken from marinade, discarding liquid. Arrange meat in a single layer on prepared baking sheet and bake, uncovered in a 400 F oven for about 20 to 30 minutes or until thermometer inserted in the middle of chicken reads 165 F. Remove from heat and allow to slightly cool before slicing into pieces. To serve, drizzle with teriyaki sauce and sprinkle with sesame seeds.