Here I am (finally) with a spankin' fresh recipe, spinach-stuffed chicken. In this delightful dish, chicken breasts are filled with creamed spinach and rolled in seasoned Panko crumbs. The stuffed chicken parcels are then baked in the oven until moist and gooey in the inside and golden and crisp on the outside. They're wonderful paired with a green salad for a light lunch or served over pasta for a satisfying dinner meal. Enjoy!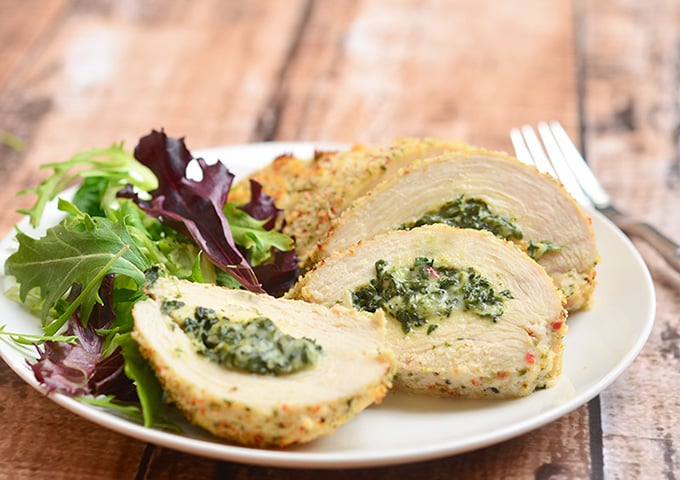 Spinach Stuffed Chicken
Ingredients
4 (4 ounces each) boneless, skinless chicken breast
salt and pepper to taste
1 tablespoon oil
1 small onion, peeled and finely chopped
2 cups baby spinach, coarsely chopped
¼ cup sour cream
1 cup pepper jack cheese, shredded
1-1/2 cups Panko bread crumbs
1 tablespoon sun-dried tomatoes, finely minced
1 tablespoon Italian seasoning
½ teaspoon garlic powder
melted butter or cooking spray
Instructions
Place chicken breast between two pieces of plastic film. Using a mallet or back of a knife, gently pound chicken breast to flatten to about ¼-inch thick. Wash and pat dry. Season with salt and pepper to taste and let stand in refrigerator until ready to use.
In wide pan over medium heat, heat oil. Add onions and cook until limp. Add spinach and cook for about 1 to 2 minutes or until just wilted. In a colander, drain well and allow to cool.
In a bowl, combine sauteed spinach, sour cream and cheese and stir gently.
On a flat, working surface, place chicken breast. Spoon ¼ of the spinach and cheese mixture on center of the chicken. Roll chicken tightly over filling into a log and secure in places with toothpicks.
In a bowl, combine bread crumbs, sun-dried tomatoes, Italian seasoning, garlic powder and salt and pepper to taste. Carefully dredge stuffed chicken in bread crumb mixture, patting crumbs down to completely coat. Repeat with remaining chicken breasts and spinach mixture.
On a lightly greased baking sheet, arrange chicken in a single layer with seam side down. Lightly spray top of chicken with cooking spray or lightly brush with melted butter (this will help them brown nicely in the oven).
Bake in a 375 F oven for about 30 to 35 minutes or until chicken is cooked through and breading is golden. Remove from oven and slice into desired thickness. Serve hot.