Instant Pot Herb Roasted Potatoes made easy in a pressure cooker. All you need is 15 minutes to turn baby potatoes into crisp, fluffy, and flavorful side dish the whole family will love!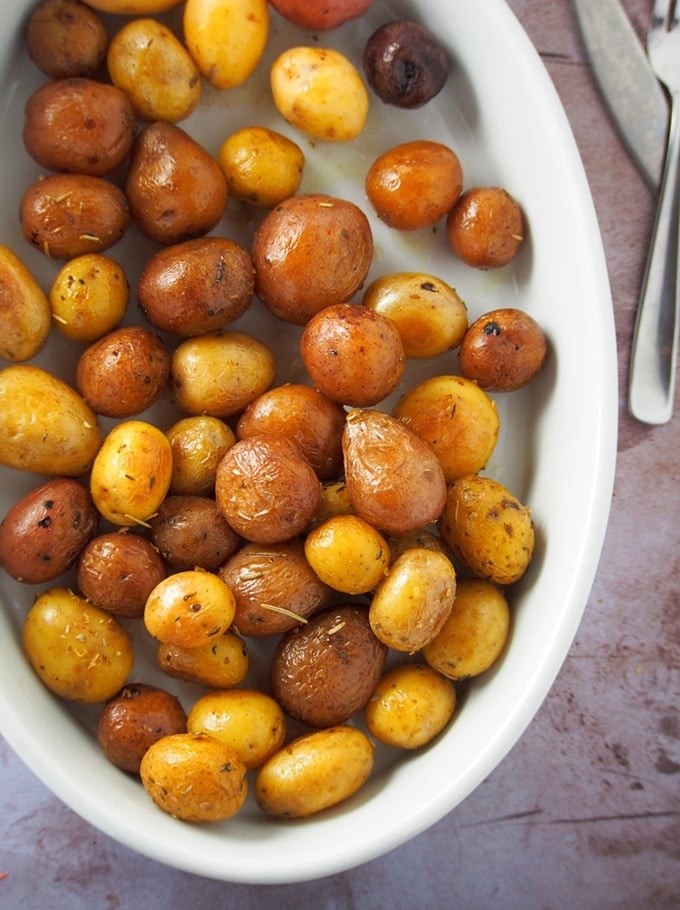 Instant Pot, where have you been all my life?
I received an Instant Pot as a gift last Christmas, and it sat in our garage unused and almost forgotten for a couple of months. Not that I wasn't excited to own the new craze in foodie town, but the thing had enough buttons to fly a plane, I was scared I'd press the wrong one and blow up our kitchen!
However, I've read plenty of rave reviews about this kitchen appliance and seen a plethora of delicious pressure cooker recipes on Pinterest I wanted to try. So early last month, I finally took my spanking new gadget out of the box, read the owners' manual front to back twice thrice, made these pressure cooker herb-roasted potatoes, and it hasn't left my kitchen counter since.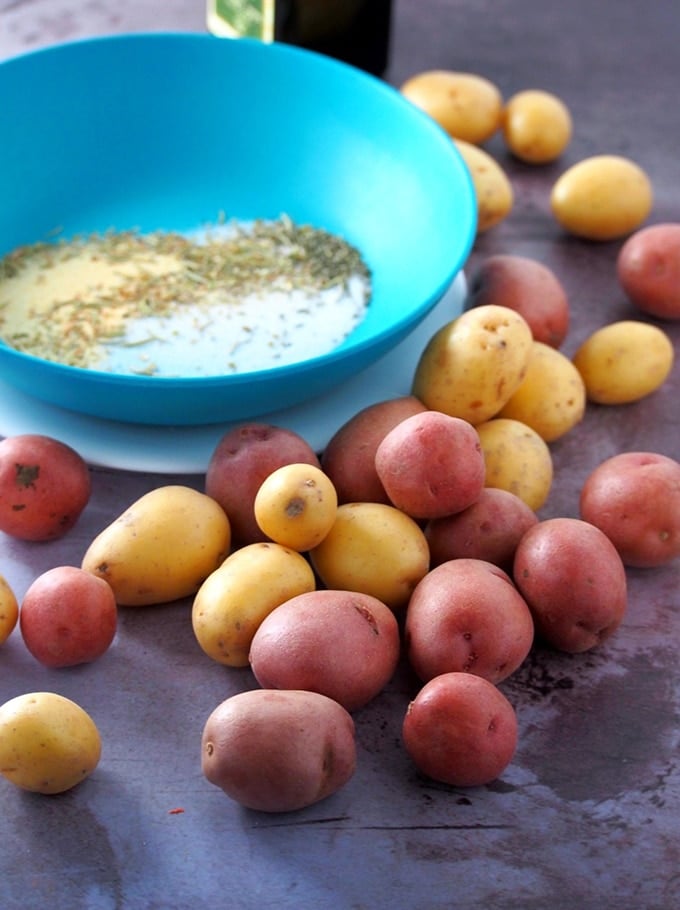 Guys, let me join the ever-growing flock of pressure cooking believers and say, Instant Pot is a must-have. If you're struggling to have dinner ready for the family after a long day's labor at work, this kitchen wonder will have delicious food on the table in a pinch.
Just imagine crisp, fluffy, and flavorful roasted potatoes, the whole family will love in 15 minutes or less! Pressure cooker potatoes will be your favorite recipe hack ever. You'll have a mouthwatering side dish ready in less time it would take to preheat your oven.
True story–> I made one pound of baby potatoes for dinner last night, but since G and I were fighting fork to fork over the delicious pieces, I got up from the table and put in another pound in the Instant Pot. They were done before our roasted chicken and the rest of our meal lost steam.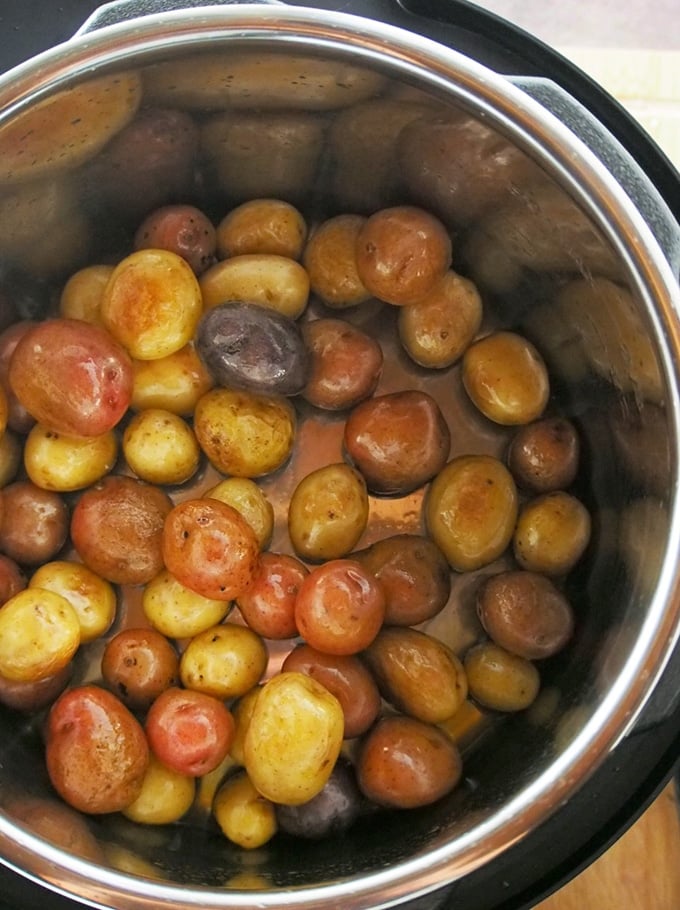 Helpful tips
I used olive oil to brown and crisp the potatoes because extra minutes on the treadmill to burn extra calories is never fun but feel free to swap with bacon or duck fat to amp up the flavor easily
I browned the potatoes in the Instant Pot using the SAUTE feature, so I'll have one less thing to wash. Add the potatoes in a single layer, so they crisp up nicely. You can cook in batches or pan-fry the potatoes in a skillet and just transfer to the Instant Pot to finish off.
These roasted potatoes are customizable! They were amazing with the herb seasonings I tossed them with, but I've had equally delicious results with minced garlic, chopped shallots, Ranch seasoning, or Parmesan cheese.
The baby potatoes I used were about 1 to 1 1/2 inches, and they pressure cooked to perfect tenderness in 7 minutes. For regular-sized potatoes, cut them into uniform pieces to ensure even cooking.
If you want to keep the potatoes warm for an extended period using the KEEP WARM Instant Pot feature, adjust the pressure cooking time to about 1 to 2 minutes less.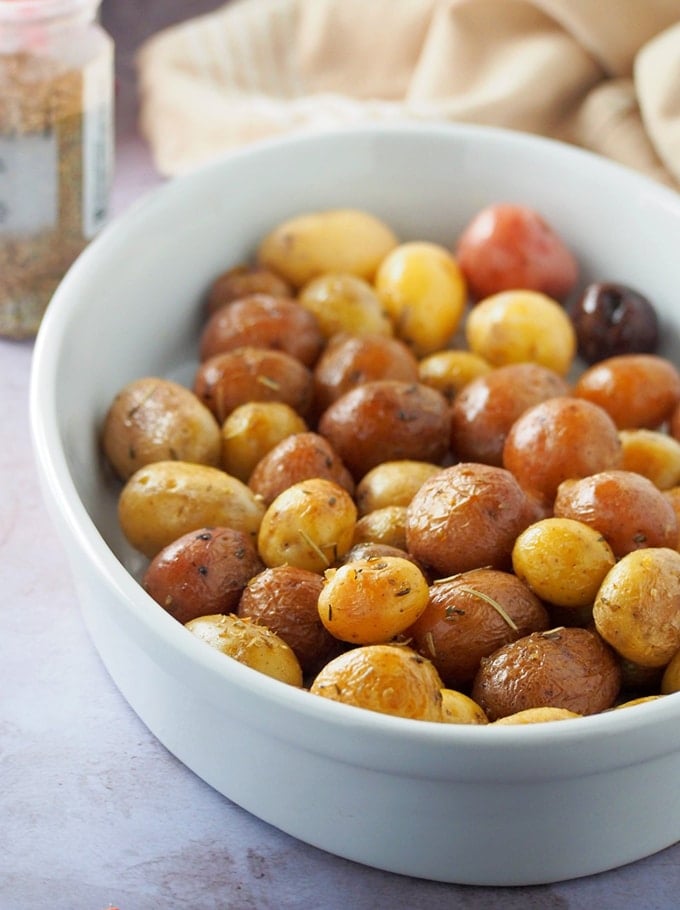 How to serve
Enjoy these Instant Pot roasted potatoes as a great side dish to your favorite roasted meat and veggies. They're also delicious tossed in mixed greens or turned into hot potato salad with choice of dressing.
Store leftovers in an airtight container or resealable plastic bag and keep in the refrigerator for up to 3 days.
To freeze, arrange in a single layer on a baking sheet, cover loosely with plastic film, and put in the freezer until firm. When solid, transfer to a resealable bag and keep in the freezer for up to 3 months.
No need to thaw to roast. Lightly grease a baking pan with olive oil and arrange frozen potatoes in a single layer on the pan. Roast in a 400 F oven, turning halfway through,  for about 20 to 25 minutes or until completely heated.
Pressure Cooker Herb-Roasted Potatoes are your new favorite side dish! Easy to make in 15 minutes yet packs amazing flavor.
Servings
Ingredients
2 pounds baby Yukon golds and red potatoes, about 1 to 1 1/2 inches in size
1/2 teaspoon dried rosemary
1/2 teaspoon dried thyme
1/2 teaspoon dried marjoram
1/2 teaspoon dried oregano
1/2 teaspoon garlic powder
1 teaspoon kosher salt
1/4 teaspoon pepper
3 tablespoons olive oil
1/2 cup water or chicken or vegetable broth
Instructions
Wash the potatoes and pat dry. Using a fork, pierce the middle of each potato.

In a small bowl, combine rosemary, thyme, marjoram, oregano, garlic powder, salt, and pepper.

PRESS the SAUTE mode button on the Instant Pot. When HOT appears on the display, add oil and heat with the Instant Pot lid open.

Add potatoes in batches and arrange in a single layer.

Cook, rolling the potatoes on all sides, until lightly browned and crisp. Alternatively, pan-fry potatoes in a skillet over medium heat until lightly browned and transfer to Instant Pot.

Toss in herb seasonings. Add water or broth.

Close and lock the lid, making sure the sealing valve is set on SEALING. Pressure cook for 7 minutes.

Once done, use QUICK RELEASE by pressing CANCEL and then turning the steam floating valve on the lid to the VENTING position. 

Open lid and transfer potatoes to a serving platter. Serve hot.
Nutrition Information
Calories: 252kcal, Carbohydrates: 36.7g, Protein: 4.4g, Fat: 10.9g, Saturated Fat: 1.6g, Sodium: 596mg, Potassium: 1045mg, Fiber: 4.1g, Sugar: 2.4g, Vitamin A: 50IU, Vitamin C: 27.2mg, Calcium: 30mg, Iron: 2mg
"This website provides approximate nutrition information for convenience and as a courtesy only. Nutrition data is gathered primarily from the USDA Food Composition Database, whenever available, or otherwise other online calculators."