Loaded Mashed Potato Balls with fluffy potato centers and golden-crisp bread coating are a delicious party appetizer or any time of the day snack the whole crowd will love. They're the perfect use for your holiday leftovers!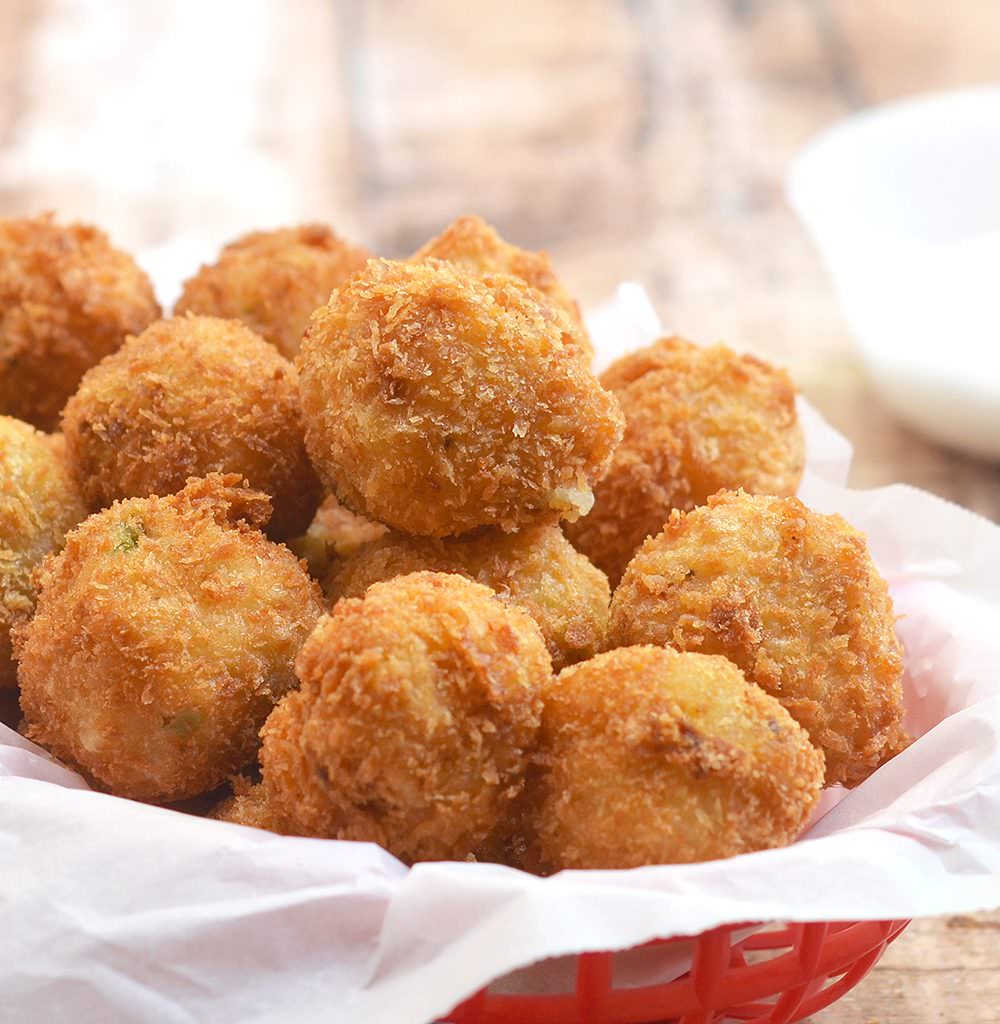 For Mother's Day, G pampered me with a fabulous lunch of this delicious bacon-wrapped cheese-stuffed chicken. With flavorful chicken, crisp bacon and creamy cheese on every bite, it was the stuff food dreams are made of. And as if their deliciousness was not enough, he rounded up the meal with a side of loaded mashed potatoes and roasted asparagus.
Ahhh, don't you just love being queen for a day? I certainly enjoyed being served hand and foot. 🙂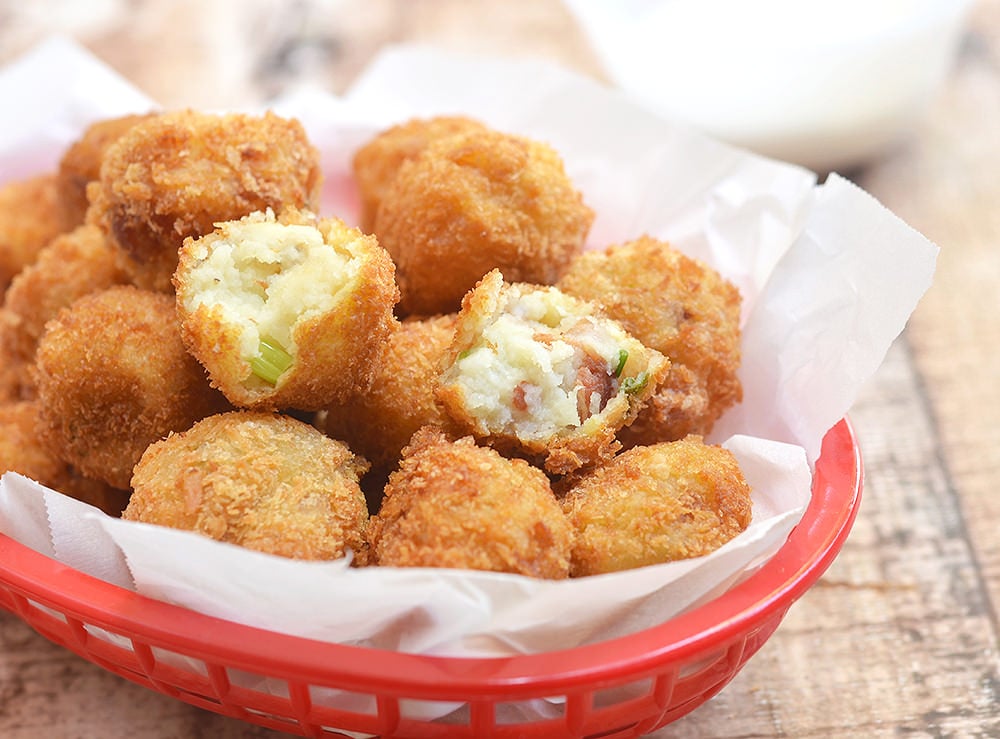 Anyway, G got a little carried with the mashed potatoes and made way more than our fill. Despite our hefty appetites, there was about half of the delicious loot left over even after we enjoyed seconds ( or thirds). You know my penny-pinching ways can't stand any sort of waste. Defeats the purpose of NOT eating out if we're going to throw away good food at home, right?
The smart thing to do with leftover mashed potatoes? Make loaded mashed potato balls A.K.A. loaded potato croquettes.
The recipe includes preparing the mashed potatoes from scratch but you can, of course, use leftover mashed potatoes or instant mashed potatoes to cut the work in half. Pop the mashed potatoes in the refrigerator until completely cold to make rolling into shape easier and lightly dust your hands with flour so potatoes don't stick.
You can use regular bread crumbs to coat the potato balls but I highly suggest Panko breadcrumbs. They have a light, flaky texture and absorb less oil, giving fried foods a crispier and crunchier texture.
My peeps, these loaded mashed potato balls are a must try! They're economical to make, with the batch of two large potatoes making about 2 dozen one-inch size balls. With fluffy potato centers and golden-crisp bread coating, they are a delicious party appetizer or any time of the day snack the whole crowd will love. Enjoy!
Loaded Mashed Potato Balls
Author:
Lalaine | Onion Rings and Things
Ingredients
2 large baking potatoes, peeled and cut into quarters
3 slices bacon, chopped
½ cup cheddar cheese, shredded
2 tablespoos green onions, chopped
½ cup heavy cream
2 tablespoons butter
salt and pepper to taste
½ cup flour
2 eggs, well-beaten
2 cups Panko breadcrumbs
2 cups oil
Instructions
In a large pot over medium heat, combine potatoes and enough cold water to cover to about an inch. Bring to a boil. Lower heat, cover and continue to cook for about 15 to 20 minutes or until potatoes are tender enough to pierce with a fork. Remove potatoes from heat and drain well.
Meanwhile, in a skillet over medium heat, cook bacon until golden brown and crisp. With a slotted spoon, remove from pan and drain on paper towels.
In a saucepan over medium heat, combine heavy cream and butter, and warm until butter is melted.
In a deep bowl, combine mashed potatoes and heavy cream-butter mixture. Mash potatoes with a fork until smooth and has no lumps. Do not over-beat or mashed potatoes will turn "gluey". Add cheese, bacon and green onions. Season with salt and pepper to taste. Stir to combine. Cover with film and refrigerate for about 20 to 30 minutes or until completely cold.
In a heavy-bottomed pot over medium heat, heat oil (have at about 2 inches deep) to about 350 F.
Using a small scoop, portion mashed potatoes into 1-inch balls and between the palm of your hands, roll into round shape.
Place flour on one plate, eggs in a bowl and Panko in another plate. Working one at a time, dust potato ball in flour, shaking off any excess flour, dip in egg, and then dredge in Panko, gently pressing down breadcrumbs to coat.
Add balls to hot oil and deep-fry, turning as needed, for about 2 to 3 minutes or until golden and crisp. Do NOT overcrowd pot, work in batches as needed. With a slotted spoon, remove from heat and drain on a wire rack. Serve immediately.