Bacon-Wrapped Hot Dogs are called danger dogs for a reason. Wrapped in smoky bacon and loaded with caramelized onions and peppers, they're dangerously delicious!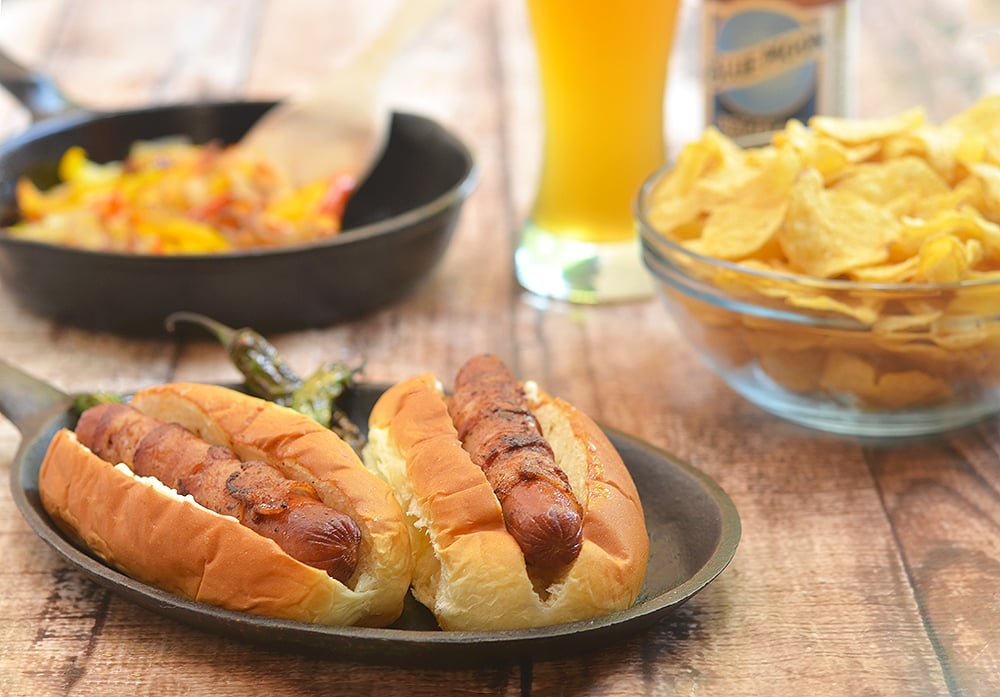 Am I too late? Is your 4th of July party already in full swing? Or are you still running around the stores picking up last minute essentials before the guests arrive? If you're the latter, hello kindred spirit, these bacon-wrapped hot dogs are for you!
I actually made these hot dogs for lunch yesterday, kinda like a dry run for the small BBQ shindig we are going to have today. I shot the photos and edited them but in the middle of posting the recipe, I decided to take a little afternoon siesta. Well, folks, that light nap turned to a deep slumber. I woke up at 2 AM! And since it was already 2 AM, why even get up?
So here I am very much invigorated from seventeen hours of sleep but, ugh, way behind on my blogging timetable and posting my 4th of July recipe, with half of the day already gone. There's always next year, right? In fact, you don't have to wait for 4th of July to enjoy them. They're awesome any time of the year!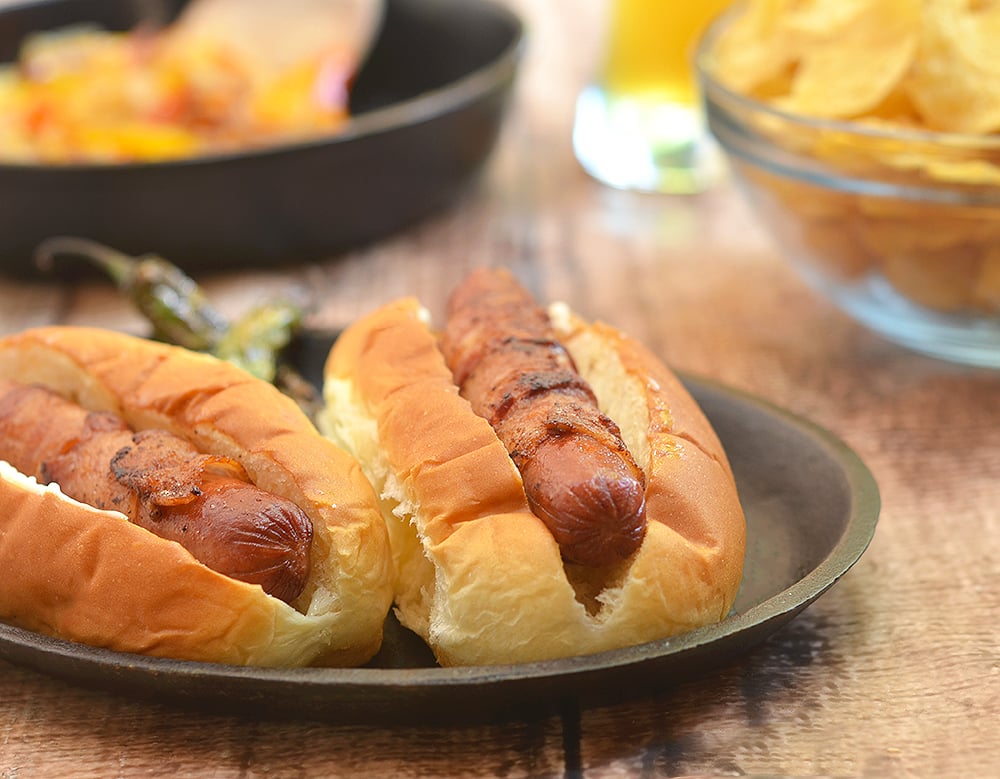 Really, though, these bacon-wrapped hot dogs are so quick and easy to put together, you can still get them going and ready in time for your 4th of July party. It's all a matter of wrapping hot dogs with thin-cut bacon, sauteeing sweet peppers and onions, and assembling the sandwiches with your choice of bread bun and condiments.
G piles up mustard, ketchup, and mayonnaise on his while I prefer mine dry. We both agree, however, that King's Hawaiian hot dog buns are the best! They have a soft and fluffy texture, a slight hint of sweetness, and come split on the top. How ingenious is that?
I just love how their top-cut design keeps the sandwich flat and the fillings from spilling over as are the case with the other buns that are cut open on the side. Give them a try, you can find them at most major grocery stores. This is not an affiliate link or a sponsored post, just sharing my personal favorites. 🙂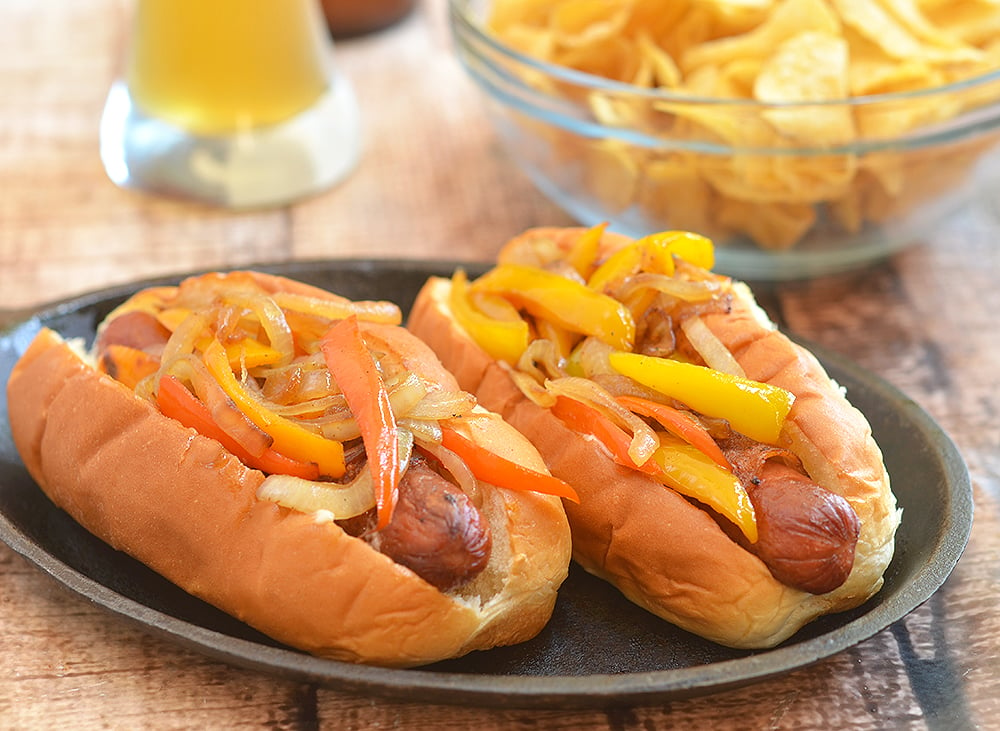 BTW, do you know these bacon-wrapped hot dogs are also called danger dogs? I thought this was because they're so good, they're dangerous to our diet. LOL.
It turns out, the term originated from the fact that these hot dogs are peddled on the streets of Downtown LA, in usually unsanitary conditions, by unlicensed and less than reputable vendors. And as such, are assumed of cheap quality and a high risk for food-borne illnesses. Aren't we glad we can recreate this street food experience easily and safely in our own kitchen?
As I leave you these danger dogs A.K.A. bacon-wrapped hot dogs, I'd like to wish everyone a Happy 4th of July. May your day be filled with family, food, and fun.
Bacon-Wrapped Hot Dogs are called danger dogs for a reason. Wrapped in smoky bacon and loaded with caramelized onions and peppers, they're dangerously delicious!

Servings
Ingredients
8 all-beef hot dogs
8 slices thin-cut bacon
1 large onion, peeled and sliced thinly
12 sweet peppers, seeded and sliced thinly
seasoning salt to taste
8 hot dog buns
Instructions
Starting from one end to the next, wrap each hot dog with a strip of bacon. Break toothpicks in half and use to secure ends of hot dogs.

Over medium heat, heat a cast iron skillet or griddle. Add hot dogs in a single layer and cook, regularly rotating in pan for even cooking, for about 5 to 7 minutes or until hot dogs are heated through and bacon golden and crisp. Remove from pan and keep warm.

Discard excess bacon fat except for about 1 tablespoon. Add onions and sweet peppers. Season with seasoning salt to taste. Cook, stirring occasionally, for about 3 to 5 minutes or until tender. Remove from pan and keep warm.

Remove toothpicks from the hot dogs. Spread mayonnaise inside the buns and place hot dogs. Drizzle hotdogs with mustard and pile with the onion-sweet pepper mixture. Serve immediately.
Nutrition Information
Serving: 238g, Calories: 330kcal, Carbohydrates: 18.6g, Protein: 14g, Fat: 22.9g, Saturated Fat: 7.9g, Cholesterol: 45mg, Sodium: 1071mg, Potassium: 542mg, Fiber: 2.9g, Sugar: 11.6g, Vitamin A: 5950IU, Vitamin C: 476.9mg, Calcium: 30mg, Iron: 1.8mg
"This website provides approximate nutrition information for convenience and as a courtesy only. Nutrition data is gathered primarily from the USDA Food Composition Database, whenever available, or otherwise other online calculators."