Creamy Garlic Mushrooms with deliciously browned cremini mushrooms and garlicky cream sauce. Fantastic as a side dish, over pasta, or on toast!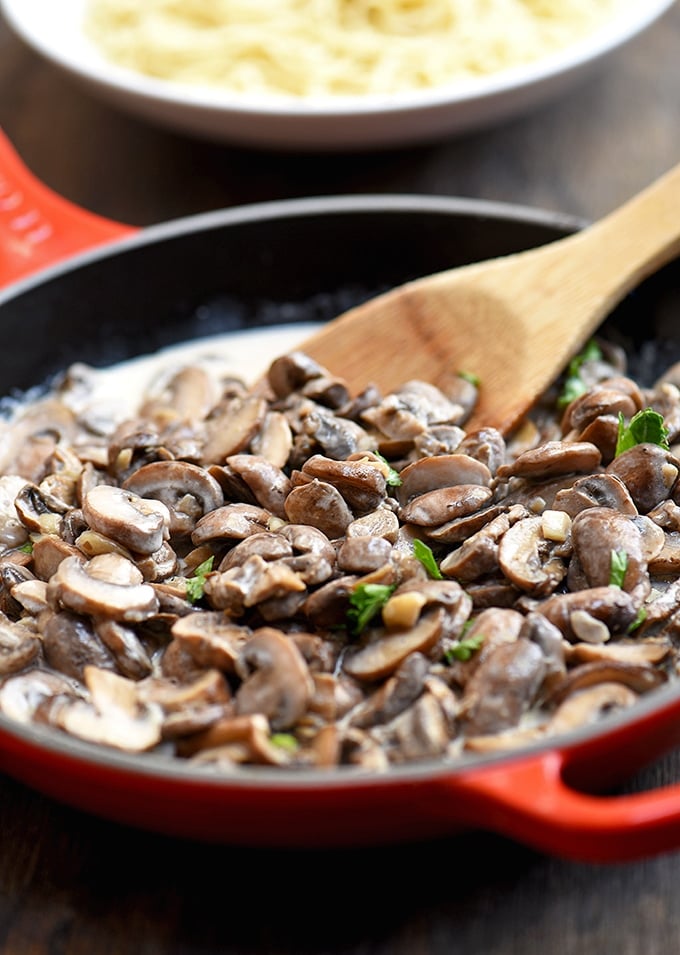 I don't like a lot of vegetables or should I say, I only like vegetables cooked a certain way (roasted, please!). But when it comes to mushrooms, any way you serve them, I can't get enough!
Every time I go to the grocery store, I usually come home with at least two to three pounds of the cremini variety. I turn them into soups, use on gravies, toss them raw in salads, top them on pizzas but mostly, I make these creamed mushrooms.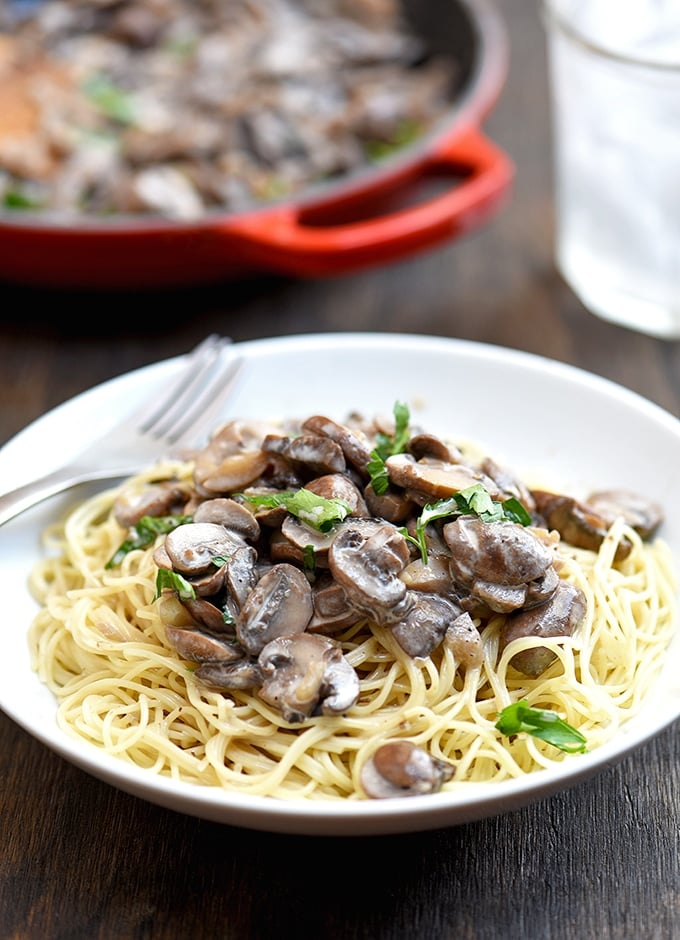 I spend an hour slicing them up, browning them in butter and copious amounts of garlic, and dousing them in heavy cream to have handy in the fridge and enjoy in the days ahead.
Two pounds of mushrooms might seem a LOT but don't even think of halving the recipe! The mushrooms will wilt to less than half of their original volume when cooked. And secondly, these creamy mushrooms are amazing; you'd wish you doubled the recipe.
You'd never run out of delicious ways to eat them up!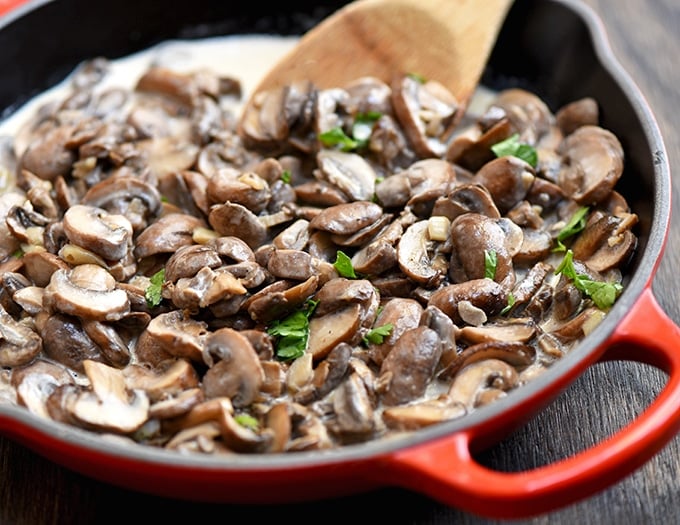 How to Serve Creamy Garlic Mushrooms:
Serve as a side dish with a crusty loaf to sop up that heavenly sauce!
Top on chicken, beef or pork for another layer of yum
Spoon over toasts or biscuits for a hearty breakfast
Toss with cooked pasta or rice for a light vegetarian lunch
Use as a pie filling (lightly thicken the sauce with flour or cornstarch)
Make a sandwich or quesadilla with mozzarella or your favorite cheese
These creamy garlic mushrooms are easy to make yet packs unbelievable flavor. Make sure to check the tips below on how to get the best out of this dish.
Tips on How to Cook Mushrooms:
Choose mushrooms that are firm to touch and free of bruises. Check for dark spots especially under their gills, wrinkled tops and slimy texture as these are signs the mushrooms are starting to rot.
Wipe with a damp paper towel or use a soft brush to rid of dirt and grit. You can also quickly rinse them in cool water and pat dry with paper towels. Don't soak as mushrooms are like sponges and absorb a lot of liquid.
Cook on a wide pan or skillet with plenty of surface area and is hot enough to allow moisture to evaporate quickly and for the mushrooms to brown properly.
Simmer and do NOT boil the sauce lest the heavy cream separates and curdles.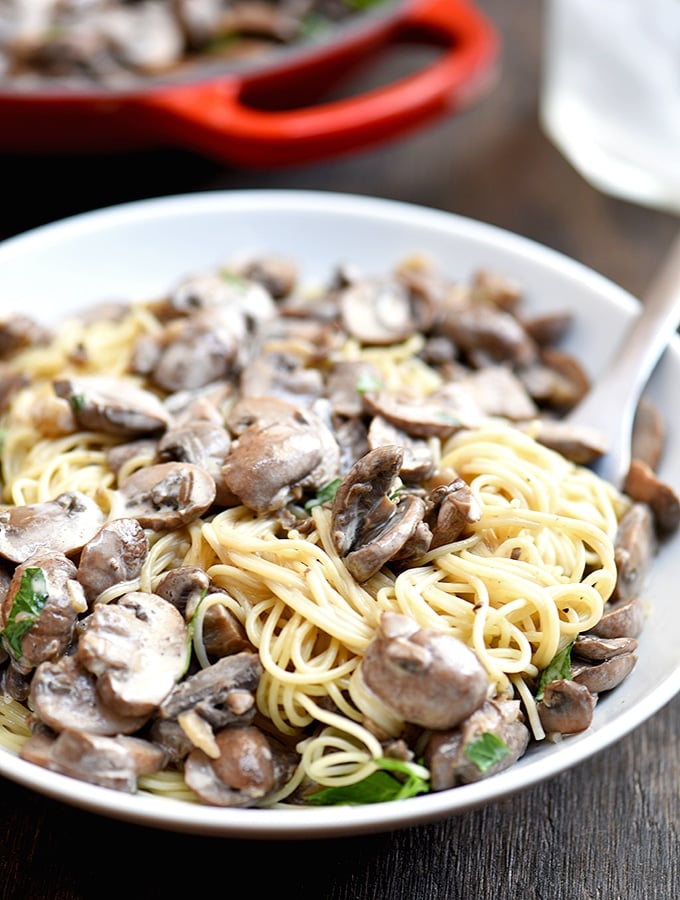 How to Thicken Mushroom Sauce:
The sauce should thicken nicely as it simmers and reduces but if you want a heartier consistency, there are easy ways to do so. Please note that although you can use cornstarch, I prefer flour as the sauce freezes and reheats better than when thickened with cornstarch.
Use a flour slurry which is equal parts flour and cold liquid (a teaspoon of flour and milk should do the trick here). Mix until smooth, stir into the sauce, and allow to simmer for a few minutes to cook off the raw flour taste.
Mix equal parts flour and butter into a paste (Beure Marnie) and add to the hot liquid, whisking vigorously to prevent lumps. Continue to simmer for a few minutes to cook off the flour and to thicken the sauce.
Make a roux by melting your choice of fat in a saucepan and then adding an equal part of flour. Cook, stirring regularly until lightly golden (not too dark as it will affect the color of the cream sauce). Slowly add to the hot sauce, whisking vigorously to prevent lumps.
Dust the mushrooms with flour when lightly browned and then whisk in the heavy cream.
Want a gluten-free alternative? Use rice flour.
To naturally thicken the sauce and add rich flavor, add a dollop of cream cheese or a few tablespoons of powdered milk.
Love mushrooms as I do? Try this Instant Pot Chicken Mushroom Rice! It's perfect for busy weeknights!
Creamy Garlic Mushrooms with deliciously browned cremini mushrooms and garlicky cream sauce. Fantastic as a side dish, over pasta, or on toast!
Servings
Ingredients
2 pounds cremini mushrooms
3 tablespoons butter
4 cloves garlic, peeled and minced
2 tablespoons dry white wine
1 cup heavy cream
1/4 cup Parmesan cheese, grated
salt and pepper to taste
Instructions
In a skillet over medium heat, heat butter just until it begins to melt.

Add mushrooms and garlic. Cook for about 3 to 5 minutes or until color changes.

Increase heat to medium-high. Add sherry and cook for about 2 to 3 minutes or until mostly evaporated.

Add heavy cream. Lower heat and simmer until slightly reduced and thickened.


Add Parmesan cheese and stir to combine.

Season with salt and pepper to taste. Serve immediately.
Nutrition Information
Calories: 245kcal, Carbohydrates: 8g, Protein: 6g, Fat: 21g, Saturated Fat: 13g, Cholesterol: 73mg, Sodium: 138mg, Potassium: 715mg, Sugar: 2g, Vitamin A: 795IU, Vitamin C: 0.8mg, Calcium: 105mg, Iron: 0.7mg
"This website provides approximate nutrition information for convenience and as a courtesy only. Nutrition data is gathered primarily from the USDA Food Composition Database, whenever available, or otherwise other online calculators."