DIY Snowman Kisses (plus FREE Printable) are a fun way to spread some Christmas joy and freshen smiles along the way.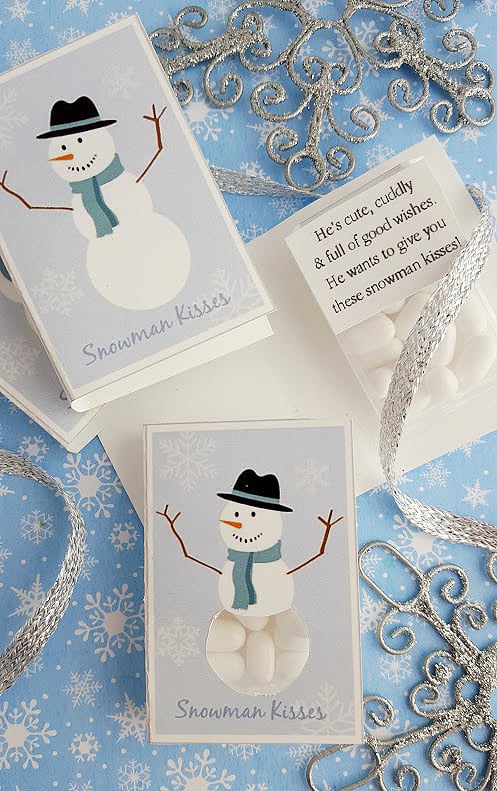 Looking for last-minute Christmas gifts to check off your list? This Snowman kisses printable paired with white Tic Tacs makes an adorable stocking stuffer, co-worker gift or holiday party favor. So easy and inexpensive to make, all you need to do is secure a box of white Tic Tacs to the inside of the printed case using glue or double-sided tape, and add the poem to the front to cover the logo. Make a dozen, or two, these DIY Snowman Kisses are certainly a fun way to spread some Christmas joy and freshen smiles along the way!
Supplies
Instructions
Print the printable on white cardstock paper. Cut out Snowman Kisses packaging and poems from the printable.
Using an X-Acto knife, carefully cut out the bottom snowball from the snowman so the Tic Tacs can be seen through the packaging.
Fold along the two grey center lines of the packaging to create a cover for the tic tacs.
Place a piece of double sided tape or a drop of strong glue on the inside of the back cover. Place the package of Tic Tacs directly on top, pressing down to fully secure.
Add a piece of double sided tape or strong glue to the front (top half) of the Tic Tac packaging, and place the poem on top. You may need to trim down the edges of the poem slightly, so it is aligned with the edge of the Tic Tacs box.
Using a single hole punch, punch a hole along the right side (centered between the top and bottom) in the front and back of the packaging cover. Cut a ribbon and place it through the holes and tie into a bow to complete the cover and keep it closed.