Oreo Truffle Balls with creamy, chocolatey flavor everyone will love! Easy to make and with just three ingredients, they're a fantastic no-bake treat to keep for sweet cravings or to give out as holiday gifts.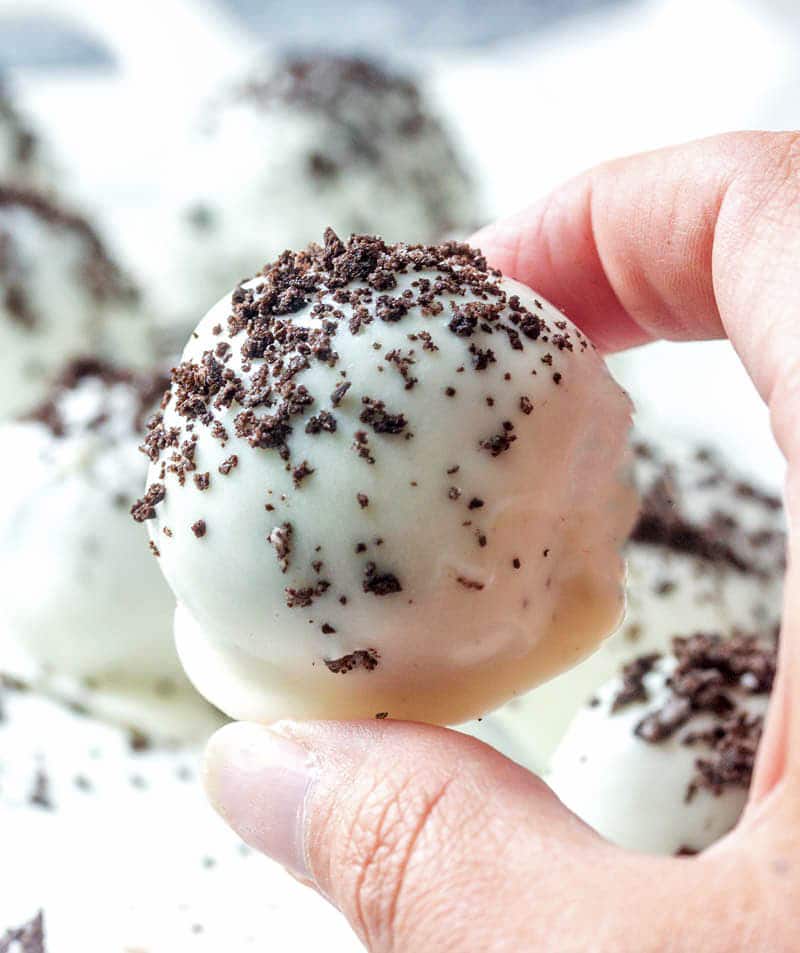 Is it too early to get excited about Christmas in July? Maybe it's because of the sordid 100 F-plus Summer weather we are experiencing, or perhaps it's these Oreo truffle balls with their white as snow chocolate shells, but I am so looking forward for the holidays to come.
I know I am like five months waaay ahead here, but these Oreo truffles are a great no-bake treat for holiday parties or gift-giving. They're so easy and fun to make with only three ingredients; you'll have a huge batch for yourself and everyone on your list ready in minutes!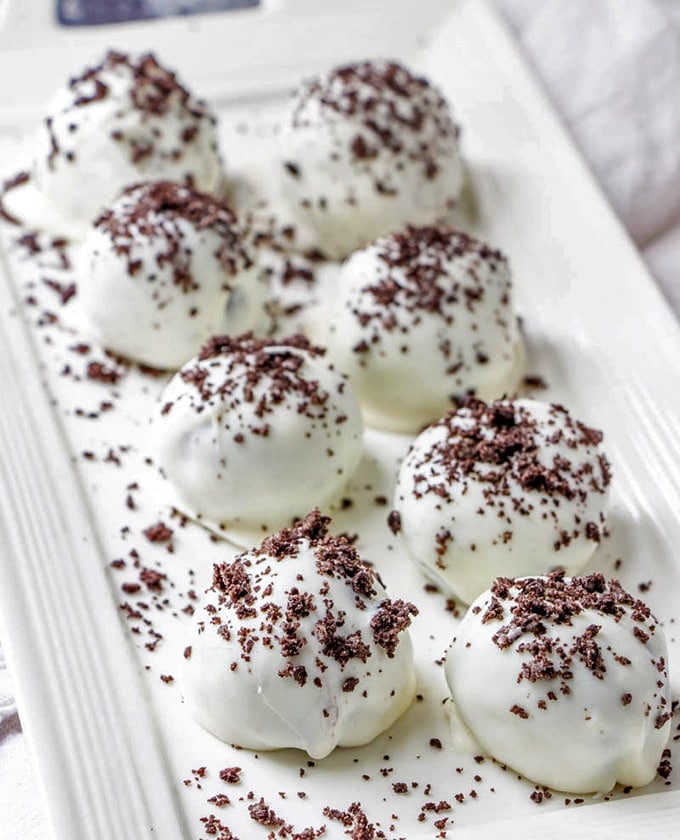 What is an Oreo Truffle
Oreo truffle balls are tasty chocolatey sweets made of Oreo cookie crumbs and cream cheese that are shaped into balls and then dipped in melted chocolate to fully coat.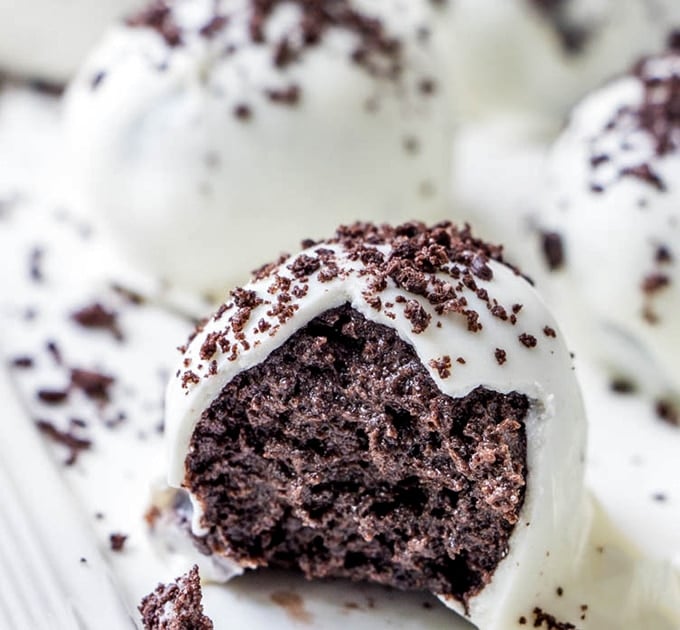 How to Make Cookie Crumbs
The first step of making these white chocolate Oreo cookie balls is turning the Oreo cookies into crumbs.
Put the cookies in a heavy-duty resealable bag and squeeze the bag to remove any air, and then seal. On a flat surface, flatten the bag and roll a rolling pin over the bag of cookies until they resemble fine crumbs. If you don't have a rolling pin, you can also use a hammer or mallet to pound on the bag gently.
The most efficient and effective method is using a blender or food processor. Place cookies in the food processor and pulse a few times until they're of fine crumb texture.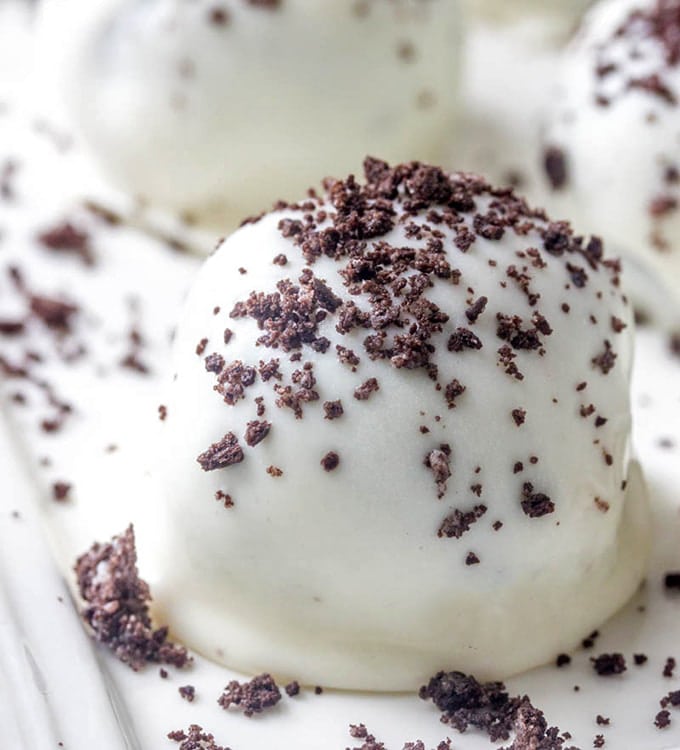 Tips on How to Make Oreo Truffle Balls
For a smooth, creamy filling, make sure the cookies are crushed to a fine powder form.
Allow to cream cheese to soften before beating with the crumbs to ensure the mixture is lump-free.
Freeze the shaped balls for about 10 to 20 minutes so they'll keep their shape during dipping. Freeze just until they're firm and not too frozen as it might cause the chocolate coating to crack. If you're not ready to coat them after 20 minutes in the freezer, transfer to the refrigerator to keep chilled.
For better coating, splurge on high-quality chocolate such as Ghirardelli melting chocolate wafers you can find at most grocery stores. You can try their white, dark and milk chocolate varieties and easily switch flavors up.
Use forks to dip the balls in the melted chocolate to allow excess chocolate to drip back to the bowl.
As the cake balls are chilled, the chocolate coating will harden pretty quickly. Immediately sprinkle the cookie crumbs while the coating is still wet so they'll stick.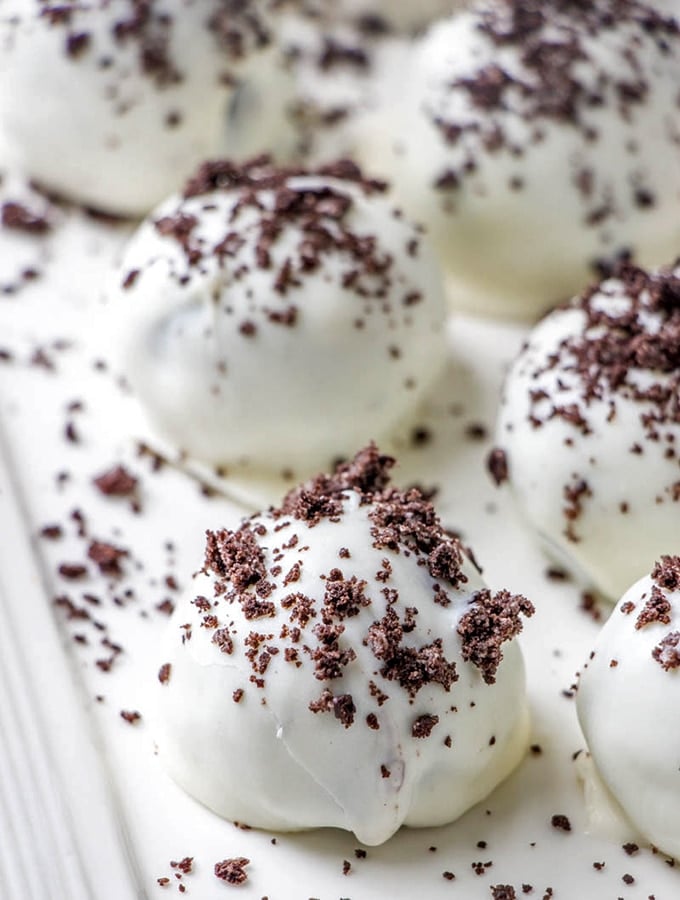 Topping Suggestions for Oreo Balls
These cookie truffles are mouthwatering as is but feel free to spruce them up as you like by using milk, white or dark chocolate coating and a few of the topping suggestions below.
Shredded coconut
Colored sprinkles
Chopped nuts
Crushed peppermint
Mini M&M's
Melted chocolate drizzles (refrigerate the coated balls for about 10 minutes before decorating!)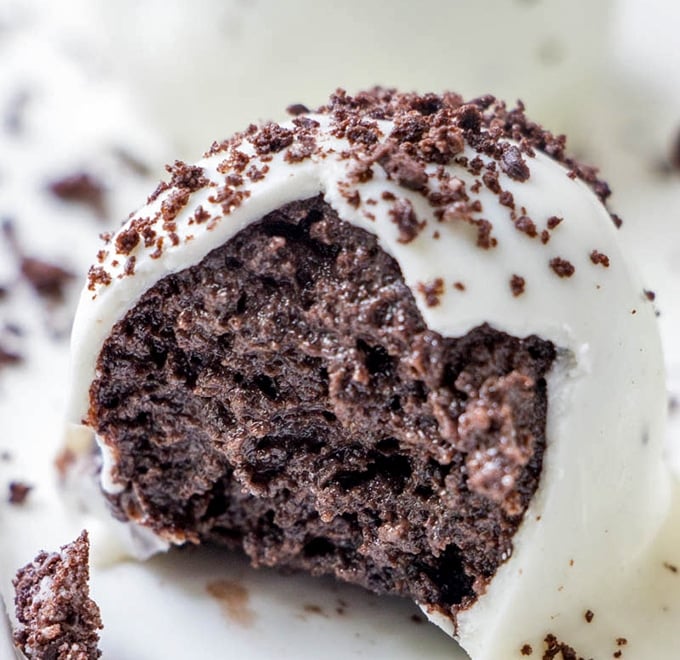 Can you Freeze Oreo Truffles recipe?
These oreo balls are so incredibly tasty and decadent, they disappear as quickly as you make them. But if you can actually resist eating the whole batch in one sitting, yes, you can freeze them!
To store for future use, arrange the truffles in a single layer on a parchment-lined baking sheet and freeze for about 10 to 15 minutes or until very firm before transferring to an airtight container or a resealable bag, so they don't stick together. They'll keep well in the freezer for up to three months.
I hope you'll try this Oreo truffle balls recipe. Check out this three-ingredient Oreo ice cream cake and these super-cute soccer cookie pops for more fun and delicious ways to enjoy our favorite cookie.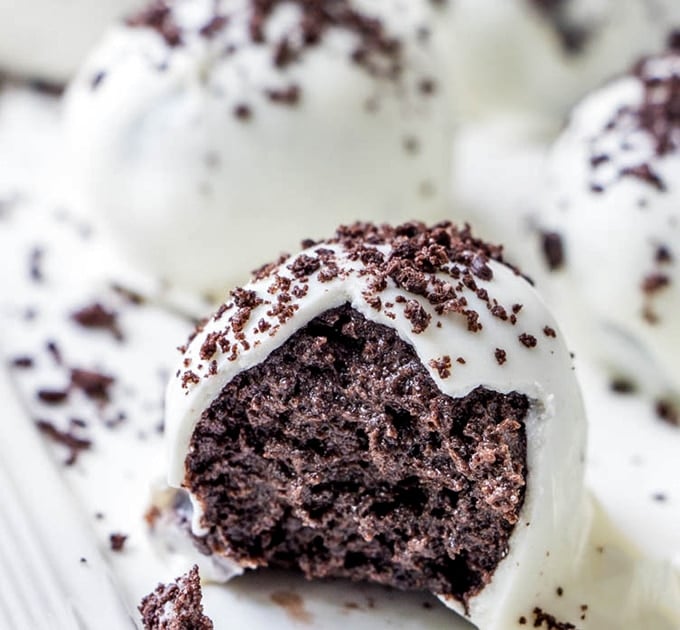 Oreo Truffle Balls
Oreo Truffle Balls with creamy, chocolatey flavor everyone will love! Easy to make and with just three ingredients, they're a fantastic no-bake treat to keep for sweet cravings or to give out as holiday gifts.

Keyword:
oreo cookie balls, oreo truffle balls
Ingredients
36

pieces

Oreo cookies

8

ounces

cream cheese, softened

12

ounces

white chocolate melting wafers
Instructions
In a food processor, pulse cookies until powdered. Reserve about 1/4 cup of the crumbs.

In a bowl, combine cream cheese and the remaining cookie crumbs. Using a hand mixer, beat at low speed until well-blended and smooth.

Shape Oreo-cream cheese mixture into 1-inch balls. Arrange in a single layer on a parchment-lined baking sheet and chill for about 10 to 20 minutes or until firm.

In a microwave-safe bowl, place chocolate chips and microwave on half power for about 30 seconds or until it begins to melt. Remove from microwave and stir until smooth. If not completely melted, continue to microwave at 15-second intervals and stir until smooth.

Dip Oreo balls one at a time in melted chocolate and roll to coat. Using two forks, lift coated truffles from chocolate, allowing excess chocolate to drip.

Place in a parchment-lined baking dish. Sprinkle top with reserved cookie crumbs. Refrigerate for about 30 minutes or until firm.
Recipe Notes
Nutritional info calculated at 2 pieces per serving.
Nutrition Facts
Oreo Truffle Balls
Amount Per Serving
Calories 186
Calories from Fat 81
% Daily Value*
Total Fat 9g 14%
Cholesterol 8mg 3%
Sodium 171mg 7%
Potassium 140mg 4%
Total Carbohydrates 20g 7%
Protein 4g 8%
* Percent Daily Values are based on a 2000 calorie diet.