We are a household that stocks frosted flakes always and always means cartons upon cartons in the pantry. But for us, this cereal doesn't go into a bowl of cold milk for breakfast but into making these chewy, gooey peanut caramel chews. They are great to bring for potlucks, to give out as holiday treats or just to keep for a quick pick-me-up snack throughout the day.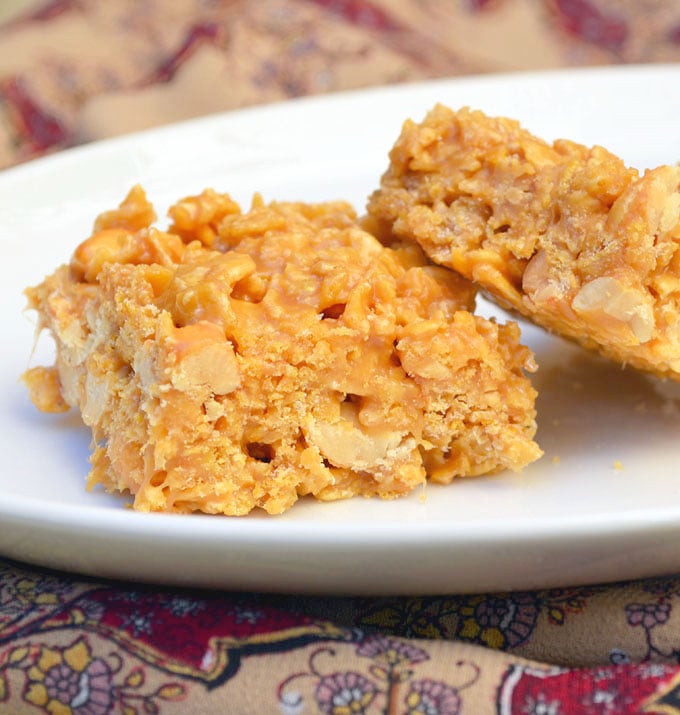 Peanut Caramel Chews
Ingredients
14 ounces soft caramels, unwrapped
3 tablespoons milk
4 cups frosted flakes cereal
½ cup salted peanuts
butter, softened
Instructions
Prepare a 9-inch square baking dish by buttering all sides.
In a saucepan over low heat, combine caramels and milk and cook, stirring occasionally, for about 20 minutes or until melted and smooth.
In a bowl, combine cereal and peanuts. Pour caramel mixture over cereal mixture and stir until pieces are fully coated. Transfer into prepared baking dish and with the back of a buttered spoon, press firmly.
Refrigerate for about one hour or until firm. Let stand at room temperature for about 10 minutes and then cut into squares.