Pork Chili Verde made with pork ribs in a spicy tomatillo sauce.  Hearty and delicious, this spicy stew is amazing with rice and warm corn tortillas!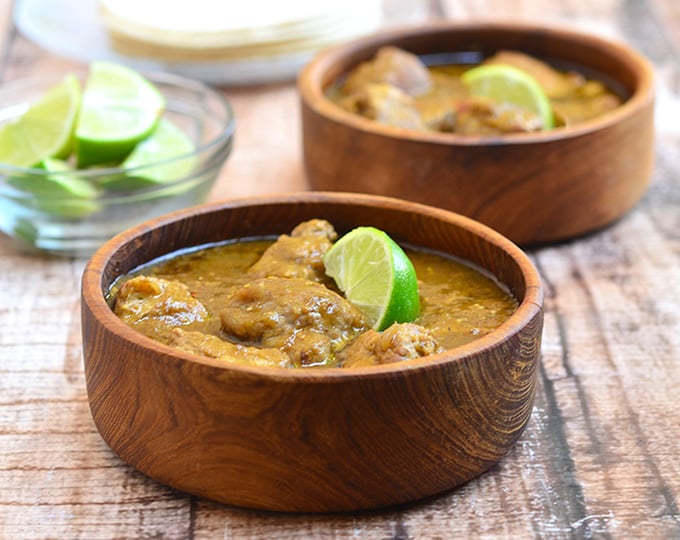 As you can see from the good amount of recipes I have on the blog, I have nothing but deep love for Mexican food. Tacos de lengua, coctel de camarones, caldo de res, nopales con huevos, you name it, I love it.
Scoopfuls of fiery salsa on crisp corn chips are my idea of a perfect game day eats. But for a dinner meal that's big and bold on flavors, nothing beats for me a generous bowl of pork chili verde served with rice and warm tortillas.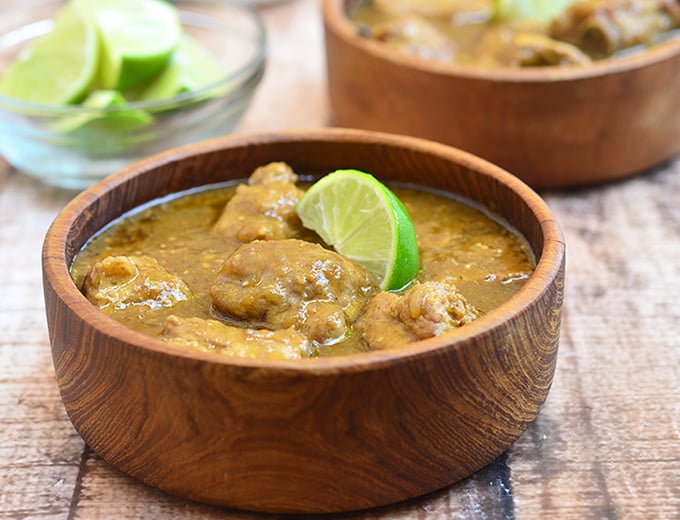 I am fortunate to have a Mexican supermarket a short drive from the house. Every Saturday without fail, I leisurely roam its aisles for hours, inhaling all the wonderful food I get to discover. It was on one such Saturday months ago when I learned how to make this amazing pork dish at home
I was poking around at the store, checking this and checking that, when I overheard two customers planning on pork chili verde to serve for a party. My curiosity got the best of me and I unabashedly stuck my nose into their conversation. With my barely passable grasp of Spanish, I asked for a quick tutorial. What spices they use, what cut of meat, and all that good stuff.
Thank you, beautiful people! Not only did the kind ladies accompany me to various parts of the store to find the ingredients, one of them even wrote the recipe on a scrap piece of paper for me to refer to.
The pork chili verde I was familiar with and extensively enjoyed in the past at my favorite Mexican restaurant was made from hefty chunks of pork shoulder but my two newfound besties stressed on costillas (pork ribs) as best for this spicy pork stew. And right they were! The pot I made that very day and every day since was beyond amazing! It's just so much more delicious to gnaw on snippets of meat attached to bones while sopping up the robust green sauce with soft corn tortillas. Give it and I bet you'll agree. 🙂
Pork Chili Verde made with pork ribs in a spicy tomatillo sauce. Hearty and delicious, this spicy stew is amazing with rice and warm corn tortillas!
Servings
Ingredients
3 pounds pork spareribs
salt and pepper to taste
2 tablespoons oil
1 tablespoon cumin
1 onion, peeled and chopped
2 cloves garlic, peeled and minced
1 cup water
For the Chili Verde Sauce
2 pounds large tomatillos, husks removed
4 cloves garlic
3 jalapenos
1 bunch cilantro, stemmed
To Serve
limes, cut into wedges
warm corn tortillas
Instructions
Trim spareribs of excess fat and cut between bones into 1-1/2 to 2-inch cubes. Season with salt and pepper to taste.

In a pot over medium heat, heat about 2 tablespoons oil. Add pork ribs and cook, turning once or twice, until lightly browned on all sides. Cook in batches as needed.

Add cumin and continue to cook for about 1 to 2 minutes or until meat is coated. Remove meat from pan and keep warm.

Add onions and garlic and cook, scraping bottom and sides of the pan, until softened.

Return pork ribs to pot. Add 4 cups chili verde sauce and 1 cup water. Bring to a boil. Lower heat, cover, and cook for about 2 to 3 hours or until ribs are fork-tender. Add water in 1/2 cup increments if the sauce is drying out before the meat is fully tender.

Season with salt and pepper to taste. Serve hot with lime wedges and corn tortillas.
For the Chili Verde Sauce
On a foil-lined baking sheet, arrange tomatillos and garlic in a single layer. Broil for about 6 to 8 minutes or until skins are lightly charred. Peel garlic.

In a food processor or blender, combine tomatillos, garlic, jalapenos, and cilantro. Pulse a few times until coarsely smooth. Makes about 4 cups.
Nutrition Information
Calories: 401kcal, Carbohydrates: 9g, Protein: 34g, Fat: 24g, Saturated Fat: 4g, Cholesterol: 125mg, Sodium: 403mg, Potassium: 897mg, Fiber: 2g, Sugar: 5g, Vitamin A: 200IU, Vitamin C: 21.5mg, Calcium: 60mg, Iron: 2.7mg
"This website provides approximate nutrition information for convenience and as a courtesy only. Nutrition data is gathered primarily from the USDA Food Composition Database, whenever available, or otherwise other online calculators."