Brined Roasted Chicken is your answer to dry, flavorless meat! Super moist and flavorful, this roasted chicken is easy to make and perfect with your favorite sides.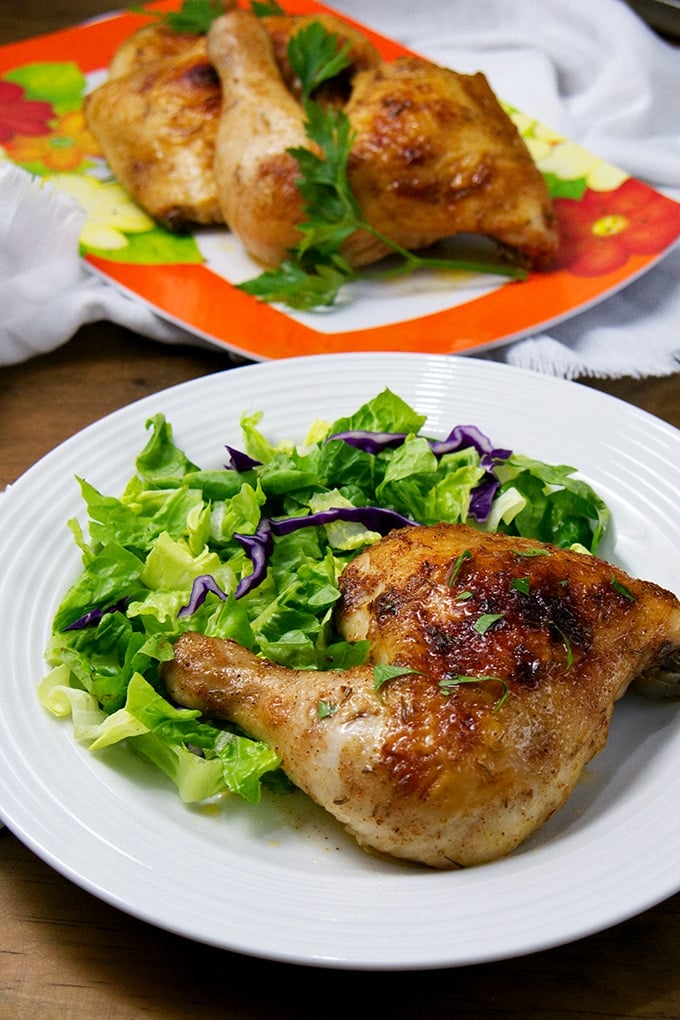 I love chicken and given a choice,  I almost always would choose it over beef or pork. But sometimes, the fine line between my risking salmonella and chewing something like sawdust is a hard spot to find.
The answer to dry, flavorless meat? Brining! Chicken and other types of meat with less fat such as turkey and pork may benefit from this method as the process permeates the meat with flavor and traps in the natural juices during cooking.
An hour in a saltwater solution before going into the oven, these brined chicken pieces come out super juicy and tasty.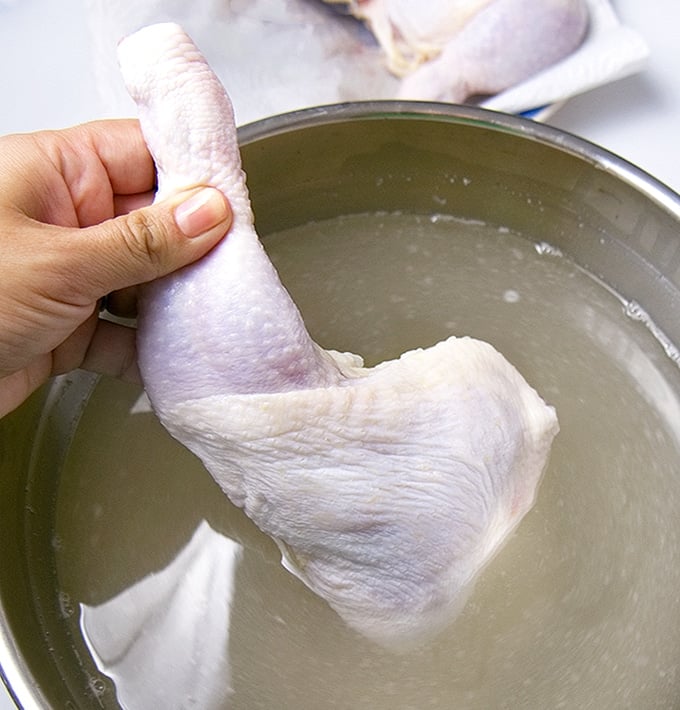 Tips for Brining Chicken
The basic chicken brine recipe below is a great starting point which you can customize with herbs and aromatics as you like. Garlic cloves, peppercorns, bay leaves, sage, thyme,  rosemary, and allspice berries are but a few of the savory choices you can experiment with.
Use cool water and store the turkey and the brine in the refrigerator to ensure food safety. Monitor the temperature of the liquid to make sure it's below 40 F.
Use a deep, non-reactive pot or container and enough brine to keep the turkey completely submerged during the brining process. Use a heavy plate or bowl to weight down the meat in the solution and to keep from floating.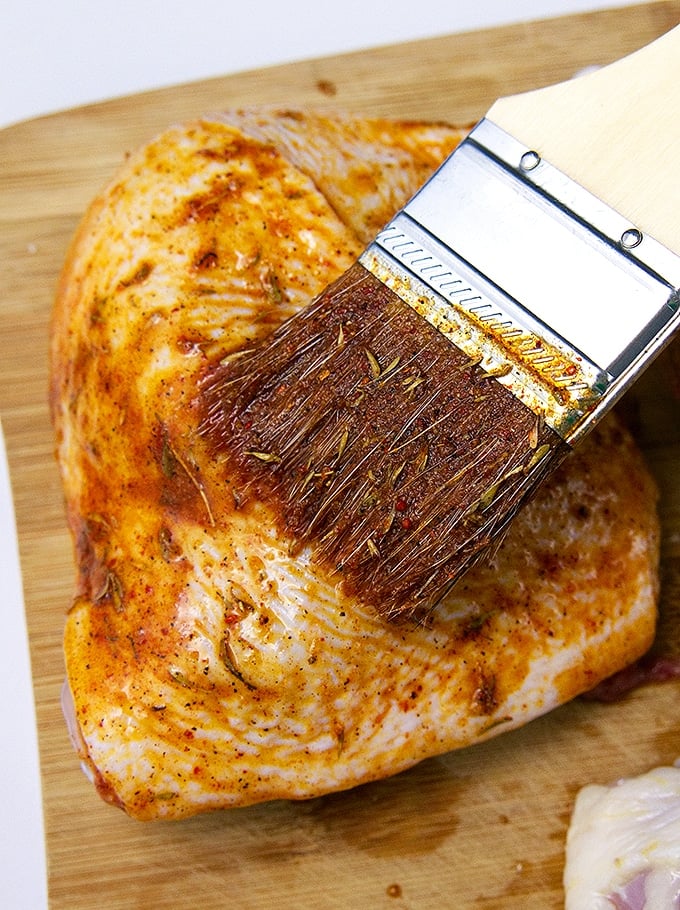 Drain the chicken from the brine and discard the liquid. Do NOT reuse the salt solution!
Rinse the chicken well under cold running water to remove excess salt and pat dry.
You can season the leg quarters with the dry rub in the recipe below or use your favorite spice blends. Note that the chicken has already sat in a salt solution so you might want to add salt if even, sparingly.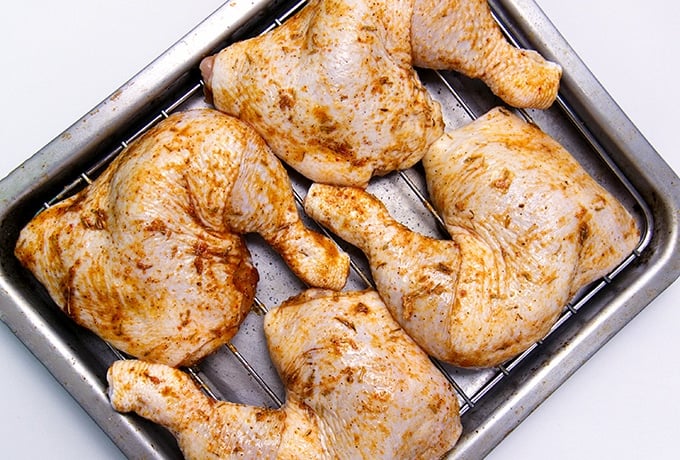 Use a roasting rack and arrange the chicken in a single layer to ensure air circulation and help the chicken crisp up in the oven.
The curing process will cause a tinge of pink in the meat; it's best to use a meat thermometer to properly gauge doneness. Insert the thermometer into the thickest part, making sure the probe doesn't touch the bone. If the internal temperature is 165 F, your chicken is ready to enjoy!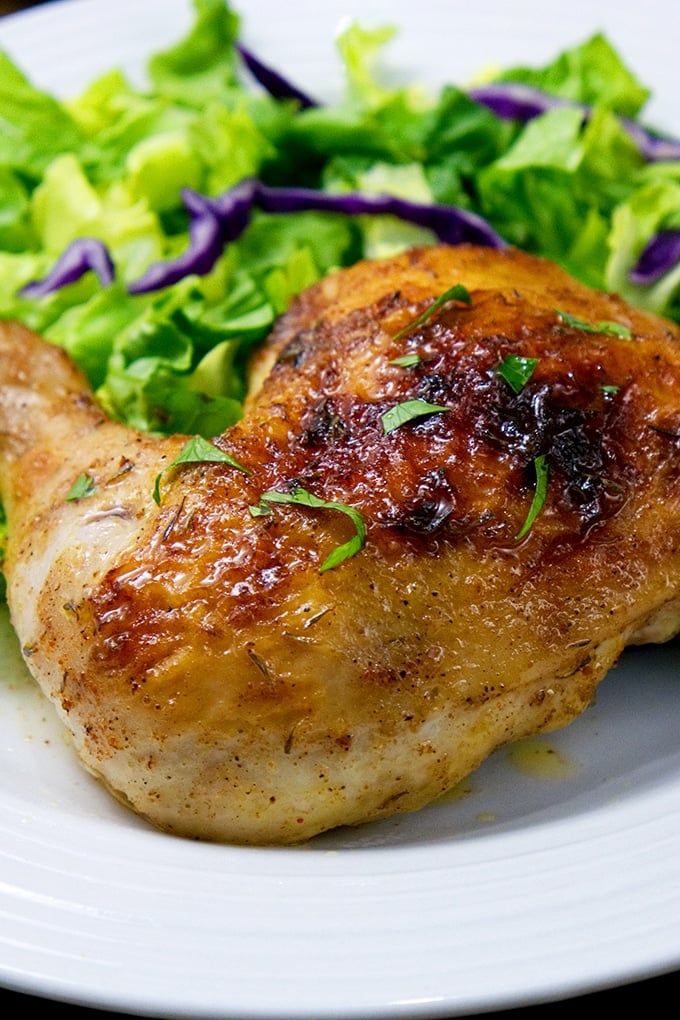 What to Serve with Brined Roasted Chicken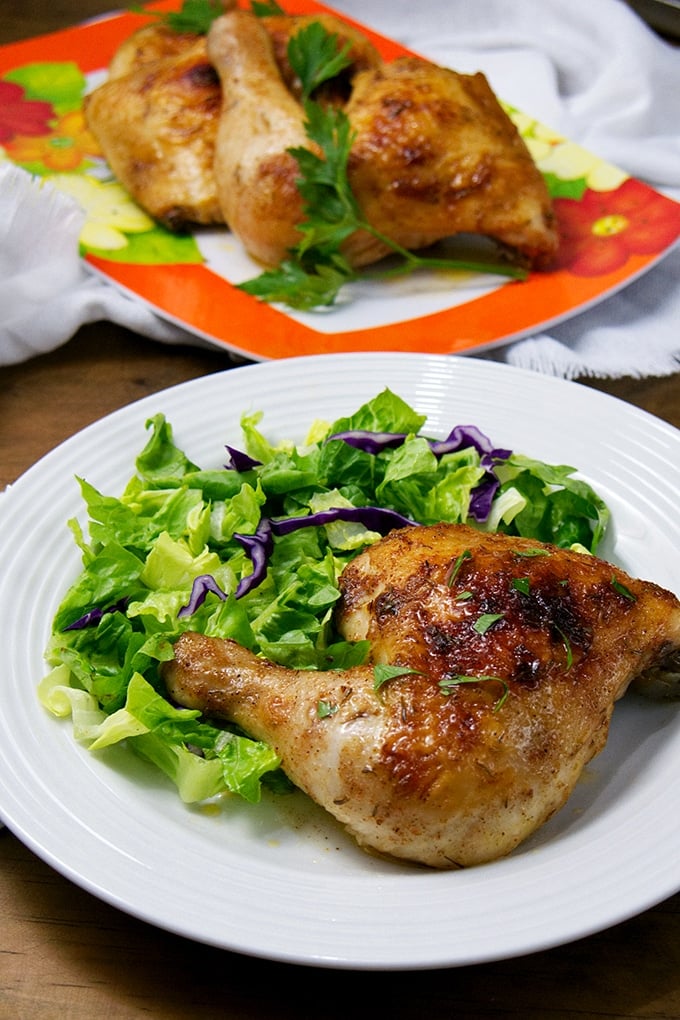 Brined Roasted Chicken
Brined Roasted Chicken is your answer to dry, flavorless meat! Super moist and flavorful, this roasted chicken is easy to make and perfect with your favorite sides.
Keyword:
brined chicken, brined roasted chicken
Ingredients
1

gallon

cool water

1

cup

kosher salt

1

cup

sugar

3

pounds

chicken thighs, legs, or quarters

2

tablespoons

butter, melted

1/2

teaspoon

garlic powder

1/4

teaspoon

paprika

1/4

teaspoon

pepper

1/4

teaspoon

dried thyme
Instructions
In a deep container, combine cool water, salt, and sugar. Stir until sugar and salt are dissolved.

Wash chicken and pat dry. Add chicken pieces to brine mixture and refrigerate for about 1 hour.

Drain chicken from brine and rinse well. Pat dry.

In a small bowl, combine butter, garlic powder, paprika, pepper, and thyme. Brush mixture on all sides of chicken.

On a roasting pan, arrange chicken skin side up in a single layer and roast in a 425 F oven for about 35 to 45 minutes or until thermometer inserted in the thickest part reads 165 F.
Nutrition Facts
Brined Roasted Chicken
Amount Per Serving
Calories 660
Calories from Fat 369
% Daily Value*
Total Fat 41g 63%
Cholesterol 232mg 77%
Sodium 19070mg 795%
Potassium 464mg 13%
Total Carbohydrates 34g 11%
Protein 36g 72%
* Percent Daily Values are based on a 2000 calorie diet.