Rice Vermicelli Pilaf is a spot on Rice-A-Roni San Francisco Treat copycat. Made from scratch and fresh ingredients, it's healthier and tastes a whole lot better than from the box!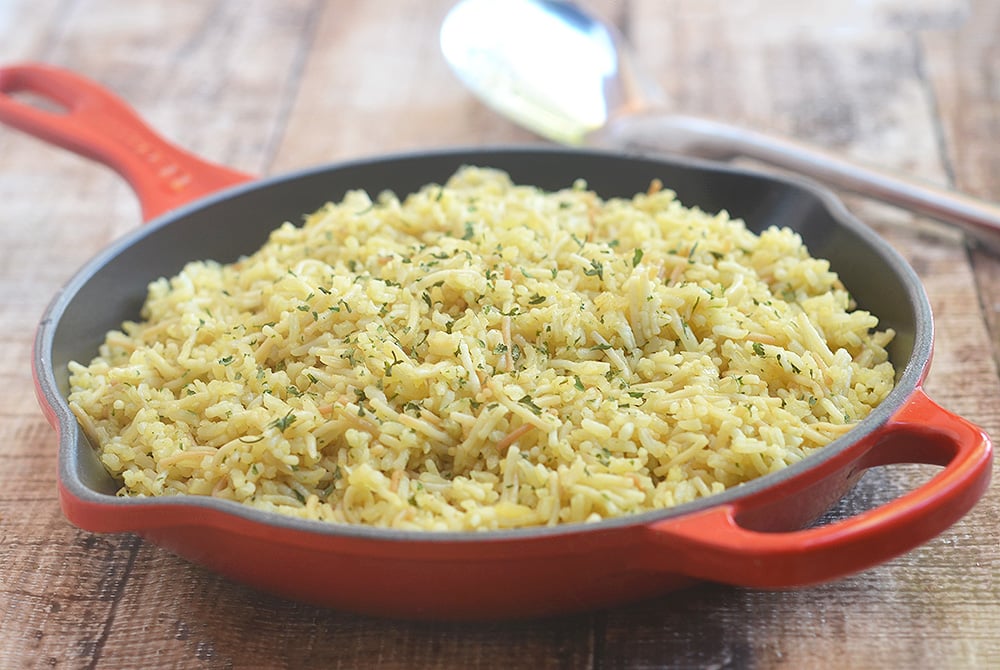 Rice vermicelli pilaf is one of the side dishes we keep on regular rotation at home. The packaged kind (Rice-a-Roni, anyone?) was my quick route to this classic San Francisco treat up until a few months ago when I learned how easy it was to make from scratch. Sure, the recipe involves a bit more work than opening a box but I like that I can control the salt and additives that go into my food especially something I enjoy quite often.
I've tried to re-create this classic Armenian dish many times but without success. Although the flavor was spot on, my attempts lacked the fluffy texture of my favorite Rice-a-Roni. The rice always came out dry and underdone! Good thing I came across a tutorial at Cook's Illustrated on how to make it the right way.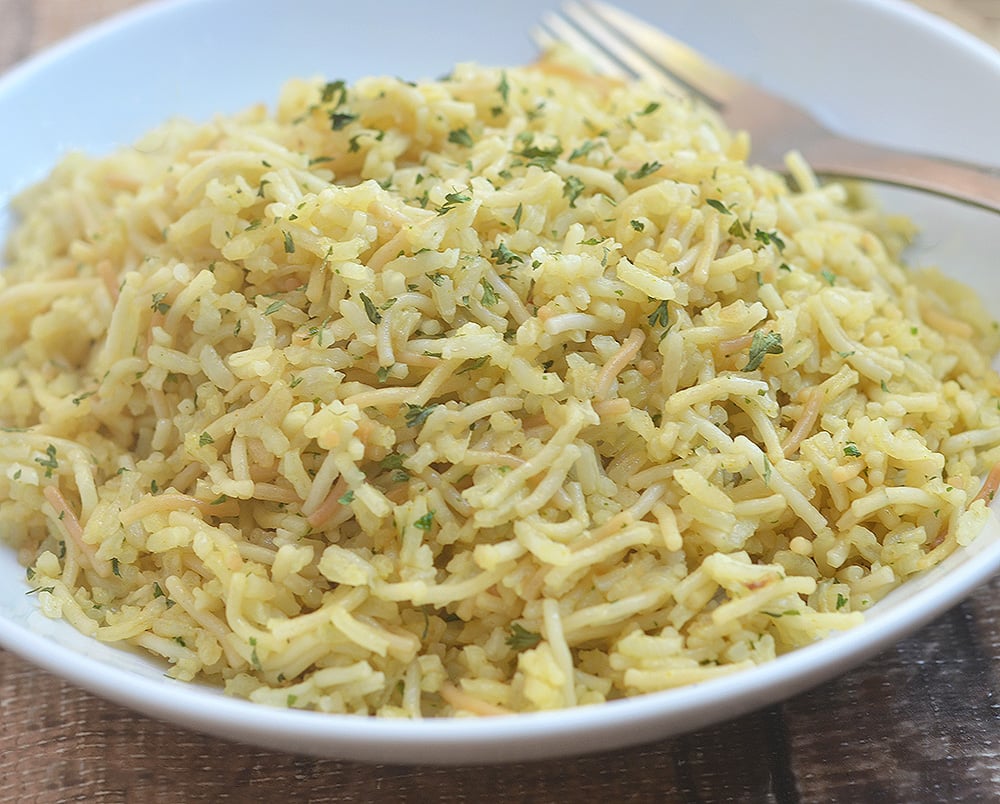 Tips on How to Make Rice Vermicelli Pilaf:
As pasta and rice have varied cook times, the trick to cooking the rice as perfectly tender as the pasta is to soak the grains in hot water for about 10 minutes to soften its outer shell and allow it to absorb water faster. Using this simple trick, the pilaf comes out just as fluffy and tasty as from the box.
Use a pan with enough space for the rice and pasta to expand.
After it's cooked, let the pilaf rest, covered and undisturbed, for about 5 minutes before fluffing with a fork.
Want a complete one-pan meal? Shredded rotisserie chicken and thawed frozen green peas are great additions! Just add along the broth and give a quick stir to distribute.
What to pair this amazing side dish with? This brined roasted chicken, BBQ ribs, salsa-mayo topped salmon are favorites. Most times, though, I just heap a generous mound on my plate and enjoy it on its own. So good!
Rice Vermicelli Pilaf is the spot on copycat for the Rice-A-Roni San Francisco Treat box. Made from scratch and fresh ingredients, it's healthier and tastes a whole lot better!

Servings
Ingredients
1 1/2 cups long grain white rice
3 tablespoons butter
2 ounces vermicelli, broken into 1-inch pieces
1 onion, grated
2 cloves garlic, minced
2 1/2 cups chicken broth
1 teaspoon salt
1/2 bunch parsley, chopped
2 tablespoons almond slivers, toasted (optional)
Instructions
In a bowl, combine rice and enough hot tap water to cover at about 2 inches. Let stand for about 10 to 15 minutes. Drain water. Rinse rice with cold tap water 4 to 5 times or until water runs almost clear. In a fine-mesh strainer, drain rice.

In a pan over medium heat, melt butter. Add pasta and cook, stirring regularly, for about 2 to 3 minutes or until lightly browned.

Add onions and garlic and cook, stirring occasionally, for about 1 to 2 minutes or until softened but not browned.

Add rice and cook, stirring occasionally, for about 2 to 3 minutes or until translucent.

Add broth and salt. Bring to boil. Lower heat, cover, and cook for about 10 minutes or until liquid is absorbed.

Remove the pan from heat. Remove lid, cover the pan with a folded kitchen towel and replace lid. Let stand for about 10 minutes.

With a fork, fluff rice. Stir in parsley and almonds if using. Serve hot.
Notes
Adapted from Cook's Illustrated
Nutrition Information
Calories: 286kcal, Carbohydrates: 48g, Protein: 5g, Fat: 7g, Saturated Fat: 3g, Cholesterol: 15mg, Sodium: 816mg, Potassium: 181mg, Fiber: 1g, Vitamin A: 200IU, Vitamin C: 9.1mg, Calcium: 40mg, Iron: 0.7mg
"This website provides approximate nutrition information for convenience and as a courtesy only. Nutrition data is gathered primarily from the USDA Food Composition Database, whenever available, or otherwise other online calculators."